Cowboys, Gun Fights, Indians, Giddy up!....
Draw! by Stu Leventhal

Standing as straight and tall as I could, with the wind blowing across my face, my back pressed against my opponent's back, I realized how big and imposing Eric Poundzer really was. The top of my shoulder blades only brushed the bottom of Eric's jagged shoulder blades. To an observer he would appear five to six inches taller than me and his torso was a lot broader. It's a good thing this wasn't a wrestling match, with his extra long, lean and taunt, limbs Eric would have pinned me in no time flat. For a pistol duel, his extra size was a disadvantage. His simply height meant I had a bigger target to shoot at.

Poundzer's nick name on the range was lightning. He had a reputation of being fast on the draw. I was going to need any edge I could muster. Which was why, I was wearing my Uncle Floyd's three sizes too large and extra long over coat, over top of my own leather riding jacket. "The idea," Explained my cousin Craig. "Is for you to turn fast, as you draw your pistol but stop short after only turning half way around. Thus, you'll only expose to your opponent the skinny side angle of your lanky body for him to shoot at." Craig made me practice my quick draw with this spin technique and it did create an illusion. As I spun, the bottom of the long coat would flair out like a woman dancer's long skirt does, the bulky oversized upper part of the coat would fill with air camouflaging my vital spots under what appeared like a blown up sack. But I seriously doubted this would affect the outcome against a seasoned gunman like Eric Poundzer with over eighteen kills on his record. No my best bet was on just plain drawing cleaner and faster than the legend in the making.

I'd practiced for this moment almost every day since I held my first pistol at the age of seven, just like most young boys living out on the plains. Cowboys and Indians, Indians and foot soldiers, Calvary and banditos, Sheriff and bank robbers, posse and train robbers; being some of our favorite games. Yes, I'd challenged, out shot and sent to their graves guys a lot scarier than Eric Poundzer hundreds of times in my imagination but beer bottles and tree stumps don't shoot back, Eric Lightning Poundzer would.

"You two ready?" Doc Dangerfield asked.

"Ready." Poundzer informed then spat a wad of chewing tobacco out onto the ground. Poundzer was the real deal. A hard ridin, harder drinkin, terrible poker playin, lousier cattle drivin, ex-Confederate First Sergeant of the famed 12th Virginia infrantry regiment or so he claimed.

The bespectacled, puffy faced, town Doctor looked at me. "You know, there's still time if you want to back out of this Kid."

"No." I replied solemnly. "Uh, uh...uh, I'm ready."


"You don't sound so sure?" The Doc asked.

My opponent snickered. "Start the count already Doc, before I decide to put a bullet in you too."

"Okay, no harm meant. I just feel it's my duty at times like this to at least attempt to try to talk one or both parties into reconsidering." He stared anxiously at me but when he saw I wasn't budging he started staling for time by conjuring up a coughing spell.

"Enough already!" Eric growled restless. "Are you going to count our steps off or do you want me to count?"

The Doctor added quickly and nervously. "Well, I can see you two are determined so…"

"Save your breath Doc." I interrupted. "I appreciate what you're trying to do. But in this situation, there's no other way for us to reconcile our differences. Sometimes things just fester and grow and grow out of hand until they've gone beyond the talkin to stage ta fix and this is one of them sticky situations."

"You got spunk kid." My opponent acknowledged as he shut his pistols bullet spindle then gave it a spin. "I'll give you that." He stuck the pistol into his right holster. "We've both decided on this as being our only solution Doc. Now, let's get on with it."

"Okay then," Doc scratched his head. "These are the rules. I'm going to count to ten. With each number I call, you each take a step backwards away from each other. When I say ten, you both take one more step, turn and fire. Good luck to both of you."

"Thank you Sir." Eric acknowledged.

"Thanks Doc." I agreed.

"One!" Doc shouted. I could hear the sound of Poundzer's spurs rattle as he and I both took a step away from each other. In front of me, about thirty yards away, my eyes focused on the thick, crooked trunk, town hanging, Oak tree, from whose thick limbs many a convicted criminal had met their fate swinging from a noose.

"Two!" I took another step exhaling then telling myself to remember to keep breathing steady. "Three!" In the corner of my eye, I saw old Doc turn then walk towards the outer edge of the clearing. Who could blame him, for not wanting to get caught in any crossfire or stray bullets. "Four!" My life was not flashing before my eyes. I was totally focused pre-playing through my mind my every move as soon as Doc yells ten. "Five!" I could picture Lightning Poundzer behind me, visualize his long back facing me about thirteen feet away, his big sweaty hand open, hovering a few inches above his right holstered pistol.

"Six!" Angelina's face popped into my mind I forced it out, only to be replaced by my dead Mother's disapproving face, who's distraction I forced away too.

"Seven!" I stepped, clenching my right fist then opening it wiggling all five fingers.

"Eight!" I took a deep breath.

"Nine!" A group of small birds flew out of the bushes to my left.

"Draw!" I stepped with my left foot as my right hand grasped my pistol. I spun, hips snapping around like a calypso dancer's as I drew the gun, index finger sliding on top of the trigger beginning to press. Everything seemed like a blur. Poundzer was already facing me, his long hair flying to the right, his face muscles straining, mouth open. I heard his growl, saw his gun hand rising as I was raising mine. My stomach muscles tightened. "He was faster!" I instinctively cocked my wrist and squeezed the trigger.

BOOM! My body jerked back as if I was hit in the armpit with a sledgehammer. My knees buckled. I glimpsed smoke puffing from the barrel of my opponent's pistol that was pointing straight at me. I squeezed my eyes tight against the pain.

"UHHH!!!" My knees hit the hard gravel ground. My eyes flew open searching. I had to know, to see. Eric Poundzer was standing with a creepy smirk on his face. Smoke oozing out of the end of his now lowered pistol.

The air gushed out of my lungs in a long disappointed sigh as I was tipping forward. "I'd lost!" My chin banged the ground hard bouncing up. My left cheek slid in the dirt, grinding into the gritty gravel. "I was dying!" Fireworks exploded in my head. The ski was swirling. Everything went black.

Three days later I woke up in a bed in Doc Dangerfield's house. My whole body ached but the sharpest pain dominated from my left side under my ribcage. I'd been in this very room years ago as a boy with a bout of the chicken pocks. Glass beakers, test tubes, piles of white towels lined the shelves of one wall. Shiny Doctor instruments were laid out on a silver tray on the dresser against the wall. Next to the dresser stood an old brass patient scale. "SNOOORR!!..."

I twisted my head to the right surprised to find my opponent, Eric, Lightning, Poundzer lying in the bed beside me. His head was bandaged up but I'd recognize that crooked pointy nose anywhere. He was snoring so that meant he was alive. "Nobody had won? Was it possible? My first gun fight had ended in a draw?"

As I tried to focus, questions began to race through my mind. "What idiot would put two gun fighters, sworn enemies, who had just tried to kill one another into beds in the same room with each other?" The answer I came up with was "Doc Dangerfield and only the eccentric Doc." I took a deep breath then sighed turning my attention back to my hated roommate.

"How injured was the tall, gawky, Eric Poundzer whose ugly, big, hairy feet were hanging uncovered, off the end of his too small bed? Was he aware, I his arch enemy was lying two feet away? Had I awakened first? How injured was I? Could I fight back if he awakened and attacked me?"

I started to wiggle my extremities. Part of me wanted to drag myself out of my bed then over to his bed to finish off the creep once and for all, even if I had to choke him with my bare hands. But that wouldn't be sporting. I lay my head back down pressing it back into the pillow. If Eric had woken up first would he treat me so fairly and honorably?

I stared at the ceiling thinking I'd never actually ever heard of a draw duel before. What were the rules? Was the shooter with the least medical injury declared the winner? For example, did a bullet in the leg beat a bullet in the shoulder? Or was it judged like darts, whose ever bullet lodged closer to the heart wins? What was the protocol? Surely with all the shootouts this could not be the first time in the history of the west that a shootout had ended in a tie? Oh how humiliating! Why me? What were the town folk saying? I glanced over at Eric and I knew that as soon as he woke up and found out our situation, Eric Lightning Poundzer would demand a rematch. I had been so certain I was faster than him. What had gone wrong? I'd given it my all! What could I possibly do better in the rematch?

I reached for the tiny brass call bell sitting on the end table between our two beds. DING!..DING!..DING!..DING!...I rang the bell hard out of frustration. DING!...DING!...DING! viciously wanting to wake up my foe.

I watched as Eric's eyes popped open. He rolled his bandaged head towards me to stare. "You're finally awake Kid." He smiled. "For three days you've been out of it. Welcome back." His arm reached out from underneath his sheets. I dropped the bell then covered my eyes with both hands, closing my eyes tightly.

"Here it comes." I listened for his pistol to explode but heard nothing.

Then, his soft, raspy laughter made me peak out from between my fingers. "I'm not going to hurt you Kid. Not now. I just want to shake your hand." His long, hairy arm was stretched out between our two beds offering me his large hand to shake. I reached out slowly, still suspecting a trick. I lay my palm gently in his sweaty palm, half expecting Eric to leap out of bed, pull me towards him as his other hand stabbed me in the heart with a dagger. He squeezed my hand and repeated. "Welcome back to this world Son."

Creak…the door opened slowly. "Someone rang?" Doc Dangerfield's comely wife Emma stood in the doorway in a long, flowing flower print gown covered by a white apron holding a pale of water and a scrub brush. "Well look who's awake!" She stared from one patient to the other then placed the bucket down on the floor in the corner dropping the brush into it. "Looks like you and my husband were right Mister Poundzer." She moved to the side of my bed. "The Lad is a fighter after all."

She leaned over my torso giving me an unobstructed view of her deep cleavage then reached towards my face with both hands. One of her fingers pulled my right upper eye lid up as another finger pressed my lower eye lid down. She stared into my eye studying it. "Uh huh." She mumbled then reached for the eye lids of my left eye. "Considering I'd already written you off as a goner two days ago when the high fever and shakes set in, I'd say, you look pretty good Mister Adam Wolf." She smiled placing the back of her hand against my forehead. "Your cheeks are pink instead of red, your temperature seems lower too now. How do you feel Adam?"

"Tired."

"Well, you're through the worst of it. You can thank Mister Poundzer for offering to stay up with you over the last two nights. His sponging down your forehead and face with ice and cold water probably broke your fever." I glanced Eric's way to see him shrug his shoulders then look away.

She stood on tip toes, leaning over my head again. "Open your mouth. I want to see your tongue." I opened my mouth then stuck my tongue out. "You're dehydrated."

Eric who had moved to sit up on the edge of his bed to watch my examination reached for the pitcher on the night table between our two beds then filled me up a glass of water. "Here, drink this Kid." He handed me the glass.

"But drink very slowly." The brunett advised holding my right hand and studying my finger nails. "Blue?" She muttered turning my hand over then ran her sharp finger nail down the middle of my palm. "Ah, ya have a long life line Adam." She winked squeezing my hand. "You're going to be with us for a long time. She placed my hand back down on the bed then stepped back away from my bed. "I'm going to heat you boys up some clear chicken broth. If you can keep that down Mister Wolf maybe the Doc will okay you to have something more solid. But he'll want to examine you first so we'll have to wait until he gets back from the Whittingburg's farm where he's delivering a sheep." She turned then headed towards the door practically skipping. "The Doc is going to be as thrilled as I am that you've finally awoken Mister Wolf."

At the door she stopped to add. "Now you two boys behave yourselves hear." She stepped out into the hall then pulled the door closed behind her.

"What's she worrying about?" I mumbled. "A few days ago we tried to kill each other. So why fret about leaving us alone together in the same room?"

"She's quite a woman." Poundzer declared lying back down in his bed.

"Yeah, the Doc's lucky." I agreed adding. "Speaking about women, have you seen Angie yet?"

"I hate to be the one to tell you this kid but she didn't stick around to see which one of us won our duel."

"What? You're lying!"

"I could not believe it either. We're up on Bacon Hill killing each other over her and she's packing her bags to sneak off with that piano player from Kim and Kyle's Saloon."

"Skinny Nellson? I don't believe it!"

"Yep, they blew town together one hour before our duel was scheduled to go down."

"I'll kill them both when I catch up with them."

"Easy Kid, it's that kind of talk that got you where you are now."

"You're right. To hell with them both. They deserve each other."

"Now you're talking."

"Then…" I had to ask the question that had been bugging me all night but I'd been afraid to broach. "Where's that leave us?" I glanced over at Eric. "We're not going to have a rematch are we?"

"Sure we are Kid. We have to finish this. Dueling is more about the code of a gentleman and honor than it is about the reason for the duel." I nodded in agreement. "Let's say about a week after we both feel strong enough?"

"You're on." I reached across between the two beds to shake his hand again, this time to seal the deal.

The door flew open banging into the wall. "How about swords next time!?" Doc Dangerfield scolded stomping into our room, thumping his boots as he walked down the isle between our beds. His hair was messed, plaid shirt stained with sweat and god knows what else from assisting a sheep through giving birth. He slapped our hands breaking up our handshake then stood between us glaring from one of us to the other. "With swords I can have the fun of sewing your guts back into place instead of digging bullets out of your forehead…" He looked at Poundzer. "And your chest." He turned back to glare at me. We both stared at the stooped over, older, grey haired man.

"I think he's being sarcastic." Poundzer broke the silence.

"I got news for you two! There ain't going to be no rematch! I didn't stay up for two days and nights straight, performing surgery cutting, sewing and bandaging to save you two imbeciles just so you can try to kill each other again a few days later." He stared them both down.

"I got to admit it does seem silly if we look at it from your point of view Doc. But, we have to settle things. You can see that."

"Flip a coin, play cards, play a game of checkers to see who's better…"

"Come on Doc! You're talking to two gentlemen here."

"There's nothing to settle boys! The girl left town with neither of you dummies! The duel was over the girl! Without the girl here, there's no reason to duel anymore."

"Sure there is." Eric explained. "We started something and we both have to follow it through to the end. It's against the code of the west not to follow all the way through."

"I agree." I nodded.

"I saved both your lives so you both owe me now. Neither of you would be here if it wasn't for me correct?"

"Yes." We both nodded in agreement.

"Adam," He looked at me. "I think you should know, in order to save your life, I had to try a new surgical technique that I'd never tried before. I'd only read about it in an article in a French medical journal that I borrowed from Doc Garrison's library when I was visiting him a few months ago at his practice in Marksville. While I was performing your surgery, with my hands buried up to my wrists in your warm, oozing, blood pooled flesh, my wife was standing beside me holding the magazine open in front of my face so I could read what to do next."

"Wow! Really?"

"Really Son! Marge was literally turning the pages of a medical magazine while I read, cut and stitched you. When we were done, the magazine was so spotted with your blood that the article could not be read anymore. I could not return it to Doc Garrison's like that. I had to order him another issue all the way from France. It's going to take months before that issue gets here."

"Wow! Everyone said you were a special doctor. Thank you!"

"Wow! Thank you! Is that all you can say?" Everyone turned to see Marge standing in the doorway. "Your surgery Adam marks the first time that operation was ever performed successfully west of the Mississippi."

"And you Sir…" Marge turned to Poundzer's bed. "You had a bullet lodged so close to your brain that if my husband operated, you would have ended up a vegetable."

Eric looked at Doc with awe. "I had no idea Sir."

"Doc stayed up all night pouring through his medical books." She continued. "…Reading everything, refusing to give up on you. Finally he found a small mention of an herb that had been used successfully to reduce the swelling in the brain that was causing a young girl temporary blindness. Doc came up with the idea to try mixing the swelling reducer herb with a little known blood thinning oriental mineral. He sent riders to New Seltzer and Tullingsberg to fetch the necessary ingredients. Doc experimented with different amounts of the ingredients until your swelling went down Eric, enough to allow us a tiny one hour window of opportunity to cut into your temple and extract that bullet."

"Woooo!"

"You see Doc didn't just save your lives boys. He brought you two both back from the grave. The fact that either of you are even contemplating picking up a pistol again disgusts me. But, listening to you two actually planning to have another duel together when you haven't even recovered enough to climb out of bed yet, really pisses me off!"

"Now Marge…" Doc tried to interrupt her.

"It goes against everything Doc Dangerfield stands for! Quite frankly, it's the biggest insult you could give to this wonderful man, standing before you, who saved both your lives."

"Marge will you leave me and the boys alone for a moment please." She glared at me then Eric. "Marge please!" The Doc's wife turned then stomped out of the bedroom. She grabbed the door knob then slammed the door behind her.

"Doc, I had no idea…" I looked at the older man who was now my hero.

"Me either Doc." Poundzer muttered. Could that be a tear I saw forming in the corner of Eric Lightning's eye?

"Boys, some Indian tribes declare if you save another man's life you own that fellow for the rest of his days. He's your slave."

"Is that what you want Doc? Us to be your slaves?"

"No boys. I didn't study to become a doctor so I could dictate to my patients how they live their lives after I treat them. I took a vow to try my best to cure, treat and help ease the pain of any man, be he a gunslinger for hire, a farmer, lawyer or poet. But, I do believe you two are special due to the circumstances. And as such I am going to ask you each to grant me one request."

"Anything Doc. Just name it."

"Yeah anything."

"I say no duel and that's final!" We stared at the Doc for a few seconds then turned to stare at each other to gage each other's reaction then turned back to the Doc. "Now I want you both to raise your right hand then repeat after me." We both raised our hands slowly. "I Eric Poundzer swear I will not raise my hand against my brother Adam Wolf for as long as I live." Eric Lightning Poundzer repeated the words slow and grimly.

"Now Adam." The Doc turned to me. All of us still held our right hands in the air.

"I Adam Wolf swear never to raise my hand against my brother Eric Poundzer for as long as I live."

"Now let's have a drink to seal the oath." Doc pulled an almost full bottle of scotch whiskey out of a pocket on the inside of his long over coat. He pulled out the cork, held the bottle up high over his head. "Salute." He took a long swig of whiskey then passed the bottle to Eric.

Eric held the bottle over his head. "To Doc and you Adam, salute." He drank a deep swig then passed the bottle to me.

"Salute boys!" I drank a mouthful then handed the bottle back to Doc. Doc took another deep swig then passed the bottle to Eric. Around and around we passed the bottle till it was finished.

Doc pulled out a deck of cards then called for Marge to bring us another bottle and some sandwiches. "These boys need to eat to build their strength back up."

Doc's wife brought us a tray of snacks along with three clean glasses. We played cards and drank all night long like old friends. None of us ever mentioned the oath we'd taken, ever again.

I wish that I could report to you that Eric Lightning Poundzer and I were both reformed from that day on. We threw away our guns and neither of us drew on another man again but I'd be lying. I can say that we both kept our promise to Doc though, never drawing or lifting a finger against each other. I eventually left town riding north. I later heard, Poundzer left a few days after me heading due south as fast as he could ride. Both of us were determined that our paths would never cross again, neither of us knowing how we would react if they did cross.

I killed a few men during the next fifteen years making a name for myself as I roamed from one snowy mountain town to the next hiring myself out to anyone needing a gunman who could pay my price. At camp fires, I'd sometimes hear tales of a tall crooked nosed man named Eric Lightning Poundzer who was gaining quite a reputation for himself as a quick draw down Mexico way.

Then one day I ran into a man who claimed he watched Lightning Eric get gunned down in a fare fight by a barrel shaped man named Macy Radisson in a small town near the Mexican border called Little Fresco. This man says Macy Radisson is now looking for me since I'm the only person Eric ever admitted not being able to claim he was faster than. It took me two days to get my local affairs in order then I saddled up and headed south towards Little Fresco. Macy Radisson had something to prove and so did I. But, that's another story.



---

The American


Western


by Ed (Dictionary) Itor




QUALITY FREELANCERS!


Feud By Stu Leventhal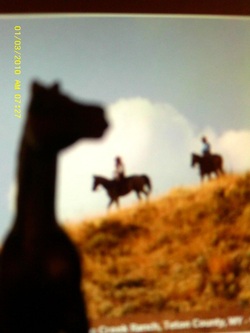 Steven Nichols twisted his body violently struggling to break the grasps of the four men holding his limbs while Big Jeff Turnbull's powerful forearm pressed harshly into his windpipe tightening the chokehold from behind. Steve's eyes bulged, watering, spittle drooled out of his mouth as he gasped for breath.


"Lighten up Big Jeffery." Chuck Dooley ordered. "I don't want him to pass out. It will be more fun to make him watch us hang his little brother." Dooley sipped his cocktail drink from a long stem, crystal glass, elegantly pointing his pinky out to the side. "I hope young Troy puts up a good fight too. I so likes when they last a little while squirming and struggling in the air, their bodies twitching and contorting, legs kicking, as the rope gets tighter and tighter, eyes growing bigger and bulging, looking like they're just going to pop out of their sockets. Ha, ha, ha, ha…Yes I do loves a good hanging. And, your brother is a feisty, stocky, young lad. He surely should give the folks a nice show. He, he, he, he."


The arm around Steven's neck loosened up slightly. He coughed then spit then coughed then raised his head to stare at Chuck Dooley. "You are a sick man Mr. Dooley. Whatever you lay down here today, you can rest assured my family will not let it lie. The Nichols Clan will come seeking revenge Sir. I promise you that." He pulled and thrashed but the men held his limbs fast.


"I'm looking forward to it Son. That's what this is all about. Me and your daddy should have finished our squabble long ago. This feud's been a brewing for far too many years."


"Now you suddenly think you're tough enough to turn your pathetic, little public shouting matches into a real bullets flying and blood letting, no holds barred, south of the Mississippi feud?"


"The only thing that's been preventing our all out war was…"


"Lady Julienne." Steve finished his sentence for him. "Right?"


Chuck smiled. "She made me promise a long time ago. So I swore, on her and my love, I wouldn't lift a hand against your Pop or his brood. I kept my word, as hard as it was, for over thirty five years."


"And now that she's dead, you think its open season on the Nichols clan?"



"Something like that." He scratched the side of his bald, head. "This valley's just not big enough for both the Dooley's and the Nichols. It never was." He turned then resumed walking away.


"Why? Just because we graze sheep and horses and you herd cattle and raise hogs?"


"This land is cattle country Kid always has been, always will be. That's something your Daddy never could understand."


"But Miss Julienne understood both of you stubborn fools just fine. She's been making a bundle off you two for years, selling you the rights to access the river that runs straight through her parcel of land which is conveniently situated in the middle of your two mega ranches. Without access to her water supply your ranches dry up."

"Let me tell you something Son. Mine and your Daddy's quarrel goes far beyond water rights!"


"Yes, everyone for six counties knows, both of you been vying for Miss Julienne's affections. She played both of you on those concerns just like with her river"

"Don't you talk smart about a dearly departed Lady of Miss Julienne's statue."
---

"Thank God she was smart enough not to fall for either of you two schemers. She knew neither of you really loved her, the way a woman wants to be loved."

"If you're saying I proposed to that woman over twenty five times because I wanted her land and river as a dowry!..." Dooley grabbed his hat off his head and twisted it with frustrated anger as if he was wringing out a wash cloth. "Well that is just what I warned her, your Daddy was up to." He pointed his finger at Steven accusingly. "But my love was pure. You can ask anyone who knew me. Nothing brought a bigger smile to my face faster than the sight of Lady Julienne riding that ugly black and white steed over the hill top." Chuck pointed towards the crest of a hill behind which the sun was setting. "A lady like that inspires; poetry, lyrics, artists to paint!"

"Yes she was something." Steve agreed. "But she wasn't enough to get either of you two Cowboys to give up the only thing she wanted that would tell her she'd won your heart completely."

"What the hell are you talking about Son? I would have given up anything for Lady Jule! She and everyone in this county knew that."

"You couldn't walk away from the squabble you had with my Dad, really wipe the slate clean, forgive and forget totally."

"That's crazy talk. One thing's got nothing to do with the other. Lady Julienne understood our feud. She accepted that we were always going to battle every chance we got. That's why she made us promise we would never take it any further than bad mouthing each other. She cared for us both and she made us pledge not to get physical against each other. That's why she could never pick between the two of us who she would marry"

"Ah!... no woman wants to play second fiddle to some childish argument. She didn't pick either of you because she knew neither of you were worthy of her."

"What do you know about woman anyway kid? You're not even making any sense."

"I know Lady Julienne didn't want to be the second most important thing in either your or my Daddy's life. She knew, both of you were far too obsessed with your grudges against each other to put any lady first. She knew she would never amount to anything more than a pawn in your latest quarrel. So, she did what any fine Lady of standing would do. She refused to take part in your little games."

"Well it's all over now, ain't it? The Lady's gone, God rest her soul and we're about to officially kick off hunting season on sheep herders starting with your brother Troy."

"What better way to show respect for the newly departed than to go against her dying wishes before she's even cold in the ground."

"She's gone. And I've held my anger in check for far to long."

"Mr. Dooley, please."

"What?" Chuck Dooley stopped.

"My Daddy would kill me for this but please don't do it."


"Huh? Are my ears hearing things? Is Steven Nichols asking me for something?"


"That's right. I'm begging you Sir! I ain't never begged nobody for nothing in my life. The Nichols don't beg ever! But Mr. Dooley, I'm begging you now. Please reconsider!"

"Ahhh…" Chuck Dooley shrugged his shoulders, sighed then stated flatly. "Show some self respect Son." Making a face of disgust. He turned then resumed walking away.

"Then, at least take me instead!" Steve shouted. The white haired Dooley stopped, turned and stared. "My brother Troy's only sixteen!"

"He's got a mouth like a thirty nine year old!"

"I know. And, he can get under people's skin but he's still just a child Sir. He's got a lot of living and growing up to do. I'm twenty-six. I'd appreciate it if you hang me instead."

"Now you're showing some guts Kid. Okay Stevie my boy, it's a deal. I'll hang you and make your little brother Troy watch." He pulled a cigar out of his inside jacket pocket then added. "See boys, Chuck Dooley can be kindhearted once in a while. He, he, ha, he."

The four men tightened their grips on Steven's limbs, clothing and around his neck as the angry young man shook and twisted trying to break loose.

"You're making a big mistake taking on the Nichols Clan Mister!"

"Tie his hands behind his back, gag him and put a sack over his head." Chuck Dooley's voice ordered. "Lock him in the pig pen with the hogs. Then bring me his little, smart mouthed brother."

Steven's arms were wretched behind his back. Rope dug into his wrists as they were wrapped tightly. His upper arms were tied together at the elbows. "My family is going to hunt every last one of you down!" Steve shouted. Part of a bandanna was shoved in his mouth then the ends were pulled around the back of his head then tied tightly, so he could only mumble muffled. "Mmmnn..mmm.mnnnmm…" He shook his head violently. "Mmmnnnpphh…"

Toot! Toot! The steam locomotive tooted. HISSSSSSSS!!... Its big iron wheels locked sliding along the rails, as the brakes applied. Hester, the blond haired teen was jolted forward in her seat. With her white lace, elbow length, gloved hand, she quickly placed her book mark into the novel she'd been reading, closed the book, laying it daintily on her lap then turned glancing through the window excitedly. She noted the weather had change from bright, sunny and clear earlier to foggy and gloomy. The scenery had also changed from the thick, large leafy tree forest that had bordered both sides of the train for so long to rolling hills of three foot high, golden prairie grass interspersed with gray sage and tiny purple and red wild flowers stretching for miles and miles. Way off in the distance the wild fields finally butt into a jagged, steel colored mountain range wall, capped with white snow and dark, angry looking rain clouds.

Toot! Toot!..... The brakes locked. HIISSSSSS!! Hester 's boney, gloved fingers grasped onto the window ledge. Beside the track appeared a dusty dirt road with a blanket bundled Indian woman leading an old donkey laden with a pile of small wooden crates. The Indian was trailed by two young scantily clad barefoot Indian children who waved and smiled at the train. Hester waved back, to the kids delight. Next she saw a man, dressed in an all black suit, driving a one horse supply wagon who waved his tall, black, top hat at the train smiling. "Friendly town." She thought smiling and waving back.

Toot! Toot!..... HISSSSSSSS!!...

"This stop Sun Canyon!" Shouted the porter from the door at the end of the carriage.

Houses started to appear in her view more and more frequently, then a small wooden planked church with a tall shingled steeple, just like the drawing on the front of her book. She saw a cluster of one and two story buildings linked together by a common, long porch front. Towns folk of all kinds stopped then turned to gawk at the loud clanking iron machine invading their tranquil little town. Hester waved to a few children who ran along side waving at the passengers. Passengers began standing in the isles, collecting their bags from the over head compartments. Hester stood reaching up. "Let me get that for ya Mamm." An older, tall, gentleman with a long, curling, waxed, rat tail mustache reached into her luggage compartment.

"Thank you Sir."

The man lifted out her bulging, tan suitcase. "Wow that's heavy!" He exhaled over dramatically, clunking the bag down in the middle of the isle, smiling.

"How many young ladies do you know who could fit all their worldly possessions into one bag."

"Ha, ha, ha…" He chuckled. "So I gather you don't have a return ticket back to where ever you're from?"

"This is where I'm from now Sir for better or worse."

"You're actually planning on settling here in this dust bin of a town?"

"It looks like a charming place."

"Oh it is of course. I'm just kidding you. I've stayed over here a number of times on sales trips. I sell tanning supplies. My names Mike." He held out his hand for her to shake but an older, stoop shouldered woman pushed between them.

"Aw," The old woman stated, "You won't last one week out here Missy." She pushed her way limping past them.

"Don't mind her."

"I hope she's wrong." Hester shrugged. "I got nothing and no one to return to back east?"

"Well, good luck ta ya Dear." The mustache man turned, picking his newspaper up off his seat so he could sit down. "Adjusting ta Prairie life can be rough on a city lady." He flipped the paper open. "Don't go in expecting much and you won't be let down so hard."

"I'll keep that in mind Mike." She offered him her silk gloved hand. He took her gloved finger tips with his big, hairy knuckled fingers of both hands then shook vigorously. He steadied her hand then looking up into her eyes, bent to kiss the back of her glove.

"What's your name Dear?"

"Hester." She pulled her hand free, turned then grasped the short leash of her wheeled suitcase. He watched her lithe, silk incased body sachet as she walked, pulling the wheeled bag along behind her. She took her position at the end of the line gathering at the door then looked back over her shoulder to add proudly. "Hester Dooley."

The whole carriage seemed to get quiet. Mike's mouth hung open then slowly his lips asked. "You wouldn't be related to Chuck Dooley would ya?"

"He's my uncle" She replied nervously glancing around at everyone who seemed to be staring at her now. "Do you know him?"

"Everyone knows Chuck Dooley." The old lady answered first. "Your Uncle owns half this town."

"He's one of the richest men in this whole county." Another passenger piped in.

"Well, Miss born with a silver spoon." The old woman hissed. "It looks like we needn't worry about ya haven any troubles adjusting to the harshness of prairie life after all."
Hester hung her head not really knowing why she felt ashamed and confused by her own naivety of her own situation as well as surprised by the sudden turn of events in her life. She had spent the whole train ride sulking and feeling sorry for her self but if what these people said was true then her moving out west with her uncle might turn out to be a wonderful opportunity after all.

"Last call…" The porter stuck his head in the doorway, looked around then shouted. "…for Sun Canyon."

"Oh." Hester picked up her bag then dragged it clunking down the stairs. The porter lifted Hester's bag off the bottom stair then placed it on the dirt ground. He turned back to lend Hester his elbow to hold onto as she climbed off the train's stairs.

"Miss Dooley? Hester Dooley?" A middle-aged man wearing a plaid shirt and a cowboy hat jogged over. He held a white sign up for her to read that had her name, Hester Dooley scribbled in thick red ink.

"Yes that's me." She replied. "I'm Hester Dooley. Are you my Uncle Chuck?"

"Oh no dear." The man laughed. "My names Barney McCullouch but I was sent here by your Uncle to pick you up and deliver you safely to him at his ranch."

"Then it is true what the other passengers said about him." She said shyly.

"What's that?" The skinny man asked.

"That he's well off."

The man laughed again. "Oh yes, I'd say that's an understatement." He picked up her bag. "Follow me Mamm." As they walked Barney asked. "You mean you don't know how extremely wealthy your Uncle is?"

"I've never met my Uncle."

"Really?" The man spit a wad of tobacco juice out of the side of his mouth which splashed when it hit the ground a few inches in front of Hester's ivory colored shoes.

She quickly and daintily stepped around the tobacco splatter saying. "I can't wait to see what Uncle Chuck looks like."

"So then your Uncle never laid eyes on you either?" They stopped by the side of a carriage.

"No. Do you think he'll be pleased?" She did a slow pirouette.

"Wow!" A young man looked down from the driver's seat of the carriage. "You're Chuck Dooley's niece?"

"Shawn! Watch your manners." Barney McCullouch scorned.

"Oh, sorry Mamm."

"Miss Hester this is my uncouth son Shawn McCullouch. Shawn this is Hester Dooley," He added for emphasis. "…our employer's niece."
"Pleased to meet ya Miss Dooley." The teenager smiled down. "And, sorry if I offended ya."

"Pleased to meet you Shawn." She smiled back. "And, no offence taken."

"Here, take Hester's bag son and be careful it's heavy." Barney grunted as he lifted the suitcase up over his head to hand off to his son. "Tie it down good to the roof now hear."

"Yes Sir."

Barney opened the carriage door then held out his hand to help the young teenage girl climb aboard. He watched her slide to the middle of the seat. "You might want to strap yourself in. It can be a bumpy ride" He watched her secure the seatbelt then shut the door then he bolt locked it. He climbed up onto the driver's seat then took the reigns from his son. "Well the first half of our plan went pretty smoothly." He snapped the reigns and the horses trotted forward.

"I don't like it." The teenage boy turned sideways to confront his Dad.

"Why because she's good looking?" He stared at the teenage boy. "Don't go getting any dumb ideas kid. Remember, she's a Dooley and that puts her way out of your and my league."

"She's an innocent woman who we're using as a pawn..."

"A pawn to get your cousins Steven and Troy back from her sleazy Uncle, who started all this. He took your cousins first, remember that."

"I still don't like it."

SPLASH! A bucket full of cold water hit the tied up snoring prisoner drenching his cloths and the sack tied down over his head.

"Wake up Stevie boy!" Someone shouted then a few men laughed as water soaked through the burlap cloth dripping onto his face. Steven opened his eyes but could only see the inside of the sack. The smell of pigsty permeated the air. He wiggled his tied up limbs in protest. Splash! A second bucket full of cold water hit him in the chest, followed by more laughter. He curled his body up into the fetal position as more buckets of cold water splashed over him, soaking his clothes and making him shiver. "Mmnnn!..mnmnm!.mnn!..nmm!…" He cursed his tormentors through his gag and burlap sack head covering, vowing to kill them all if he was ever given the chance. Splash! Spalsh!

"Sorry but we got orders ta clean ya ups a little kid. Ya can't go see the boss smellin like a hog."

"Mmnnn!..mnm!" Splash!

"Get him out of there." A raspy voice ordered. Steven's bound ankles were suddenly grasped by two sets of large hands. He was dragged along the ground sliding on his back. Thump! His legs were dropped to the ground.
"Stand him up." The same raspy voice ordered. Powerful hands grasped him under the arm pits then lifted him into a standing position. "Stand still." He was ordered. Rip, rip, rip…Steven heard a knife blade hacking through the tied knot at his neck that had securely held the sack tightly tied down over his head and eyes. The rope loosened from his neck then the sack was lifted off his head. He stared into the eyes of Big Jeff Stockmeyer defiantly, as someone worked on the knot behind his head, which would release his gag.

Splat!…Steven spit at Chuck Dooley's number one henchman, hitting Big Jeff on the chin. "Why you ungrateful!…" Big Jeff stepped close then punched Steve in the stomach.

"Ugg!"

"Lift him up!" Punch! Punch! Punch! Two men held Steven up as Jeff Stockmeyer gave him a beating.

"Stop it!" Old man Kirby shouted from behind Jeff. "Remember Dooley's orders, not to rough him up too badly!

"Yeah okay." Punch! "That one was for good luck." Big Jeff chuckled. "Okay boys, throw him in the wagon with his little brother."

They drug the unconscious Steven by his arm pits, his legs dangling behind him, heels digging a furrow in the dirt. A large hog pen sat on the back of the wagon which was hitched to two plow horses. Big Jeff whipped the front door of the hog pen, ordering the teenage boy who was already in the pen. "Move all the way to the back. We brought you some company."

The door to the hog pen was unlocked then pulled open. Four men lifted the unconscious young man by his limbs. "One, two three…" They tossed Steven Nichols into the pen.

Young Troy Nichols gasped. "Stevie?" He crawled to his older brother. "Oh Stevie, look what they did to you!"
"Shut up!" The door to the pen was slammed then locked.

"I'll kill ya! You bastards!" The sixteen-year-old shouted.

Splash!…A bucket of water was dumped over the pen, on top of the two men. "I said quiet!"

"Uhh!" Steven moaned stretching his limbs out on the straw covered floor of the pen.

"Stevie, don't try to move." His younger brother advised. "Just rest."

"Hey little brother." Steven smiled up at Troy. "It's good to see you're still alive."

"Yes, I was wondering about that too. I was due, to be hung hours ago. But, Dooley postponed it and I'm not sure why."

"Well, I might have had something to do with that little Bro." Steve rolled over onto his back. "Don't be mad but I asked Dooley to hang me instead of you."

"What! You can't do that! I won't have it!"

"It's a done deal. Dooley already agreed ."

"But why?"

"You're my younger brother. I can't let you die at age sixteen! You got a lot to live for."

"You're only twenty six?"

"That's ten years more livin, I've already had kid."

"No!"

"There's nothing you can do about it."

"We'll see about that!"

"Hester Dooley." Tall Nathan Nichols walked over to the pretty young woman. "Mamm, I want you to listen carefully. We've all been lying to you for the past couple days."

"Lying?" young Hester dropped the paring knife and the apple she'd been peeling onto the kitchen counter.

"Why…What all do you mean, Sir?"

"I'm not really your Uncle, Chuck Dooley. The people on this ranch, none of them are Dooleys."

"I don't understand? You told me you were my Uncle. I've been walking around calling you Uncle Chuck for two days? The ranch hands call you Chuck Dooley?"

"It's all been a farce, a charade I'm embarrassed to say."

"But, if you're not my Uncle Chuck then who are you?"

"I'm Nathan Nichols and this is my ranch." Slap!…She slapped him hard across the face then stumbled back a few steps away from Nate. "I understand you're upset Mamm."

"I demand you tell me, this instant, what you've done with my Uncle!"

"Your Uncle's fine. His ranch is on the other side of that mountain." Nathan pointed out the window at a small green mountain where the sun was just getting ready to set down behind.

"Is this some kind of joke, to you, Mr. Nichols if that is your real name?"

"I am Nathan Nichols and this is no joke. It's very serious Miss."

"What the hell is going on!?…No never mind. Don't bother answering. Just, take me to my Uncle this instant!"

"I plan on turning you over to your Uncle Chuck in approximately three hours from now." Nathan assured. "If everything goes right."

"Goes right? What do you mean by goes right? Am I kidnapped or something? Are you holding me expecting my Uncle to pay you a ransom."

"Yes, we kidnapped you but the ransom we're waiting to receive isn't money. I'm waiting for your Uncle Chuck to release my two youngest boys. Your Uncle took my Troy, age sixteen and Stevie, age twenty-six against their will. He's been threatening to hang at least one of them for over a week. So I was forced to take you to get my sons back."

"If my Uncle is holding your boys, as you say. They must have done something to deserve it. I'm sure they aren't completely innocent."

"They were born Nichols, that's their only crime. Your Uncle took them to get at me!"

"And what crime did you commit Sir?"

"I fell in love with a spectacular woman. We both did, your Uncle and I. If you stay around these parts a while longer, I'm sure you'll hear many stories about Lady Julienne. She was a lovely woman, full of spunk and life, quite like your self. She kept the peace, between me and your Uncle, for over thirty years."
"Where is this Lady Julienne now?"

"She died a few weeks ago. And, me and your Uncle re-declared war!"

"My Uncle's never been married, so I've been told. Was this Lady Julienne your wife then?"

"No. But, I asked for her hand many times over as did your Uncle Chuck." Nathan Nichols turned to gaze out the window again. "Jules owned that mountain and the river water that ran off of it.." He stared. "She used both to her advantage as well as her beauty and charm to keep the two men she cared for from killing one another for a very long time."

"But you had children?'

"Yes, both my wives died during child birth."

"How terrible." Hester Dooley turned away then picked up the little paring knife and the apple then resumed slicing up the apple to add it to the pie filling she had been making. "I wish I could have met this Lady Julienne. She seems like quite a woman."

"She was special."

"Boy, the woman on the train was right about me."

"What's that?"

"She said I wouldn't last a week in this country. I didn't even make it one day. I was duped as soon as I stepped off the train."

"Hey, this has nothing to do with you. I'm sorry you had to be involved."

"You all treated me so well. I should have known it was a lie!" She dropped the stuff in her hands then ran past
Nathan crying. She rushed out the front door then raced to the barn where she dove onto a pile of hay. When Nathan caught up to her she was crying.

"Hester, I promise you, no harm will come to you. This will all be over in a few hours."
She rolled over to stare at him. "Nothing will be over in a few hours, Nathan! Nothing!"

The exchange was set to take place under a star filled sky, on a wide, open range, on neutral ground, that had been part of the late, Lady Julienne's estate, just north of the borders of the two powerful men's ranches. Two heavily armed parties of about twenty men each, dismounted from their rides. Between them lay about thirty yards of dusty land, tread barren by the many hooves of sheep, cattle and horses that had come this way to graze, rest and drink from Lady Julienne's river. The groups of cowboys stood facing each other, eyeing each other up and down.

"Nathan Nichols!" Chuck Dooley's voice boomed. "I've come to fetch my niece!"


"I've come to fetch my sons!" Tall Nathan Nichols replied.

"Send Hester over here then I'll send you your boys."

"No! You send me my Troy and Steven first!"

"Oh quit your squabbling!" Hester Dooley twisted her upper arm out of Nate Nichol's grip. "We'll walk across at the same time!" Hester shouted. The head strong young woman began to walk across the moon and starlit stretch of dirt.

"Here she comes Dooley!" Nathan warned. "Don't try nothing!"

Troy and Steven Nichols began limping towards the young woman who was heading towards them. Steve had his right arm over top of Troy's shoulder for support as the younger Troy helped him hobble as fast as they could go. "Don't you try nothing sneaky neither!" Chuck Dooley warned.

"That young Lady's gorgeous." Someone behind Nathan Nichols admitted. "She reminds me of a young Lady Julienne."

Another of Nate Nichol's cowhands agreed. "It's almost like Lady Julienne delivered young Hester to us, to take over where she left off."

The hostages, Hester, Troy and Steven all stopped in the center of the clearing to stare at one another questioningly. No words were exchanged. Everyone was quiet. Then the hostages resumed walking.

"Hester!" Chuck Dooley shouted as his young niece's face came into view.

"Uncle!" Hester ran the last few yards jumping into her Uncles wide spread arms.

Three men from the Nichols Clan raced out to meet Troy and Steven. "Are you boys okay?"

"We are now!" Troy answered as their relatives helped the young men hobble the last few yards to safety.

"So what's it going to be Dooley?" Nathan Nickols shouted. "You reckon, you and I can end this feud right here and right now, like men?"

"What you got in mind Nickols!"

"A duel's the fairest thing I can think of."

"Don't do it Uncle!" Young Hester sobbed in Chuck's arms. "I just met you a minute ago! I won't allow it! I can't lose you now!"

"Dad." Sixteen year old, Troy pleaded with his father. "I don't think this is such a great idea."

"Yeah," Steven warned. "I got a bad feeling about this too Pop. Let one of us shoot it out with Chuck at another time."

"Get her off me Jeff!" Chuck Dooley ordered his big henchman. Big Jeff's large hands grasped Hester's thin arms then pried her away from her Uncle.

Nate Nichols took off his long coat. "Hold this Boy." He folded his over coat then handed it to his youngest, Troy. Crack….crack…crack. Nathan Nichols cracked his knuckles.

"Steven, help me!" Troy begged. "Say something to him. Try to stop him, please!"

"Aim for his middle Pop." Steve glance sheepishly at his younger brother. "I think Pop can take him."

Across the clearing, Chuck Dooley put his hands on his hips then started doing trunk twists stretches then toe touches to limber up. "Uncle! I'm begging you!" Hester cried. "Stop this nonsense! Right now!"

"She's right Boss. Me and the boys can handle the Nichols Clan for you. You don't need to prove anything to anybody."

"Yes I do. Thirty-five years ago, I let a woman stop me from doing what I knew, deep down in my gut, had to be done. Now that woman's gone and I'll be damn if I'm going to let another woman step right into Julienne's shoes to pick right up dictating how Chuck Dooley's going to handle business."

"You're going to get yourself killed!" Hester shouted. "You old fool!"

Across the clearing, "Pop!" Troy shouted. You're going to get yourself killed!"

"No, I can take him." Nathan began practicing his quick draw then spun one pistol around on his trigger finger.

"This ain't a game Pop!"

"I know that son. This is what I should have insisted on happening thirty five years ago." Nathan started walked out in to the clearing.

On the other side Chuck Dooley strode forward. "This has been a long time coming Nate."

"Don't I know it Dooley." Nate shuffled his feet squaring his body towards his opponent. "We should have settled this long ago."

"I'm ready whenever you are!" Chuck answered.

Both men stood facing each other, hands open and out by their hips. Everyone was quiet, watching the two moguls stare each other down. Suddenly, a thunder of hooves beating the ground was heard. Out of the darkness to the west rode Hester Dooley in her white lace trimmed dress, pulling a trail of horses behind her tied together by a long rope. She galloped the horse train into the center of the clearing then stopped them. "Girl what the hell do you think you're doing!" Her uncle Chuck Dooley shouted.

"Is this some kind of trick Chuck?" Nathan shouted. "Order your niece out of our way!"

"Trick?" Chuck Dooley answered. "Why I'll kill you Nate Nichols! Hester get them darn horses out of my way!" He waved his pistol at Hester.

"I'm not moving!" The young girl stood her ground.

"You yellow belly sap sucker! I should have known you'd chicken out!" Nathan taunted.

"You're all dead!" Chuck Dooley looked back at his men and ordered. "Fire at will! Kill them all!" His men didn't
fire. "Didn't you hear me? I said fire!"

"Sir, your niece is in the way." Big Jeff Turnbull stated.

"I'm not moving Uncle!" The girl informed until you give up this barbaric notion of dueling."

"Get out of the way!"

BANG!

It was hard to tell where that fate full, first shot came from. Years later, people who had been there, in person, would still debate. Some said the shot came from the Nickols clan others said from behind Chuck Dooley. One sinister version of the story claims Chuck Dooley had shot his own teenage niece. Another version claims Hester Dooley drew then pointed a pistol at her Uncle first. And then there's the Dooley supporters who claimed Nat Nickols shot poor Hester Dooley in the back.

The truth is Hester was still alive when that first shot rang out. But that shot, by whomever jumped the gun, triggered all hell to break loose. Gunshots blasted from both sides of the clearing. Hester's horse bucked wildly jumping and spinning in circles trying to throw the girl from its back. The other horses pulled free from Hester's grasp then galloped off into the woods. Meanwhile the bullets kept flying. When Hester was finally bucked clear of the saddle. She'd been hit multiple times. She lay motionless in the dirt.

As the bullets flew, Chuck Dooley stepped out into the clearing waving a white shirt tied to the end of a long rifle. Slowly the shooting curtailed then finally ceased. Chuck dropped the rifle flag then raced to his niece. He kneeled down then began to sob. "She's dead!" He stood slowly head bowed. "I blame you Nickols!" Dooley spun raising his pistol. BANG! He fired from the hip. Tall blond, Nathan Nickols clutched his stomach, his eyes went wide as his knees buckled.

"Why you…!" Nate's youngest son Troy drew his pistol and blasted Chuck Dooley repeatedly as he walked towards him. "Take that!…Coward!" His bullets kept thunping into Chuck as Chuck's body jerked like a dancing string puppet. Both groups of indignant men resumed firing at each other.

A few minutes later, Big Jeff Turnbull shouted to Dooley's men, now under his control "Cease fire!" Big Jeff picked the long rifle with the white shirt tied to it up off the ground. "Cease fire!" He waved the white flag. "Cease!" He walked in front of his men.

The gunshots stopped. "Steven! Troy!" Big Turnbull shouted. "Your dad and my boss are both gone and a lot of innocent, good people are dead and wounded too. We got no beef with each other. Let's allow this feud to die here with two bitter old men."

"Does this mean we're going to share the water rights?" Steven Nichols shouted back.
There was an awkward silence then Jeff shouted. "Can you think of any other way to make it work?"

"No!"

"Then let's gather up our wounded and head back to town. Tomorrow, you and me will sit down in the mayor's office with our lawyers and work out the details over the water. Agreed?"

Steven turned to look at his brother Troy who was kneeling next to their dead father crying "Agreed!" He shouted.

Big Jeff walked into the clearing still holding the white flag. He stopped to stare down at the dead teenage girl wearing the white dress with red bloodstains all over it. Jeff knelt then brushed the hair away from the girl's face. "Lady Julienne would have been proud of you." He mumbled.

"What a shame." Barney McCullouch stepped up behind Jeff. "All because of water. Do you really think we can share this watering hole?"

"This had nothing to do with the water." Big Jeff stated angrily. He stood up then threw the white flag to the ground as he walked away.

The kid by Stuart Leventhal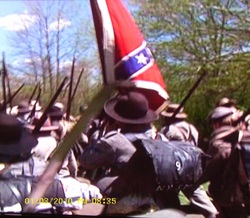 The battle field was veiled by smoke and early morning fog. Jessup stood knee deep in the dew covered weeds surveying the advancing Union troops thru a field glass.

"Stay down Lieutenant!" The Captain whispered reaching over from his crouched position behind the log barrier, to tug on Jessup's shirt. Jessup brushed his hand away. Still gazing through the little telescope, he slowly kneeled down. The moisture soaked through the knees of his pants.

The burnt remains of abandon Confederate wagons, tents, cannons and barricades still smoldered, sending up columns of black sooty smoke. Through the field glass he saw the Union troops rummaging the dead Confederates, stealing their wallets, watches, jewelry, even slicing the brass buttons off their uniforms then pocketing them.

Jessup watched a Union soldier roll a Confederate corpse over onto his back in a mud puddle using the heel of his boot. The Blue Coat stepped on the Confederate's chest then grabbed a hold of the chain around the dead man's neck. He yanked until the chain broke. Jessup watched him pocket the chain, then start searching the dead soldier's pockets. Next, the scavenger stole the fellow's wedding band. Jessup became outraged when the Blue Coat reached around to his own back pocket then pulled out a pliers. He tilted the dead corpse's head back so his mouth fell open. To Jessup's amazement, the blue coat stuck the pliers inside the corpse's mouth then twisted and yanked. A few seconds later the pliers came out holding a gold tooth. Smiling, the Blue Coat wiped the bloody tooth off on the dead man's shirt then dropped it into his top shirt pocket.

"Unbelievable!" Jessup muttered, shaking his head.

"What?" The Captain asked.

"Nothing." Jessup replied, crawling over to take cover behind the log barricade.

The Captain grabbed the field glass from Jessup's hand then stared out at the battle field.

Jessup pulled three different colored handkerchiefs out of his back pocket. Alternating waving the different colored scarfs, he relayed a message down the line of soldiers to Colonel Meade: [The enemy is advancing slow but steady as we planned. There are three columns of foot soldiers, about a thousand men, followed by twenty heavy cannon, followed by one regiment Calvary, one hundred twenty strong.]

The Colonel's answer to Jessup's message was to wave the purple colored scarf, thus calling for the heavy mortar cannons to be moved up into positions closer to the line. Next, he signaled to Jessup that he wanted an updated report every five minutes.

These Union Soldiers are going to be surprised." Jessup muttered, taking the field glass back from the Captain. The Confederates were not supposed to even be in this county anymore. For the past two days of steady fighting, the Confederate Army had been pushed more and more west, giving up 10-25 miles of ground each day. But, last night Colonel Meade's men, under cover of darkness and a heavy rain storm, had made a long, hard, daring, secret night march that had brought them back into Union held territory. The plan was to cut off a heavy troupe of Blue Coats coming from the coast with supplies and reinforcements for Union General Troy's Regiment. If the plan worked, General Meade's men would succeed in cutting off General Troy's Blue Coats from their supply line while also blocking their enemy's route of retreat. Isolated and vulnerable, other Confederate Troops would quickly move in to surround the Union General's troops from all sides.

Men all up and down the line began hooking up teams of horses to the Heavy Mortar Stub Nosed Cannons.

"Hey!" The Captain shouted to Jessup. "Don't you think we should use the long necked Cannons up here first. They're a lot more accurate at close range fighting."

"You know, for a change, I agree with you." Jessup scratched his head. "You gonna request it?"

"Get me a runner." The Colonel pulled some paper out of his back pocket, unfolded it then started scribbling on it.

"Colton!" Jessup shouted. "Come here Boy!"

A tall, gangly, freckle face kid who wasn't quite fifteen yet, stood up then jogged over. "Yes Sir!" He saluted.

"Captain Kieffer has a message we need to get to Colonel Meade right away." Jessup put his hand on the kid's shoulder then looked him straight in the eyes. "This message is of the up most importance and urgency. Colton, we're counting on you to get it there fast."

The Captain stepped over to hand the kid a folded note. "Go Boy!...Go!"

They both watched the tall kid sprint off down the line of soldiers, jumping over boxes of ammo and dodging around men that moved unknowingly into his way. Jessup looked at his pocket watch. "I'll bet you a wooden nickel that the kid makes it in under three minutes."

"Nah. I say three and a half. The kid's fast but three minutes is impossible. Even I couldn't make it in three minutes." They both laughed.

"You'd collapse before you got half way there, Old Timer."

"Old timer? I could beat you in a race anytime anywhere. I'd bet my summer house in Charleston on it."

"The only race you'd ever win is the race to the chow line."

"Hardy, har, har…"

"And, if you really had a summer house, I'd take you up on that bet." Jessup took the field glasses from the Captain. He watched the kid racing across the hill top. "He runs like a gazelle." He glanced at his pocket watch. "Come on kid, hustle!"

Through the little telescope, Jessup watched the kid hand the note to the Colonel's Aide. Then, he fell to his knees exhausted. Glancing at his pocket watch, Jessup announced. "Three minutes and twenty two seconds."

"Wow! That kid's gonna make a fine soldier someday."

"Yep. That is if we can keep thinking up ways to keep him out of the real fighting." Jessup lifted the field glasses up to his eyes again then watched as two burly soldiers scooped the exhausted kid up under his arm pits then lifted him up to help escort him back to the safe zone where he could recover from his run.

The Colonel's Aide lifted up the colored scarfs then began waving them in intricate patterns, relaying the Colonel's commands down the line of soldiers. Immediately, the horses were re-hitched to the Mortar Cannons then men began to haul the snub nosed cannons back away from the line. "It looks like the Colonel is taking your advice Captain."

"I told him to set the mortars up on the top of that ridge." Jessup pointed. "Aimed in a high arch, we can bloop shots down into the valley. Also, if we lose ground for any reason, the cannons will already be set up for a second line of defense."

"Very chess like." Jessup smiled. The two men always disagreed about strategies of doing battle. They both fought in two distinctly different styles. But, they had the upmost respect and admiration for each other and each other's ideas. This is one of the reasons they made such a remarkable team.

"Don't you think it's time you sent the Colonel your next report Lieutenant?"

Jessup put his eye to the field glass then made a quick sweep over the valley below. He handed the Captain the field glass then pulled out the different colored scarfs. He waved the yellow scarf twice over his head then once at waist lever. The blue scarf he twirled in a wide circle, clockwise, stopping at five o'clock, then up and down twice. Next he picked up the red scarf then shook it like a snake. The message he sent was: [The enemy is advancing at the same slow but steady rate. There is nothing to indicate that they know we're even here. I will advise if there is any change. Otherwise, next report in five minutes.]

The end

*The author is presently working on extending this story into a full blown novel
Be sure to stay posted for more adventures from the Confederate front lines.

---

Jail Break by Stu Leventhal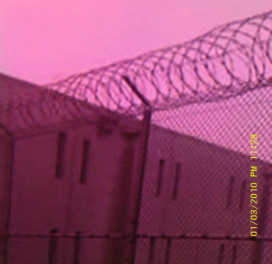 The tracker held the dog's studded leather collar tightly. He thrust the discarded prison shirt under the dog's snout. "Get a good wiff boy!" The dog started to pant and drool. "Good dog."
He released the collar. "Go get him Fang!"
The hound leaped off the wagon. The tracker followed, his heavy boots splashing through a small mud puddle.
Walking in circles, the hound sniffed the ground then headed up the bank towards the tall weeds, his tail wagging. The chase was on.
The tracker glanced around cautiously, his rifle resting on his shoulder. Then, he started after the dog. He was in no rush yet.
The ground was damp and soft in the valley. He could see his dog's footprints easily. But, the ground soon dried out as they hit higher land.
Ahead, he heard the dog crashing through the weeds, hot on the fugitive's scent. He stopped at the top of the hill then watched the dog bounding across the field. Soon the animal would be out of sight. Dale had trained the hound to bay every few minutes, to let him know where he was. He would have to rely on hearing the hound's loud voice and his own tracking abilities to follow the dog now.
"HOWL! ... HOWL! ..." The dog bayed. The tracker stared in the direction of his hound's voice. "So he's fleeing towards the mountains." He smiled. "A smart choice."
As he walked, Dale reminisced, thinking about the first time the warden had called him because of a prison break.
It began with Horachio Quazalez, a skinny Mexican petty thief and con artist, who only weighed one hundred
twenty eight pounds. Quazalez escaped tied to the bottom of a supply wagon. He was so skinny, that once tied into place a few of his buddies were able to quickly nail a few planks strategically around him that actually completely concealed him from view. They smeared him and the planks with mud and oil, to make them as dirty and grungy as the rest of the bottom of the wagon.
The Stick, as the Mexican was often referred to, made it out the gate and halfway to town, when suddenly the wagon hit a deep hole in the road. The bump broke the rope dropping the convict face first in the dirt. The wagon driver glancing back over his shoulder caught sight of the string bean, Mexican limping down the bank into the tall weeds.
When Dale arrived, the Fugitive's scent was only three hours old. He had brought two hounds with him that day. The dogs took right to the scent. Dale followed the animals, riding a pony. A group of curious and skeptical prison guards tailed along on horseback.
From the start, it was clear the Mexican was limping, dragging his left leg, leaving distinct marks in the gravel. The escape con led them all through some very dense vegetation, over rocky mountains, across three streams, two rivers, across a pond then down a rocky ravine, in a desperate attempt to lose the baying animals on his tail.
It was a gallant attempt. The Stick actually came within three miles of a railroad track that may have led to his freedom, if he hadn't made a classic mistake that cost him valuable time and altered his route.
Contrary to what most people believe, you can not lose hounds by entering a river. The dogs can still track you. Even if you totally immerse yourself under the water and swim or float down stream. Your scent will still float to the top of the river then cling to the weeds on the banks and the over hanging leaves of the trees. In England a popular sport is hunting Otter with hounds. The Otter is capable of swimming to
tally underwater for 40 to 50 yard sprints. But, the hounds can still follow the scent of the Otter wherever it swims to.
Horachio, the Stick, gullible to this fact, wasted a lot of time at every body of water he came to in his journey. Hoping to elude the hounds, he would change his course each time, swimming or wading downstream a ways. The hounds followed his scent with no problem. All he accomplished was to slow himself down and tire himself out.
It was early dusk, about seven hours since the time Dale released the hounds, when they finally caught up to the skinny, Mexican escapee. As Dale approached the hill, he could hear his dogs baying, barking, and growling on the other side. He pulled his rifle then checked it was loaded. Not waiting for the others, he spurred the pony, charging up the slope.
Ruff! Ruff! GROWL! GROWL! RUFF! At the top of the hill, he came to a halt and observed. Half way up the next hill, his dogs had the fugitive cornered and trapped in a small cave. The mouth of the cave was so tiny, skinny Quazalez must have had to crawl to get inside. The prey had a branch, that he kept poking out the opening and it looked like, he was throwing rocks to keep the dogs from going in after him.
As soon as his dogs caught wind of Dale's presence, they doubled the fierceness of their barking and growling, really putting on a show for their master. Spunky, the big, blotchy, spotted mix breed, tried to bite the branch a few times. Fang charged right into the mouth of the cave only to be thwarted off by handfuls of stones and a lot of yelling.
Dale looked over his shoulder, looking for the prison guards. They were a little ways behind him. Ponies traveled a lot faster than horses on rough, mountain terrain.
The Tracker pulled a little tin of tobacco out of his top shirt pocket and a rolling paper. "Might as well have a smoke while I wait. Quazalez ain't going anywhere."
The first guard broke through the forest tree line, on his chestnut colored horse, followed by a great thunder of hooves. Dale exhaled the smoke out his nose then watched the horses climb the hill. One or two of the guards were actually good horsemen. The rest were clods. Dale took another deep drag, wet his fingertips with his tongue then squashed the cigarette's tip out. He dropped the half, smoked stick in his upper shirt pocket saving it for later.
Huffing and puffing, exhausted the head prison guard slowed his horse, next to Dale's pony. He wiped the sweat off his bald head with his shirt sleeve then stared across, at the next hill where the dogs were barking. "Think Quazalez is in that cave?"
Dale nodded, "I know he's in there.
"Have you seen him yet?"
"No."
"But you're sure."
"Yes."
"Boy's!" The bald man turned his head to look at his men. "Dale here thinks Quazalez is held up, in that cave over yonder." He pointed to where the dogs were making a commotion. "Now if it turns out to be just a jack rabbit or a prairie fox, let's all try not to laugh too hard." It was the first time Dale seen the bald Captain smile. "HAA!!" He yelled slapping his horse with the reigns. "Let's go get him boys!"
"YEE! HA!" One of the other guards shouted as they all charged down the hill.
The horses were tired. Dale and his pony slowly but steadily, passed one or two horses at a time, making their way to the front of the pack. They all stopped about twenty yards in front of the cave, their horses' hooves, throwing up chunks of grass, gravel and dust. The men dismounted.
Dale let his dogs growl, bark and snarl, for a little bit, putting on a show while the guards formed a semi circle around the mouth of the cave. Squatting on one knee they pointed their rifles at the caves opening.
Dale whistled, to get the dogs attention "Spunky! Fang! Heel!" He slapped his thigh. The dogs ceased their barking then ran over to his side. "Sit." They sat.
"Okay Horachio!" The head prison guard shouted. "Come on out of there."
"Horachio yelled something back in Spanish then in English, "You keep those dogs away from me." It was a very tired, shaky, distraught voice.
One of the guards laughed.
Dale hooked a leash on to each on his dog's collars. If something went wrong, he didn't want his dog's getting caught in the crossfire of an over anxious guard.
"The dogs are secured. Now, you come on out of there!"
A head of curly, black, hair attached to a long skinny neck peeked out of the opening of the cave, Followed by two long skinny copper colored arms. "My leg is hurt. I could use a little help."
Two of the guards ran over. Each grabbed a hold of an arm. They dragged Horachio out of the cave. He cursed them in Spanish adding. "My leg, Damn it!"
"Shut Up!" A guard kicked the convict in his hurt leg.
"UMPH!" Tears welled up in his eyes. He curled up in pain. The other guard twisted his arms behind his back so a third guard could attach the manacles to his wrists, a forth guard attached manacles around his ankles.
"Add three more years to your sentence Quazalez." The bald headed Captain of the guards announced. "And, you'll be wearing leg irons from now on."
"Why did you run boy?" A tall guard asked. "You only had two more months to go and your sentence was up?"
The prison Captain paced back and forth, then kneeled down in front of the prisoner's face. "Somebody inside threatened you didn't they?" When Quazalez didn't answer the Captain grabbed a handful of the Mexican's hair, lifting his head up off the ground. "Tell me who threatened you!" He yelled staring into Quazalez's eye.
"I can't do that sir." Quazalez hissed. "You know they'll kill me."
The prison Captain released Quazalez's hair, his face smacked the ground. The Captain kicked dirt into the convict's face.
"Load him up on a horse." The Captain shouted looking up at the sky. "I'll have another talk with you Horachio, after we get back."
On the trip back, the Captain commended Dale on a job well done. "Your dogs were great. We might have never caught that rascal without them."
"Thanks." Dale couldn't hide the annoyance in his voice.
"You disapprove of the way we handled the prisoner, don't you?"
"No, not really. After all you're professionals. You must know what you're doing."
"But you feel a little sorry for him, don't you?"
"Yes, I guess I do, a little."
"Remember he's a criminal Dale. He's not like me or you. Do you know what it's like
being in charge of 364 criminals; Murderers, rapists, con men, swindlers, professional thieves, black mailers, kidnappers and just plain nut cases. Day after Day, dealing with liars, and cheaters, in life threatening situations. Each of them waiting for the chance, even plotting, to slit your throat. Most are already serving life sentences. They have nothing to lose. These men are not dumb, Dale. There's some brilliant minds locked away in our prison walls. It's scary."
A young, freckled faced, red headed guard rode closer and added. "Every darn minute we have to be on our toes."
The Captain continued. "Respect is what it's all about. Hell, there's only fifteen guards on any given shift. That's, fifteen of us to three hundred sixty four of them.
"Not very good odds."
"No, They're not. But they respect us. We make them respect us. Their respect for us is the only thing that keeps them in check."
"Their fear of you, you mean."
"Fear and respect means the same thing in their world. Some of these criminals, lived a horrifying, life style, before they got caught. Most were abused in one way or another by someone, usually starting at birth. You got to be meaner then hell to reach these individuals. Crueler than anything they've ever seen to gain their respect.
"I understand all that. I guess I'm just having second thoughts about my getting involved with all this."
"Thought it was going to be all glamour. Catch the criminal, get a medal, accommodations, a big write up in the newspaper, maybe even a party in your honor?"
Dale laughed. "Yes, something like that."
"Welcome to the club." He motioned with his hands to the guards riding on each side of them. "Our praise goes unsung, most of the time. Except among ourselves.. The rewards are all in here, "He thumped his chest with his fist." Remember, the Warden wants to keep his prison out of the newspapers. Publicity is bad. We're not supposed to have problems. This escape, it never happened. If you don't have problems, you can't have heroes. Can you?"
"No, I guess not."
"But we appreciate what you've done today. And, the warden appreciates it. Hell we're gonna earn a whole lot of respect when we bring the String bean, Horacio Quazalez, back to jail, on the same day that he broke out."
The young red headed guard chuckled. "Ha! Ha!…He hasn't even been out of the coup seven hours! That's fast work Dale."
"I can't wait to see the other prisoners' faces." The Captain added. "They're gonna think twice about making a run for it, That's for sure."
Three months later, Dale heard, the Captain of the guards was killed in a prison Riot. It wasn't until a little more than a year after the Captain's death. That the Warden needed Dales services again. It was another prison break.
Dale's wife begged him not to go reminding him of the Captain's death and the dangers involved. But, for some reason, Dale couldn't refuse. Despite the fact that he'd only met the Captain for those few hours that one day, Dale felt he owed it to the man to chase this escape con down. He could still hear the pride in the Captain's voice as he patted his chest with his big fist and spoke. "The rewards are all in here."
This time Dale knew the importance of not only catching the escaped criminal but catching him quickly. In the Captain's honor, he vowed to himself to catch this convict in six hours or less.
This chase, he choose his two youngest hounds, because of their stamina and borrowed his neighbor's fastest Arabian bred horse.
After Dale let the dogs go, he stayed close behind them.
Over rolling hillsides, through the pine forest then deep into dense jungle like, mosquito and smoke filled bog he trailed the villain.
Bart, the Terrorist, Tailor was a man convicted of killing his wife and her lover in a jealous rage. He bludgeoned them both to death using only his large hands. From his tracks, Dale knew he was a big, heavyset man.
The dogs finally caught up to the Terrorist Bart on a sand doom like island, in the middle of the swamp. When Dale got there, the criminal was cowering up in a tree, he had climbed. Dale's dogs were barking and leaping up at him, snapping their jaws fiercely. Dale could only imagine the large escapee's facial expression, when he first saw the two hounds jump into the water then start swimming across the bog towards his little sand island. Both of Dale's dogs were excellent swimmers.
Once again Dale decided to roll himself a smoke, while he waited for the prison guards to catch up to him. He pulled out his pocket watch, to check the time. It had taken him five hours and forty-five minutes to catch up to escapee Bart the Terrorist Taylor, a new personal record. The guards and the Warden would be pleased. But, Dale vowed to do better next hunt.
---