PROMOTING BOOKS AND CREATIVE WRITING ON PINTEREST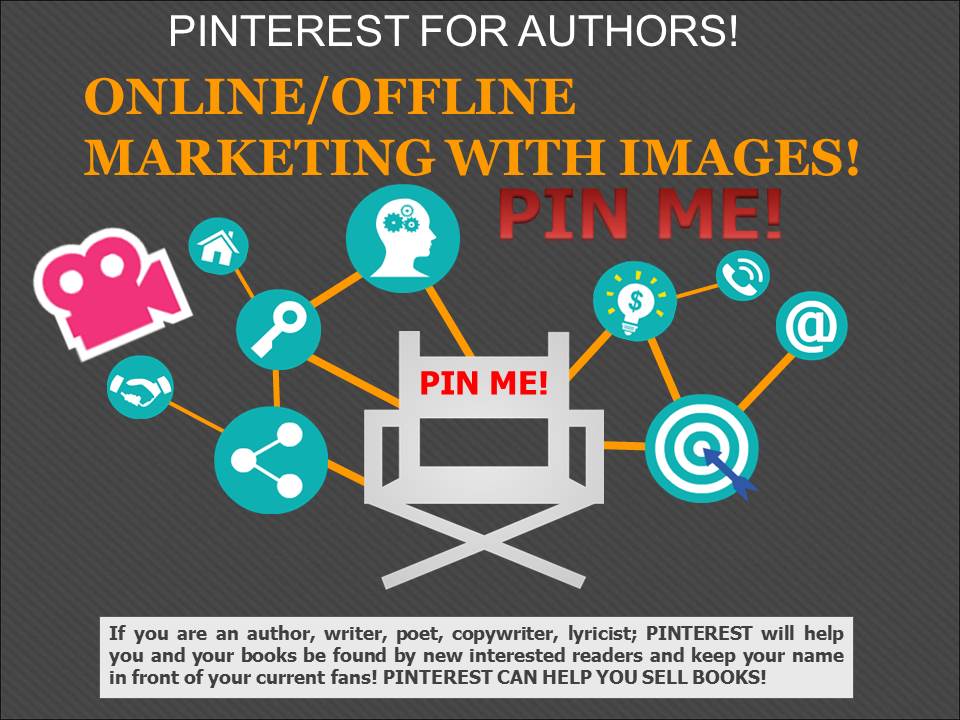 ONLINE AND OFFLINE AUTHORS CAN LEVERAGE GOOD PHOTOS FOR MARKETING AND PROMOTION!
Pinterest Marketing Tips For Authors…
Pinterest is a popular social media phenomenon that has taken the web by storm. Pinterest focuses on shareable internet images, photos and graphics. Yes, you can add some text but make no bones about it Pinterest is about notifying one's social followers about great photographs and letting people know where they can go to engage with the rest of the content that accompanies the photos they like!
If a photo is online it is considered fair game to be pinned to a Pinterest board! Pinners create huge digital bulletin boards comprised of relevant photos about a preferred topic of interest. Pinterest Pinners take pride in seeking out the very best, most interesting images pertaining to their topic and then gathering them together for their Pin board followers to enjoy.
If Pinterest is a
social site
about photographs and images then why would authors, poets and creative writers be interested in participating there?
The answers are easy; links, promotion, marketing, exposure,
SEO
, SEM, ease of networking, notoriety, fame and fun!
Yes, you can post your
e-book
covers on pin boards and if your covers are visually stimulating people will re-post them on their favorite book pin boards but all kinds of other pin boards are also out there that can help spread the word about your writing prowess too!
The idea is to post and gather photos and create photo pin boards that support the topics you are writing about. Pinterest is used similar to
twitter
but instead of a short textual tweet announcement you are posting a photo. You can add a comment to go with your photo and include a link to a writing project you wish to promote or to your Kindle book sales page or to wherever else you wish to link to. Pinterest is great for creating marketing funnels and links pointing to other
web property
!
The salability of an author's writing relies on one being an authority in one's field. Certainly, as an expert, you can quickly create a pin board of interesting photos gathered from all over the web about your topic. Now just add a few of your own personally created photographs!
You want to build a following and fans, plus drive
web traffic
to your online publishing; well, people are interested in photos but they also need text and articles with real information and advice. Get their attentions by gathering great photos about their passion in one place; a Pinterest board. From the pin board send them to your website and blog where your witty articles and creative writings and blog posts are waiting to impress them, teach them more stuff and better inform them about your topic specialty!
There are literary genre pin boards; so if you
write mysteries
there are plenty of mystery book Pin Boards filled with the latest pictures about mystery authors and mystery novel covers all with links pointing viewers to the newest and best mystery author's websites. Pinterest boards link to mystery book blogs and book review sites and book purchasing online shopping centers. Whatever your writing specialty is there are reading fans following Pinterest boards about your topic of discussion.
There are nonfiction pin boards that specialize in posting images pertaining to just about any news worthy topic or historic happening. Whatever your writing field of expertise is, whatever you write about there are Pinterest boards covering the subject matter. If you are a travel writer there are breath taking travel Pinterest boards featuring every type of vacationer and vacation imaginable.
Yes you write; you are a scribe! But text often enhances images and vice versa. Authors are not in competition with photographers…we work together in cyberspace!
If you want to sell your writing online then you need to know all about the best marketing and promoting avenues in cyberspace; Pinterest is one of them. You have to be privy to the latest internet marketing strategies and online marketing methods not just for promoting your own writing services, books, articles, ranking your web real estate and making a name for yourself but also because, chances are, your writing clients are hiring you to write promotional text for them that is going to be paired with images when they publish it.
Writers sell and practice their craft online. Online web writing has photography and graphics mixed in with it! You need to know about photos and Pinterest is one of the best places online to learn and become photo wise!
Your clients may be hiring you because you are a great communicator but they are plenty aware that text not riddled with visual image candy is less successful online with fast skimming and browsing digital audiences than photo accompanied text. Thus regardless of whether you are just writing and will not having anything to do with supplying the photos that will go with your witty words of persuasion you still need to be aware that photos, images and graphics will be added. Those images are being chosen for magnetic eye appeal as well as for their social media share-ability! As an online content writer you have to write text that plays well with images; videos and photos and graphics.
The digital world is very competitive and textual writing, especially long articles with no visuals, do not go viral online! Images are what people share most and through the shared images people can follow the links back to your text.
People are used to having their info fed to them in varying modes, audio, video and photographically. Mixing things up keeps viewers and consumers of web content interested. Multimedia is more fun.
The online arena does not feature publications that simply mimic the text book pages of old. Digital posts are dynamic, varied and versatile, multifaceted medium combos! Yes writing is still king but it is media cooperative online writing that gets the most notoriety in cyberspace!
It is no longer good enough to just write great; your textual master pieces must be designed to lend themselves to being shared, passed around, talked about and linked to on social media sites! Shareable Content is the name of the online success game! Shareable writing makes money online! Shareable creative writing will get you famous! As an author you need to incorporate photos and videos into your online writing for both yourself, building your personal brand image and for assisting your writing clients to get the most out of the web content you create for them.
Authors get on Pinterest! Create an impressive Pinterest profile highlighting your best work and glowing review quotes. Create some pin boards filled with photos and images and infographics about you and your work and your field. Be sure to include a do follow link in your Pinterest profile so people can go directly to your website for more info about you and your writing services as well as for SEO purposes. Now let's pin some photos pinners!
PINTEREST SEO HINT: Every webpage and blog post you publish online should always include a photo or two so people can link to your content on image curating sites like Pinterest. If you cannot figure out what type of photo should accompany your writing then just pull a good quote from your writing piece and make it into an artsy image of fancy large colorful font text or put some text over top of a popular photograph to make it more related to your article.
*You can also take a few key points from your article and turn them into an infographic about your topic. There are many free as well as inexpensive online services for quickly adding text to photos as well as for making infographics. Many infographics have been known to go viral!