CRIME! MURDER! WHO DONE IT? HARDBOILED, WELL DONE, RAW, NOIR AND MORE...
Perfect Murder by Stuart Leventhal
My body trembled as I opened the door. My nose was dripping and my brow sweating. Chief Griffith was talking on the phone. He motioned, with a wave of his free hand, for me to have a seat in the little chair in front of his desk. The gesture always reminded me of when I was a boy in grade school being sent to the principal's office to get yelled at. I sunk into the lumpy leather chair, the seat built very low to the ground. My limited psychological training had taught me it was designed low to make visitors feel inferior while our looming, large bodied, boss looked down at them.

"Well you'd better call me tomorrow with some good news." Clunk! Griffith slammed the phone down. His beady eyes focused on me. "Jeffery…." He tugged his limited chin whiskers, twirling the longest strands around his forefinger. "I called you in here because the Mayor is breathing down my neck. He wants to hear some progress on the Missy Wilkerson Murder case."

"Well Sir…"


"Don't well Sir me! I need some answers and I need them now! The Wilkerson's are old money rich and they're friends of our mayor's wife, so I can't keep stalling."

"But Sir…"

"Do you have any leads? Or what?"

"I know who did it. I think I know how they did it. But, I don't have enough hard evidence to make an arrest."

"Well, who's the suspect?"

"I can't tell you, not until I'm dead sure."

"What do you mean? I'm your Boss! I'm the Chief of this damn Police Department! If

you can't tell me, who can you tell?!"

"Well, I'm not going to tell anyone, yet. You know I don't work that way Sir. I won't accuse someone without solid proof."

"Well find the proof then!" He raised his chubby arm in the air like a symphony conductor. "Both of our jobs are on the line!"

"No physical evidence ties the crime to the perpetrator and I don't believe, any ever will. All the evidence has been destroyed. It's the perfect murder."

"THERE'S NO SUCH THING!!" His fat arm made a backhand sweep, knocking everything off the top of his desk. "In all my years in law enforcement, there's one thing I've learned. Criminals are never perfect! They always screw up, somehow."

"That's what I used to think."

"Are you saying, you're giving up?!" He stood then peered down at me.

"Nah, I ain't no quitter Boss."

"That's the spirit!"

"I'll keep at it as long as you allow me to and even afterwards on my own time. But I really feel this killer beat us Sir."

The Chief took a deep breath. "Jeffery, take the rest of today off and the coming weekend too, on me. Just go relax and don't think of anything that has to do with this case or any other case. But, Monday morning when you come in, I want to see you in my office bright and early, first thing, while your mind's still freshest. And, I'll want to see all the information we got concerning this case. Then, we're going to have a little pow wow. We'll dissect this case of yours and think this thing through together. We'll work through this little mind block of yours. Perfect murder ha! Do you know how absurd that sounds especially coming form you, my best detective. I can't let the other detectives hear you talking like that. Perfect crime is a figment of every criminal's imagination."

I climbed out of the chair. "I know. I'm always the first to say there's no such thing as a perfect crime. But, this case is different.""Go home and rest Detective. And, leave my door open please. It's getting stuffy in here." He wiped his sweaty forehead off with the

back of his large hand.

"Yeah, okay." I turned then strolled out of his office.

"Hey Jeff, how ya doin?" Asked Detective Groverton.

"Do you really care? Does anyone really care how Jeffery is doing?" I pressed the elevator down button as my colleague walked away shaking his head.

"What's wrong with Jeff man?" I heard him whisper.

"Well, if he's in a bad mood, it's probably that high profile case he's been working so hard on. I bet the Chief's yelling at him constantly." The door opened. I stepped onto the elevator dismissing their comments.

"No body, no witnesses, no weapon." I scratched my chin. "Oye veh!"

Twelve days ago, a Port of Authority police cruiser patrolling the Walt Whitman Bridge pulled up behind a stalled pink, Cadillac with dark tinted windows all around. The large, flamboyant, four door, luxury car was parked in the center of their bridge, at the peak of the

bridges arch, placing the car directly on the border line separating Philadelphia, Pennsylvania from New Jersey. The Cadillac's engine was idling and the vehicles emergency hazard lights were flashing.

Climbing out of their cruiser, the two officers realized how windy it was tonight at the crest of their bridge. The officers pulled their guns because they could not see inside the vehicle due to the tinted windows. "Cover me." Ordered Senior Officer James Sowers as he slowly approached the car. The road was slippery under his boot soles since it had been raining on and off or drizzling all night. Officer Sowers tapped on the driver's window. "Open up!" He ordered, as his partner Radisson Murray covered him, aiming his pistol from the other side of the Caddy.

When no one within the car responded. Sowers slowly reached for the door handle and pulled. "The door is locked." He informed Murray. "I'm going to try the back door." Sowers stepped back then reached for the back door handle. "It's locked too!"

"Cover me." Murray replied. "While I try my side." Sowers aimed his pistol while Murray tried the passenger doors.

"All doors are locked." Murray pounded his fist on the front side window. "Open up!" Murray backed up then stared over the roof at Sowers. "This is creepy. What do you want to do? Call for back up?"

"No." He answered. "I don't think we should wait. If someone's had a stroke or heart attack or passed out inside there, us waiting for back up could mean their life or death. I'm going to go get the crowbar, then we'll break a window."

Officer Sowers headed back to their patrol car. Officer Murray backed away from the idling vehicle but kept his eyes, ears and pistol trained on the caddy.

"Cover me." Sowers ordered, walking past his partner to the pink Cadillac. "This is your last chance to open up!" Sowers informed, then waited. "Okay then. On the count of three, I'm going to smash the back driver's side window. So, I advise anyone inside to move away to the other side of the car and cover your face."

"One, two, three!" Sowers swung the crowbar. SMASH! The window shattered. Sowers heard the glass tingle like a dozen wind chimes as the fragments flew all over the interior. Sowers shined his flashlight inside, to find, to his surprise, the large car was completely unoccupied.

"It's empty?" He stared back over his shoulder at Murray. "Nobody's inside?" Sowers looked towards Jersey then spun around to stare back at Philadelphia. "I don't see anyone walking. Do you?"

"No. Murray stated. "Give me the crowbar. I'll pop the trunk." Sowers handed his partner the crowbar. They both walked back to the Cadillac's trunk. Murray jammed the nose of the crowbar into a crease as Sowers covered him, aiming his pistol. Pop! The trunk sailed open. "Empty too?" Murray wondered out loud. "Except for the spare tire."

"You thinking what I'm thinking?" Sowers asked. They both walked to the side of the bridge. They shined their flashlights down, as they peered over the railing.

"I can't see anything." Murray complained. There was a misty fog rising up about three or four feet off the river's surface.

"Let's go see who owns this vehicle." Sowers headed back to the Cadillac. Sowers reached in through the broken window then unlocked the door. Pulling the door open he noticed the piece of folded paper taped to the steering wheel. "Uh oh…"

"What?" Murray asked walking up behind him.

"Here." Sowers replied solemnly handing his partner the paper. "Read this."

"To who it may concern. I Missy Wilkerson, have decided to end it. I've been very depressed ever since my husband Paul past away last July. Neither therapy nor drugs have helped. I just don't want to be here anymore without Paul. I hope I'm not inconveniencing or hurting anyone. Paul, I'll see you soon, Honey. Goodbye everyone. Signed Missy W."

"Did you see the P.S. at the bottom?" Sowers leaned closer to point with his gloved finger.

"P.S." Murray continued. "To my nephew, Graham, sole survivor of our Wilkerson clan, I leave the company, the estate and all my worldly possessions. Which, always was my husband Paul's dire wishes."

"Well, we're virgins no more Sowers. Our first jumper and on a miserable night like this one."

"We'd better make sure we follow the book on this one partner. The news people are going to be all over this thing. The Wilkerson's are old world money. Our jumper's nephew Graham is going to be worth billions."

"The ladies are going to be fighting to get their claws into that meal ticket."

"How do you know he isn't married?"

"Oh, you haven't heard of Graham Wilkerson. He's in the news all the time. He's a real bad ass, playboy type, always getting in trouble with the law. Picking fights in bars, slapping news reporters and smashing cameramen's cameras. He's already on the list of top 10 eligible Pennsylvania bachelors. With this enormous inheritance, he'll probably be escalated to top ten bachelors list of the whole country, maybe even the world."

"Like I said," Sowers stated. "We'd better dot all our I's and cross all our t's on this one partner." He walked back to the rail then shined his flashlight down again. "Boy do I wish it wasn't so foggy.


Two days later, I was the lucky Philadelphia Homicide Detective who was called to look into the case, after New Jersey and Pennsylvania finally sorted out who's jurisdiction Missy Wilkerson's pink Caddy had been parked more in. The official report stated, the trunk was two inches closer to Philly than the front bumper was to New Jersey. The Port of Authority didn't have a homicide department, since they dealt, mostly with traffic violations. That's not to say they had it easy. Patrolling turnpikes, bridges and tunnels could get dangerous due to all the drug trafficking illegal immigrants, guns and other illegal stuff that are always crossing state lines

.
There were three reasons Homicide was getting involved, as far as I could tell. One was, simply because people get nervous when billions of dollars of inheritance are concerned. Two, Graham, the sole beneficiary of this death, had a reputation of being a spoiled brat, smart mouthed, rich kid, punk who nobody liked nor trusted, especially the supposed suicide victim, his Aunt Missy Wilkerson. And most importantly, number three, The mayor's wife had sat across from the jumper at a charity ball, just one night before Missy's car was found empty on the bridge. Mrs. Mayor swears, Missy Wilkerson, her friend for years, was in great spirits, all night long. They had a marvelous time and even made plans to play tennis the morning after Missy supposedly jumped. "Who makes plans to play tennis with a friend." The Mayor's wife pointed out. "Then kills themselves the night before?"


Well I've had a lot more to start most investigations with, that was for sure. But, I've had less info to start some cases with too. I had seen the Mayor's wife speak a few times at functions, both in person and on TV. She was a strong, spunky, opinionated woman. I actually always thought, at least half of the people who voted for our Mayor actually had pulled the lever because they were voting for his wife. A woman like that's intuition was as good a lead as an old homicide detective could ask for.


The forensic reports stated, there was no evidence of any struggle in the Cadillac or on the side of the bridge. For days, the search and rescue teams combed the sea and river. We drug the riverbed around the bridge and sent divers down. No expense was spared. Each night, the news showed the Mayor's wife, standing vigil, on shore, dressed in a long black gown, peering at the rescue boats through her binoculars. Mrs. Mayor made sure every means of detection known to man was exhausted during the search.


It only took a little bit of legwork to realize Missy Wilkerson was well liked by everyone who knew her, as her secretary had claimed. She gave something to every charity that asked and a lot more to her favorites like the Philadelphia Ballet and the SPCA. Helping animals and dance being two of her passions. She had no known enemies whom anyone, I asked, could remember.
"Follow the money." My long deceased mentor, Chief Detective Benjamin Berks had taught me when I first joined the homicide division years ago. Everything pointed to Graham. The nephew was the sole heir. I tried but I couldn't find anyone else who was going to benefit from Missy's death.


I could have asked the punk billionaire to come in to the station house for questioning but I knew, he would feel more comfortable if I interviewed him on his own turf, at the Wilkerson estate. The more relaxed Graham felt the more likely he would open up to me. So, I called him and set up an appointment.


When I arrived at the heavy, scrolled, raw iron, front gate, I found the place teaming with Paparazzi. Reporters immediately began bombarding me with questions, sticking their microphones and mini tape recorders in my opened window, holding their long nosed, live feed, film cameras in front of my face. "Why haven't the police officially declared the Missy Wilkerson case a suicide?"

Camera flashes sparked all around me as I answered. "It's hard to be sure, without

a body to examine."


"Are the police looking into the possibility of foul play?"


"We're looking into every possibility, as always."


"Is Graham Wilkerson a suspect Detective? Is that why you're here today?"


"No. I just have some routine questions for Graham."




I leaned my head out of the window then announced myself into the speaker.


Mystery History
(1841)The Beginning

Edgar Allan Poe
Father of the Mystery Story
by Stu Leventhal


In 1841, Edgar Allan Poe, an American author, poet and controversial literary critic introduced the world, to the first who done it. Poe's short story, "The Murders in the Rue Morgue," launched a whole new genre of fiction now called The Mystery. Popular and entertaining mysteries sometimes dubbed crime fiction, have since been written in all kinds of styles and lengths with new writers constantly creating and evolving the genre. Edgar Allan Poe wrote the first mystery, "The Murders in the Rue Morgue," in an innovative style now called the locked room mystery, where a body is found murdered inside a room that has all its windows, doors and any other entry points locked from the inside. The characters and the reader try to figure out how the seemingly impossible crime was carried out and who is the killer. Locked room mysteries are still popular today and new variations are being written all the time.

Edgar Allan Poe and his creative short story, "The Murders in the Rue Morgue," are also credited for debuting fiction's first ever, detective character, Detective Auguste C. Dupin. Because of the short story's popularity, Poe continued the saga of Detective Dupin in a later novel, "The Mystery of Marie Roget," (1842) and again in "The Purloined letter." (1845)

Edgar Allan Poe was born Edgar Poe in Boston, Massachusetts on January 19, 1809, the second child of English-born actress Elizabeth Arnold Hopkins Poe and actor David Poe, Jr. Edgar had an elder brother, William Henry Leonard Poe and a younger sister, Rosalie Poe. Edgar's father abandoned their family in 1810, and his mother died a year later from consumption (pulmonary tuberculosis) leaving young Edgar Poe an orphan. John Allan, a successful Scottish merchant and his wife Francis Vallentine Allan, took Edgar into their home in Richmond Virginia, becoming the boy's foster parents. The Allans gave the boy the name Edgar Allan Poe, although they never formally adopted him.

In 1826, Edgar Allan Poe entered the University of Virginia but dropped out after a year due to insufficient funds. Edgar moved to Boston to distance himself from his childhood sweetheart who had married another man. He tried working as a clerk and news reporter but wasn't earning enough writing to support himself so he signed up for a stint in the army claiming he was 22 when he was only 18. Later that year, Poe published his first book, a collection of poetry.

Edgar's foster mother, Francis Vallentine Allan died on February 28th 1829. Edgar managed an early discharge from the army by getting a replacement to serve out his term. Poe moved in with his Aunt, Maria Clemm, her daughter and Edgar's first cousin, Virginia Eliza Clemm, (Who would later become Edgar's wife.) Also living in the home were Edgar's older brother Henry and their invalid Grand Mother, Elizabeth Cairnes Poe. A few months later, Edgar Allan Poe published his 2nd book, "Al Aaraaf, Tamerlane and Minor Poems."

In July of 1830, Poe entered West Point. Meanwhile, his foster father remarried, over which Edgar and his foster father argued bitterly. The continued fighting would eventually cause his foster father to disown Edgar. Edgar decided to quit West Point by purposely getting himself court marshaled for gross neglected duty(leaving his post). He plead guilty then was dismissed from duty on February 8th 1831. Leaving West Point, Poe traveled to New York where he published his third collection of poetry, financed entirely by contributions from his fellow classmates. Edgar then moved back to Baltimore, again in with his Aunt. Edgar's older brother Henry died in August of that same year of complications due to Alcoholism.

Poetry not turning out to be very monetarily rewarding, Poe tried his hand at writing stories. On October 1833, Poe was awarded a prize for his short story, "Ms found in a bottle." The award and short story caught the attention of a rich Baltimore benefactor who helped Poe place some more of his creative writing stories and also got Edgar his first editor job. On September 22, 1835, Edgar Allan Poe, (26 years old) and his cousin Virginia, (13 years old), secretly got married. Their marriage license stated Virginia to be 22. Over the next ten years, Poe worked for various magazines and periodicals building a reputation as a ruthless critic. He published short stories, poems, gave book reviews and other literary critiques. Although, Poe published everything from satires to sci-fi to humor pieces, he is most remembered for his horror short stories such as "The Pit and the Pendulum" or "The Fall of The House of Usher."

In January 1842, Poe's wife Virginia became ill with consumption, (tuberculosis). Under the stress of his wife's illness, Poe began to drink more than usual. Returning to New York, Edgar took a job at the Evening Mirror then became editor of the Broadway Journal. On January 29, 1845, Poe's poem "The Raven" appeared in the Evening Mirror, instantly making Edgar Allan Poe a household name.

Poe's wife Virginia died on January 30th 1847. After Virginia's death, Poe increased his drinking, resulting in erratic behavior and became reportedly more and more unstable. On October 3, 1849, Edgar Allan Poe was found wandering the streets of Baltimore, delirious. He was taken to the Washington College Hospital, where he died on Sunday, October 7. Newspapers at the time reported Poe's death as "congestion of the brain" or "cerebral inflammation", commonly used to sugar coat deaths from disreputable causes such as alcoholism. The actual cause of Poe's death remains a mystery.

In addition to being the acknowledged father of the mystery story, Edgar Allan Poe also contributed to the emerging genre of science fiction with a tale about a flight to the moon titled, "The Unparalleled Adventures of One Hans Pfaal". Edgar Allan Poe is also the first well known American to try to make a living by writing alone. Throughout his determined attempts to live solely as a writer, Edgar would frequently be forced to plea humiliatingly for money and other assistance.


Mystery History (1878)

Anna Katherine Green(1846 – 1945)
Mother of the Mystery Novel
By Stu Leventhal

In 1878, Anna Katherine Green published, "The Leavenworth Case: A Lawyer's Story," and became the first woman to write a detective novel. Born in Brooklyn, New York on Nov 11th, 1846 Anna Katherine Green originally wanted to publish romantic verse. After not succeeding as a poet, she tried her hand at writing a detective novel. "The Leavenworth Case," Anna's first novel was an instant success becoming the first American best-selling novel. "The Leavenworth case," sold a quarter of a million copies. She went on to publish 40 more novels in her career but "The Leavenworth Case," remained her most popular.
Anna Katherine Green was known for her well plotted, creative fiction, mystery stories as well as her attention to depicting legal accuracy in her writings. A progressive woman of her times, Anna Katherine Green was one of the first American writers of Fictional Detective Mysteries and the first woman mystery writer in an all-male dominated field. She helped form Classic Detective Mystery influencing many later famous authors of the genre. Many of Green's novels featuring her main character, Detective Ebenezer Bryce of the New York City Police Department. Detective Bryce has numerous helpers who go on to be featured in their own novels. Anna, is credited with being one of the first writers to develop a series detective. Anna Katherine Green's works and style greatly influenced the writers of the 1920's who developed the cozy English country house murders. Her fictional character, Amelia Butterworth became the proto type for nosey, society spinster, amateur detective characters such as Agatha Christie's, famous Miss Jane Marple character. Agatha Christie states in her autobiography that it was due to the influence of Anna Katherine Green's writing that she decided to take up mystery writing. Anna Katherine Green is also credited with creating the first girl detective, Miss Violet Strange, a debutant with a secret life as a sleuth, working for a detective agency.




Bbbbuuuuzzzz!…The gate automatically opened. I drove my patrol car through the opening. Bbbbuuuuzzzz! The gate reversed, automatically closing. As I drove down the spacious long driveway, I couldn't help noticing the large, ugly, bulging, eyes of the gothic, gargoyle, water fountain, sitting up high on it's pedestal in the center of a pool of water, in the middle of the front yard.

The tall butler met me on the front porch steps. "This way Sir." He led the way into the main house. "Watch your step." He led me through the marble floored, foyer, furnished with a white polished whicker theme. Next we entered into the cherry wood floored main living room with its two huge fire places, furnished with dark, brown, leather sofas and chairs, glass tables and end tables, matching glass coffee tables and glass shelving all filled with an assortment of delicate antiques and easy to break collectibles. In a hallway I stopped to stare at a magnificent large fish tank that took up almost one wall of the long hallway.

"This must be hell to keep clean." I muttered, watching a baby spotted sea turtle swim by.

"We have a specialist come in three times a week." Informed the tall butler. "You'll find Master Graham working out on the other side of the pool, in the exercise room." The butler informed pointing into a large open space room with a two story high ceiling that housed an indoor regulation size swimming pool with two small Jacuzzis pools.

"Wow, so this is how the other half lives." I said stepping onto the tiled floor of the poolroom.

"The Missy Wilkerson Mansion and Estate was featured in the March addition, on the cover of Architecture of the World Magazine." The butler informed with pride.

I could see the young Graham Wilkerson dancing around and throwing lame punches at a heavy gag through the glass wall like partition separating the tiled pool area from the matted exercise area. "Sir," The butler announced. "You have a guest."

"Come in Detective." Twenty six year old, Graham Wilkerson waved me over with both boxing gloved hands. I was surprised, to find Graham ready and willing to talk to me alone. I had expected him to be accompanied by at least four or five lawyers minimum. The rich always had lawyers around, quick to advise them to clam up, when ever they knew the cops would be coming by.

Between sudden outbursts of proclaiming his undying love for his beloved Auntie, bouts of uncontrolled sobbing into a small towel over Missy's sudden lose followed by sporadic punches being pummeled on the heavy bag. Graham Wilkerson actually answered a few of my questions. "Do you think it odd that everyone I talk to tells me your Aunt was anything but depressed recently?"

"They didn't know Auntie like I knew her."

I flipped open my note pad. "She's been described as spunky, always on the move, a lover of life."

"She was always crying inside the mansion and popping those little white pills." He dabbed at his eyes with the corner of the small fluffy towel.

"Her secretary showed me Missy's calendar for the coming weeks and it was filled up completely."

"That's my Aunt Missy, detective, always keeping up appearances." He mopped the corner of the towel at the tears flowing down his cheeks.

"Your Aunt's suicide note was typed, not handwritten." GIVE US YOUR IDEAS WE'LL DO THE REST!


"So?"

"There's no way for us to verify its authenticity. Anyone could have typed it."

"Oh, I get it. You think I threw my Aunt off the bridge that night then planted a phony suicide note in which she states she wants to leave all her money and stuff to me."

"You could put an end to everyone's suspicions, simply by coming back with me to the station house and taking a lie detector test."



"I don't think so. Besides, I've heard they're not 100% conclusive." He stared me down. "Not to mention my lawyers would never allow it." As Graham walked me out, still wearing his boxing gloves, he continued to act crushed over his loss. As he waved his boxing gloved hand, goodbye to me, I could tell he felt confident and was happy with the way his first interview with the authorities had gone. I also knew, next time I'd try to question him, he'd be insulated by a team of attorneys.


"Why'd you call off the search?" The Mayor's wife stormed into my office.

"It's been over four days."

"So?" She tossed her head back swinging strands of her brunet hair away from her face.

"We're wasting the tax payers money." I explained. "Besides, she's not buried at sea. You know that right?"

"What? Of course she is. Her nephew Graham tossed her off the Walt Whitman Bridge, during the storm, in the fog. It was the perfect, nasty night. He knew she'd be swept out to sea." She set her heavy pocketbook down on top of some papers that were covering my desktop. "I know it's like searching for a needle in a hay stack Detective. But, if we give up now, he's going to get away with killing one of the nicest women I've ever known." She broke down sobbing. I watched her reach into her pocketbook, pull out a handkerchief then blow her nose.

"Mamm, Graham Wilkerson isn't stupid. He may be immature, a little mixed up and irresponsible but he's also fairly bright. He knew from the start, he was going to be our main suspect. Heck, he's my only suspect."

"So, you'll tell the divers to keep searching?"
No."

"But…"
"

"That whole suicide on the bridge was a production her nephew Graham designed to throw us totally off hie scent. He's happy, we're searching for that needle in a haystack, you talked about, because he knows we're wasting our time. He stacked the deck. Not only is our haystack the size of the Atlantic Ocean, but the needle's not even in there."

"Huh?"

"Graham's too smart to risk letting his Aunt's body possibly wash ashore somewhere, anywhere! And, us finding out she was poisoned, stabbed, shot, strangled or something worse. He's counting on us never finding her body, so we can't prove foul play was involved."

"A real piece of work to have as a nephew, aye detective."

"He's way too cocky and confident because he knows, we're not even close to finding Missy's body. We're looking in the wrong haystack."

"It's just so disgusting, how he's still acting the part of the grieving nephew with the media."

"I know. He went from the rebel rich kid who despised the press for invading his privacy to out right courting the news people"

"Captain," I pushed my boss's office door open then barreled in. "You were right. This is no perfect crime!"

"So you got something, concrete?" My boss dropped the paper that was in his hand to give me his total attention.

"Graham Wilkerson was sloppy, immature, impulsive and irresponsible in his every day life. How could I think a punk like that could be smart enough to think out a fool proof plan?"

"Now that's my lead detective talking! That Punk probably made lots of mistakes, right?" The Captain looked at me anxiously. "Lay one on me Jeffery."

"One mistake is, he had to have at least one and maybe even two accomplices."

The Captain scratched his forehead. "You're sure about this because?"

"Well, someone drove Missy's pink Cadillac onto the bridge then taped the suicide note to the steering wheel. Then they abandoned the Caddy in the middle of the bridge. The Caddy's driver had to get off the bridge fast, without being seen, before the bridge cops arrived to investigate. The only way would be by climbing into a get-a-way vehicle, which, was trailing behind the pink Caddy. The get-a-way vehicle had to be driven by a second person."

"That's good, the more people involved, the easier they'll be to catch."

"I'm going to need you to call a judge, to get me a warrant for all of Graham Wilkersons financial records. I want to know who Graham's been paying large sums of money to recently. Accomplices have to be paid for doing their part and afterwards for keeping quiet."

"That's a start Jeff. Follow the money trail is always a good investigative tactic. I knew you'd come out of that writer's block type of funk you were in."

"Oh I'm not done yet Boss. I also need a warrant to bring bloodhounds onto the Wilkerson Estate. I'm positive Missy Wilkerson's body is still somewhere on her own property or in her mansion."

"After all this time? Don't you think he would have disposed of her by now?"

"He would if he could."

"And, why can't he?"

"Because of the press, God bless their souls. This is the biggest news story in Philly, right now. The Paparazzi have been staking out the Wilkerson Mansion since Missy's story first broke? There is no way Graham could make a move like smuggling a body out without someone seeing or getting a photo."

"But wouldn't her body be starting to stink by now?"

"Let us hope so."

"I just got one more question." The Captain asked. "If you put Graham in jail, who is going to inherit all the Wilkerson's billions?"

"Missy's will, leaves everything to a list of her favorite charities."

"Good boy." I scratched the head of the tan, wrinkly, drooling bloodhound then smiled at young Graham Wilkerson. "This is Ruffis. He and his two pals, are here to sniff out the decaying body of your Aunt Missy for us. Their noses are quite powerful and Ruffis seems quite up for the task this morning. So, Graham, would you like to confess now and save us all lot of time and energy?"

"My Aunty threw herself into the river Detective and most surely she has washed out to the Atlantic Ocean by now. Don't you read the papers?"

"Do you want to read the warrant before we start this Easter Egg hunt?"

"What crazy judge would grant you a warrant to invade my family's privacy without any evidence?"

"Judge Newton." I handed Graham the papers. "He served on a number of committees with your Aunty, including Animal Welfare of Pennsylvania. Given your Aunt's history of charity towards, well, all animals in general. I find it quite satisfying that an animal like Ruffis is going to help us seal your fate." I shouldered my way past Graham. "Come on Ruffis, go to work Lad!"

K-9 Officer Patrick Doyle led the Blood Hound through the gate and onto the estate. The other two handlers followed with their hounds tugging their leashes taunt. "We'll start over here." Officer Doyle pointed. "Then work our way around the front yard first aye."

The dog team lined up along the west wall of the estate. "What the hell's that guy doing?" Andre Lewis a seasoned crime scene technician pointed up into the sky at a very low flying single engine plane, floating over the north wall of the estate.

"I think it's going to make a crash landing on the lawn."

"Now?" I complained. "In the middle of our investigation?" The white haired technician shrugged his shoulder.

"Duck everyone!" The plane swooped in low over our heads. Then drifted out over the lawn. Suddenly a smoky mist started dropping out of the bottom of the plane. Quickly a dusty cloud of smoke covered the whole front lawn.

"What the hell was that?!" We watched the plane climb as if it was leaving then turn around. "I think it's coming back!" The plane swooped in over the east wall to start dousing the right side lawn then circled to cover the back lawn with dust.

"Do you smell that stuff?!" Pat Doyle complained. "We got to get our dogs out of here quick!" The handlers drug their Blood Hounds back to their K-9 jeeps.

I raced over to the young Graham Wilkerson then grabbed him by his jacket collar.

"What?" Graham was laughing. "Is it illegal to fertilize one's lawn now?" He chuckled.

"Who told you we were coming here, this morning, with the hounds?" I interrogated shaking him violently.

"Yo Detective!" Andre the crime scene tech shouted. "Stop!" He grabbed me, reminding. "The journalists, Sir! Their cameras are on you!" He tugged me off of Graham, pointing to the cameramen pointing their long nose film cameras at us, over the top of the estate wall.

"Did you all get that!" Graham jogged towards the news cameras. "He attacked me Detective Jeffery Falk attacked me for no reason!"

"I'll give you a reason!" I shouted walking fast after him. "How about obstructing justice!

"I fertilized my lawn. So, sue me." Graham countered. "I didn't know you planned to bring your Bloody Hounds here on some witch hunt today. Next time you plan to abuse my rights, call me to let me know first. Then, Ill tell my landscapers to hold off a few days before fertilizing." Graham turned back to the reporters.

"I'm going to shoot him!" I shouted.

"Calm down, detective!" Andre grabbed my elbow to spin me away from the cameras.

"How can I calm down. Someone in our department leaked the info to Graham Wilkerson that we'd be here this morning with our scent dogs."

"You're playing right into his hands." The older Spanish technician whispered. "Making a spectacle of yourself in front of the press."

"You're right I got to pull it together." I mumbled. "Let go of me." I shrugged Andre's hands off my clothing then headed towards Graham.

"You aren't going to assault me again are you Detective?" Graham stated smugly moving closer to the paparazzi.

"You know all this proves to me, is what I already suspected." I explained looking at the cameras and raising my voice. "Your Aunt's body is here on this property. Your actions just confirmed that to me. She's here! That's the only reason for you to impede our search. Isn't it?"

"I don't know what you're talking about."

"I still have a warrant. And with or without the dogs, I'm still going to search every inch of this place. And, when I find Missy's body, I'm going to make sure you and all your accomplices go away for a long, long time."

"Oh, so now I have accomplices too?"

"I don't believe for one second a twit like you could pull this off by yourself." I held up another pile of papers for him to see. "Here's warrant number two." I handed him the papers. "These allow me access to all your financial records. If you moved any large sums of money, I'll know about it shortly."

"You are a very determined man, Detective." Graham rebutted loud enough for the reporters to hear. "But I can assure you, you'll find nothing to prove I've done my Aunt Missy any harm."

"Spread out men." I informed. "Look for flies hovering, signs of digging, unusual smells, find me something!" I watched the men pull on their clear evidence gloves then pair off then head in different directions. "Look for stains, scratches, new paint that might be covering up evidence of a struggle. Inform me as soon a you find anything that seems out of place."

"Sir," Tim a uniformed officer walked over to inform. "Chief Griffith is on the line for you." He handed me the phone.

"Detective Falk here."

"Jeffrey! Did I just see a feed of you, on the news roughing up our number one suspect, Graham Wilkerson?!"



Mystery History


Agatha Christie




Queen of the Mystery




by Stuart Leventhal




Dame Agatha Mary Clarissa Miller Christie, playwright and author extraordinaire is the bestselling author of all time. Her two most, super famous, fictional characters; Miss Marple and Hercule Poirot have been repeatedly portrayed on film, TV specials, TV series, theater stage, radio, animation, comics and even in video games. Using the surname of her first husband, Colonel Archibald Christie (divorced 1928) Agatha Christie wrote more than 70 detective novels featuring her popular Belgian detective, Hercule Poirot and her equally famous, inquiring village Lady Miss Marple. Many of Agatha's other popular stories have become block buster, popular films, such as 'Murder on the Orient Express (1974) and Death on the Nile (1978). She's written plays that have been adapted into novels and has had her novels adapted into plays. Her popular theater play, 'the Mouse Trap' opened in 1952 at the Ambassador Theater and holds the record for the longest unbroken run in a London theater. As of 2012 the play is still running logging more that 24,600 performances!

Agatha Christie also wrote Romance novels under the pen name Mary Westmacott but it was Christie's enormous success as an author of mysteries that earned her the title 'Queen of Crime'. According to the Guiness Book of World records, Christie is the bestselling novelist of all time. Her novels have sold roughly four billion copies and her estate claims, Agatha's works rank third as the world's most widely published books, second being Williams Shakespeare and first being the Bible. According to Index Translationum, Agatha Christie is the most translated individual author. Her books have been translated into 103 languages. Christie's bestselling novel, 'And There Were None' has sold over 100 million copies to date making it the world's bestselling mystery of all time.

In 1955, Agatha Christie became the first recipient of the Mystery Writers of America's highest honor, the Grand Master Award. In the same year her 'Witness for the Prosecution' was given an Edgar Award by MWA for Best Play. In 1971 Agatha Christie was made a Dame by Queen Elizabeth II at Buckingham Palace. In 1974, Dame Agatha Christie made her last public appearance for the opening night of her play Murder on the Orient Express. Agatha Christie died on January 12 1976.

Agatha Christie's life story has been told in documentaries on TV as well as in film versions. She's had numerous biographies printed about her. She also penned her own Autobiography that was published after her death in 1977.

Agatha Mary Clarissa Miller was Born on September 15th, 1890 in Torquay, Devon England, to an American Frederic Miller and his wife Clara. While her father was outgoing, Agatha's mother Clara was a rather shy woman who Agatha grew to take after in personality. Agatha's two older siblings; Madge and Monty, had both received formal educations but for some reason Clara decided Agatha would be schooled mainly at home through a mix of tutors, part time schooling and French finishing schools. Young Agatha trained as a singer and pianist and it was said that the only thing holding her from making a career out of either was her extreme shyness.

Agatha's father, who was constantly ill, plagued by heart attacks, died at the age of 55 when Agatha was eleven, leaving the family in an uncertain financial situation. After her father's death Agatha older sister, Madge moved out of the house but nearby with her new husband and her older brother Monty joined the army and was sent to South Africa to fight in the Boer War. Agatha would later write that her father's death marked the end of her childhood. A year later Agatha was sent to Miss Guyer's Girls School in Torquay where she found it hard to adjust to the strict disciplined atmosphere.

With the loss of her husband, Agatha's mother Clara, being restless, began travelling. Frequently Agatha would accompany her mother on her trips. This was the start of Agatha's lifelong love of travelling. Many of Agatha's stories feature characters travelling and showcase exotic setting of faraway lands and cultures. In 1905 Agatha was sent to Paris, France to polish her education, where she attended three schools, the last of which was a finishing school.

Young Agatha took part in writing and performing in some theatrics with female friends. She also wrote a few poems and songs, some of which were published but she wasn't very serious about pursuing a career in either. While recovering from an illness, Agatha penned her first short story 'The house of beauty'. Although this first tale was rejected by publishers, Agatha continued to write a few more short stories mostly dealing with the subject matter of spiritualism and paranormal activity, which she was fascinated with at the time. While all these early works were originally rejected, later when re-worked, they would all be published under new titles. Under a challenge made by her Sister Madge, Agatha started to write her first novel.

Agatha had begun dating and had a few short, semi-serious relationships with four potential suitors none of which lasted. In 1912, Agatha Miller attended a dance given by Lord and Lady Clifford where she met Archie Christie, a qualified aviator who had joined the Royal Flying Corps and was stationed in Devon. The couple hit it off, fell in love then when Archie received word he was being reassigned to Farnborough, he proposed. Agatha accepted. They married on Christmas Eve 1914, by special license. Very shortly after the honey moon, Archie returned to the war in France.

Agatha Christie kept active during the war by becoming a nurse in the Volunteer Aid Detachment of the Red cross Hospital in Torquay. She enjoyed her hospital work and eventually complete her examination of the Society of Apothecaries. While tending to the wounded Agatha amassed quite a bit of medical knowledge which would later help her write realistically about poisons in her mysteries.

Archie Christie continued to rise through the ranks becoming a Colonel in 1918 and finally being re-stationed in the Air Ministry, back in Britain. The Christies now settled into a flat in St. John's Wood, northwest London. On August 5th, 1919 the couple had a daughter they named Rosalind. She would be Agatha's only child.

In 1926 Agatha's mother Clara died, that same year her husband would announce he was in love with another woman. On December 8th, after a torrid argument, Archie left the house to spend the weekend with his mistress. That same night, Agatha disappeared from home leaving a note saying she was going to Yorkshire. Later her car would be found abandoned a few miles from their home with Agatha's belongings strewn around the inside. Agatha's disappearance caused a public outcry which culminated in a massive manhunt. Agatha was recognized 11 days later at the Swan Hydropathic Hotel where she had registered under the name Mrs Teresa Neele' from Cape town. Agatha never revealed the true nature of her disappearance. Speculation at the time leaned towards; she suffered a nervous breakdown, it was a publicity stunt, she wanted to embarrass her cheating husband. What really went on during those eleven days remains a mystery. Agatha's disappearance has spurred books and even a movie featuring Vanessa Redgrave and Dustin Hoffman 'Agatha' (1979). In 1928 the Christies divorced.

After the divorce, Agatha began travelling to relax. She would often write using the places she visited as settings for her tales. On one of her trips, her second, to Baghdad, she met Max Mallowan, an Archeologist. Max took Agatha on a tour of Baghdad and then the dessert. Their vehicle broke down in the dessert and they had to be rescued by the Dessert camel corps. A telegram informed Agatha that her daughter, Rosalind back in England was ill. Max insisted that he accompany Agatha due to the fact that she had sprained her ankle and wasn't walking well. After reaching England and seeing to Agatha's daughter, Max proposed. Six months later they were married.

Agatha accompanied Max on his archaeological expeditions for the next thirty years. It was common for them to spend two or three months at time at excavation sites in Syria or Iraq. Agatha helped clean and categorize the finds. She especially enjoyed puzzling together fragments of pottery pieces. She also photographed the digs and discoveries. She continued to write of course and it's no wonder a lot of her stories involve traveling to exotic places of the Middle East; 'Death on the Nile', 'Murder in Mesopotamia', 'They Came to Baghdad'. Her detective characters frequently portray traits needed in Archeology, like intelligence and education, patience and an astute attention to detail.

Agatha and her husband went on digs together until 1957 when camp life and illness began to take their toll on Agatha. The husband wife team retired from excavating settling back down in England where they both continued to write. Agatha continued to write and work in theater until her death, January 12, 1976.

Agatha Christie Mallowan's writings have achieved unparalleled success. Her stories and characters are just as popular now as when she first published them. Not only have some of her characters; Hercule Poirot, Mrs. Marple become Icons but she as an author has become an Icon of both mystery, fiction and Literature itself


"Yes, sorry boss. I guess, I got a little over emotional."

"His lawyers are stirring up all kinds of trouble over this. I believe they're trying to have your warrants overturned
Stall his lawyers Boss. I know he killed his Aunt and I know she's still here somewhere. It's only a matter of time until we find her. It would have been easier if we could have used the Blood Hounds to sniff her out but now I got men with metal detectors combing the lawns and a ground penetrating radar scope which identifies disturbances in the ground by measuring the electric properties of the soil. It won't be long."

"Search fast! I can't guarantee you'll have anymore than twenty-four hours to look. And no more stunts with the media! His suits are talking about getting a restraining order out on you." Click.

I walked into the Wilkerson study, to see my officers sifting through boxes of receipts. Bank records were spread out on the desktop. Phone records were being studied. Financial spread sheets analyzed. "Find me a receipt for something incriminating." I shouted. "Like the recent purchase of a box of arsenic, or better yet a gun or a stained rug being sent out to be cleaned. Anything I can sink my teeth into Boys. I'm getting desperate Folks."

I walked into the foyer, to watch two lab boys spraying down the sword of a knight's coat of arms with luminal, a hydrogen peroxide solution that would show if the sword's blade had been used to kill recently. "No blood." Manny a meticulous lab man reported then reattached the medieval weapon back to the knight's suit of armor.

"We got something Detective." A voice called from the next room. Sam, a younger lab man came walking around the corner, carrying a 22 long, small game, rifle. It's one of the three rifles that were mounted above the fireplace. This is the only one that has been fired recently."

"How recently?"

"Within the past two weeks."

"Hot damn!" I exclaimed. "You found the murder weapon. Now we know he shot her!

"That's going to be hard to prove, unless we find her body."

"One step at a time Sam. Now we can switch our concentration to finding the actual place Missy was at when he shot her. I'd check her bedroom first. My guess is, he snuck up on his Aunt while she was asleep, like a coward. Also have someone check all of Graham's clothing, especially his outerwear, jackets, gloves, scarves and sweaters. It was a damp, miserable night, the night Missy Wilkerson disappeared. With luck we can find some trace evidence on some of the clothing he was wearing when he pulled the trigger."

"Detective, the photographs, you requested from Architecture of the World Magazine, have arrived by express mail. I signed for them." Andre handed me the manila envelope.

"Thanks." I walked over to the closest table, ripped the top of the specially delivered envelope open then dumped out a magazine issue followed by a number of enlarged photographs. I spread the photos out across the table then began studying them.

"Where'd those photos come from?" Manny a curious bald technician with a thin goatee stepped up to the table to ask.

"The Missy Wilkerson mansion and estate were featured in last Marches edition of Architecture of the World Magazine." I showed Manny the issue that they'd sent along with the group of photos. I requested that the magazine send us all their original photos from the shoot, whether they were used in the magazine run on not. And I had them blow them all up, bigger for us."

"Okay?" Manny stared at the table. "What are we looking for?"

"These were taken about three months ago and before Missy went missing. I'm thinking that just maybe we can spot something that is different now. A wall where there wasn't one three months ago. A missing throw rug. A wall painted a different color. A picture not hanging in the same spot."

"I get what you're after." Manny began to scrutinize the photos too.

"Hold up." I moved around the table then snatched up all the different photos of the gargoyle water fountain, out in the front yard.

"What do you got Jeffery?"

"I'm not sure." I walked fast carrying the stack of photos towards the front door. Manny followed. Outside I walked to the corner of the front porch. I held up a photo. "This appears to be the same angle from where this photo was taken. But something's off." I handed the photo to Manny to look. As he compared the photo to the view, I took the next photo off the pile, studied it then walked towards the fountain. I stopped to stare.

"What are you thinking?" Manny caught up to me. "She's buried under the fountain?" We walked around the fountain. Manny kicked the wall. "The fountain looks pretty solid, like it's been here a number of years. Nothing's been disturbed as far as the soil around the fountain. There's no newly poured cement or patchwork done anywhere."

"I'm not interested in the foundation." I walked around the fountain staring at the ugly gargoyle, on it's pedestal, in the middle of the pool of water, spitting a steady stream of water. "See how the water's not arching the same as it did three months ago in this photo."

"That could be caused by a change in the water pressure."

I stepped a few feet to the left then held up another photo. "See how the shadow lands to the left of the gargoyle's head in this photo. But in real life from where we're standing in the same exact place this photo was taken, the sun's shadow falls slightly to the right."

"That could be due to different times of the day, when the sun's positioned differently in the sky or the fact that when the photos were taken it was an entirely different season from now."

I dug through the pile to find a head on photo of the fountain then slowly moved more and more left until I was staring head on. "The eyes!" I handed the stack of photos to Manny. Then, I climbed onto the small wall then jumped thigh deep into the water. "That's a different gargoyle!" I waded to the statue's platform then stepped up onto it. I pulled my pistol then turned it around grasping it by the barrel. I used the pistol like a hammer banging the handle against the gargoyle's arm. Chunks of cement like plaster chipped off.

The other lab techs and investigators stopped what they were doing then surrounded the fountain watching me with interest. "I think I see flannel." I informed, still chopping with the butt of my pistol. A big chunk of cement broke off the gargoyle's right arm. "Oh my gosh! Her nephew is the devil!"

I stood up tall then reached up to chop at the back of the gargoyle's head. As the plaster crumbled away, Missy Wilkerson's golden locks of hair became apparent. As I tried to back away, my slippery soles slid out from under me. I fell backwards into the pool. Splash! I emerged to the surface choking and spitting. "Missy Wilkerson is entombed inside the gargoyle!" I shouted. "She is the gargoyle!"
Mystery History

PULP FICTION
by Stuart Leventhal
Pulp fiction is a term that was originally coined to describe the early nineteenth-century magazines and novels (dime novels) that were printed on cheap or pulpy paper to save money. By under-paying writers and publishing on in-expensive media, pulp publishers were able to charge 10 cents for an issue containing several stories. Low prices and colorful covers featuring lurid women in distress being rescued by handsome, rugged heroes drew in the mass working-class audience, young adults and teenage readers. "Weird Tales"and "Ace Detective" are notable examples of popular pulp fiction magazines. The Shadow, Tarzan, Sherlock Holmes, Doc Savage and the Avenger are some of the lasting characters produced during the pulp fiction days.

The low price of the pulp magazine, coupled with the skyrocketing literacy rates of the times, all contributed to the success of the pulps. The pulp fiction era provided a breeding ground for creative writing talent which would influence all forms of entertainment for decades to come. Throughout the nineteen-thirties and nineteen-forties Pulps literally blanketed newsstands in just about every popular fiction genre. The pulp authors are responsible for inventing the hardboiled american detective genre which thrived the most during the pulp era. Science fiction pulps also thrived during this time.

Today, Pulp Fiction is a term used to describe a wide genre of tales featuring characters and stories like those found in original pulp fiction.

Pulp fiction generally features tough street characters involved in fast moving, nasty crime action plots with just as tough detectives and loose moral, unscrupulous, law enforcement officials, also tough and usually unethical, hot on their trail. Crude talking characters, crass humor, sex and graphic violent scenes, one right after another have readers eyes glued to the page and movie goers sliding to the edge of their seats.

The first "pulp" was Frank Munsey's revamped Argosy Magazine of 1896, about 135,000 words (192 pages) per issue printed on pulp paper with untrimmed edges and no illustrations, not even on the cover. While the steam-powered printing press had been in widespread use for some time, enabling the boom in dime novels, prior to Munsey, no one had combined cheap printing, cheap paper and cheap writers' fees.

Although pulp magazines were primarily an American phenomenon, there were also a number of British pulp magazines published between the Edwardian era and World War Two. Notable UK pulps included Pall Mall Magazine, The Novel Magazine, Cassell's Magazine, The Story-Teller, The Sovereign Magazine, Hutchinson's Adventure-Story and Hutchinson's Mystery-Story. The German fantasy magazine Der Orchideengarten had a similar format to American pulp magazines, in that it was printed on rough pulp paper and heavily illustrated.

Many authors that got their start in the pulp magazines grew to be great writers that changed the landscape of popular fiction. Writers such as Carroll John Daly changed the detective fiction story from the staid whodunits popularized in Great Britain to the more "hard-boiled" version where the bad guy was bad and the detective was tough and street-smart.

Edgar Rice Burroughs was another pulp writer, who helped to define the science fiction story into what it is today. Edgar Rice Burroughs is best known for his creation of the popular jungle hero character Tarzan which he first introduced through the media of Pulp Fiction. Tarzan became a cultural icon, featured in movies and comic strips, selling toys and other merchandise.

Other well-known alumnae of the Pulps include Max Brand, who wrote in many genres but is best recognized as being the world's most celebrated Western writer. There was also, H.P. Lovecraft known as the writer of weird fiction. Representing the Mystery genre were the very popular Raymond Chandler and Dashiell Hammett and Ray Bradbury who is mostly remembered for his Science Fiction and Horror stories. And of course, there were the legions of other authors, less well-known today who had an equally important hand in forming the forever popular genre of "Pulp Fiction".


---
Trapped By Stu Leventhal
Detective Calbasie huffed and puffed as he chased the fugitive into the alley. He pulled his pistol then aimed it up at the sky. "POLICE!! HALT OR I'LL SHOOT!" He fired warning shots into the air. POW!! POW!! The teenage gang leader spun facing Calbasie. His long overcoat flew open, revealing a semi automatic. RAT! TAT! TAT! TAT! TAT! TAT! TAT! Bright flashes lit up the alley. Calbasie dove behind a garbage dumpster. PING! PANG! PING! PING! PANG! Bullets sprayed the dumpster. Calbasie crouched peaking around the side of the dumpster. He aimed his pistol at the stocking masked young man and squeezed. BANG! BANG! The punk pulled a steel door open. Clunk, clank. Bullets slammed into the door causing little dents to form. The criminal ran inside the old run down building. Calbasie ran toward the door.
SCREECH! Tires squealed and sirens blared at both ends of the alleyway. Police cruisers skidded around both corners. The reinforcements raced towards the detective. Calbasie's hand grasped the door knob. His other hand reached inside his sports coat, pulled out his badge and raised it high above his head so there would be no mistaking his identity. The patrol cars skidded to a halt along side the curb. "He ran inside this building." Calbasie informed. "One of you cover this door. One come with me. The other two go around back and look for any other ways out. We got him this time boys. He's trapped inside. So, let's do it by the book."
Ten minutes later, the police had blocked off the streets surrounding the old abandoned luggage factory. Detective Calbasie and his partner, Vick Nevins, watched as the SWAT team checked their equipment. The SWAT Sergeant drew chalk lines on a portable black board, going over the assault plan with his two squad leaders like a high school football coach. The KBC News Helicopter swooped down out of the clouds with a deafening propeller sound, it's wind blew everyone's hair furiously. The chopper spun in a slow circle, their camera surveying the scene. The SWAT Sergeant waved his hands at the helicopter, telling it to pull up higher. It pulled up and flew back over the roof.
"We should have gone in after him ourselves Calbasie." Vick stated flatly.
"What? And get ourselves killed Vick!"
"They're going to get all the credit for our bust."
"Look at the amount of men they have and all their equipment. They're like a little army: High powered rifles with scopes, bullet shields, grenade launchers. And, check out the thermo heat sensor screen that shows the suspect is standing right behind that little bit of wall between those two windows on the third floor. All these guys do is train for situations just like this. Heck, they even got attack dogs they can send in to subdue the suspect." Calbasie pointed to the two big German Shepherds pacing in the back of a K-9 unit's jeep.
"You do know that they're going to kill him." Detective Vick Nevins stated flatly.
"Not if they don't have to."
"Oh come on Calbasie! Look at these gung-ho guys. The leader of the East Side Tigers Gang is as good as dead already."
"I told the Sergeant to try to take him alive. You heard me say that he has valuable information that we need and that we're looking forward to interrogating him."
"Yeah, but did the Sergeant really hear you?"
Calbasie pushed his way into the Sergeant's huddle of heavily armed men. "Sergeant, you are going to try hard not to shoot this kid right?"
"Yes Detective. But, you did say he fired shots at you with an AK-57 semi automatic machine gun."
"Yes, but I don't think he was really trying to hit me."
"You don't think!...Well, with an AK-57, that boy, as you call him, is capable of taking out 5 or 6 of my men with a twitch of his finger."
"Can I try to talk him into giving up peacefully, before you guys move in?"
"Sure." The Sergeant handed Calbasie the bull horn. "Knock yourself out Detective."
Calbasie walked towards the building. He held the bull horn to his mouth. "HELLO!" He shouted. "This is Detective Clide Calbasie!"
"I know who you are cop!" The gang leader shouted from the third story partially opened window. "Don't try to come any closer!"
"I want you to give yourself up, before anyone gets hurt."
"Who you tryin to kid? You guys are going to kill me, no matter what I do. I might as well take as many of ya as I can with me!"
"No! We don't want to kill you. We don't even want to arrest you. We're after your boss."
"Ha, ha, ha. You're stupid Calbasie. I heard you were smart, but you're really stupid."
"So what do you say? Throw your weapon out the window and come on out?"
"Do you really think I'm that Dumb!"
"No, I think you're smart. That's why I know you're going to do the right thing. Throw out your weapon. Give up, before this gets out of hand."
"I got plenty of ammo cops! Anyone tries to come in here and I'll make them pay!"
CRASH! Calbasie heard the glass breaking on an upper floor window. The sun reflected off the muzzle of the AK-57. "Calbasie get down!" Shouted the Sergeant. RAT! TAT! TAT! TAT! TAT! TAT! TAT! Calbasie turned then ran for cover. RAT! TAT! TAT! TAT! He dove sliding on his belly across the hood of a patrol car. His partner, Vick Nevins, grabbed Calbasie's arm and shirt then pulled him down off the hood, to safety, landing behind the car in
the dirt.
BANG! BANG! BANG!..POW! POW! POW!..BANG! Bricks chipped, wood splintered and glass shattered on the top floor of the brick building as the bullets flew. War had begun. RAT! TAT! TAT! TAT! TAT!..SMASH! CLUNK!
CLUNK! CLANK! The bullets thudded riddling the police vehicles, denting the metal and blowing out car windows, BOOM!!
"Send in the tear gas!" The Sergeant ordered shouting. "Assault Team Alpha get ready!"
POP! POP! POP! The riflemen fired the tear gas canisters. Detective Calbasie watched the small cans fly through the now glassless windows which had just been shot out by the sharp shooters. Tear gas smoke immediately grew, soon it began to pour out the open windows.
"Assault Team One!" The Sarge ordered into his hand microphone. "Green light! Move in! Go!!!"
WAIT!" Calbasie stood, crouched and sprinted into the parking area towards the warehouse's front door.
"CALBASIE!...GET BACK HERE!!" The SWAT Sergeant shouted. He picked up his radio and ordered. "Assault Team Alpha, Abort! I repeat, ABORT!!! Assault Team One, abort the mission! Pull back, then re-group and await further instructions." He turned to Calbasie's partner, Vick Nevins. "Where does Calbasie think he's going!?"
Nevins stood and shrugged his shoulders. "I don't know Sarge." They watched Calbasie weave as he ran through the cross fire. "But, I'm going with him!" Nevins pivoted then raced out across the parking area. As he ran, he fired a few shots off at the top floor window where the suspect had last been seen shooting.
"Stop! You two are in a lot of trouble! DAMN!" The Sergeant raised his pistol then fired up at the top floor windows, covering the two detectives as they raced to the building.
Detective Nevins flattened himself against the wall next to his partner. "You better not get us killed, stupid!"
"Who told you to follow me? I didn't ask for you to follow me!" Calbasie pulled the front, heavy, metal door open an inch then, peeked inside. "It's dark."
"Yeah, that's good right?"
"You Ready?"
"Let's do it!" Calbasie thrust the door open. They charged through, dove to the ground then rolled to opposite sides.
Outside, the Sarge picked up his radio. "All units cease fire! I repeat, cease fire! We got two police officers in the building now! Be aware, there are two plain clothed police officers inside the building!"
Creek...The noise came from above the Detectives. Calbasie pointed his fore finger at the staircase to the left then whispered. "You take those. I'll take the back way up." His thumb motioned to a staircase in the back right corner, illuminated by a single beam of light shining through some broken boards nailed across a window. "Be careful." He headed into the dark depths of the abandoned and neglected warehouse.
"Don't take any unnecessary risks." Nevins warned then cautiously started climbing the stairs, his pistol leading the way. Calbasie could barely see the debris he trampled as he made his way to the back staircase.
Nevins stopped on the first landing. He eased the door open, then looked into the empty, giant room. He saw the door along the far back wall opening. He raised his pistol. His partner, Calbasie, stepped into the room. Calbasie glanced at Nevins across the room. They waved. Clank, clunk, scrape, came from the next flight up. Calbasie pointed his finger to the ceiling. Both men turned to re-enter their stairways.
Click...Detective Nevins' mouth dropped open at the sound of the pistol's hammer cocking to his right. He slowly turned to stare directly into the long barrel, then sighed. "Oh, Sarge..." Nevins whispered. "Thank heavens it's you!" Nevins lowered his own pistol. "You shouldn't do that! You scared me half to death." Clank, clunk, scrape. They both looked up the staircase towards the noise. "Follow me." Nevins led the way up the stairs, climbing two stairs at a step. Half way up, the Sarge pointed his pistol at Nevins' back then pulled the trigger. BANG! Nevins gasped. His pistol dropped from his right hand. His left hand slipped off the rail, then he fell backwards. The Sarge stepped back, out of the way. As Nevins fell past him, his hand grasped the Sarge's shirt ripping the top two buttons open. The buttons fell to the stairs bouncing down with Nevins as he tumbled backwards. Sarge tossed his pistol on top of Nevins then pulled another gun from his shoulder holster, turned then continued to climb the stairs.
Calbasie heard the shot and started running up the stairs. He barreled into the door with his shoulder then slid into the hall. His eyes searching and pistol ready, he walked fast down the empty hall towards where the pistol shot had come from. "Hold it Right there Pig!" The teen's voice ordered from behind him. Calbasie stopped. "Drop the gun!" Calbasie dropped it.
"Don't do anything stupid kid. The building's completely surrounded."
"You're my ticket out of here copper. Get up against the wall and spread em, so I can frisk you." Calbasie followed the teen gang leader's orders.
"You don't need me as a hostage, I'm ready to escort you out of here without handcuffs, as a free man."
"Stop with the Fairy tales man."
"We're not after you Son. We just want to know who supplied your gang with the tainted grass?"
"Come off it."
"More people are going to die, if we don't shut down the source of that bad weed."
"We both know the source of the weed is..." BANG! BANG! "UH!!..." Calbasie turned to see the SWAT Sergeant,
standing at the end of the hall pointing a pistol with smoke drifting out of it's barrel.
"What did you shoot him for!?" Calbasie kneeled down next to the teen. "He was just about to tell me who his connection was!" Calbasie lifted the teen's head off the ground. "Tell me Son. Who did you buy the bad grass from?" The teen just gargled as his eyes rolled back into his head. "Do you see what you did? He's dead!"
Calbasie stood. "How are we going to find out who sold him the tainted weed!?"
"Calbasie, I don't know how to tell you this, but that punk shot and killed your partner Nevins."
"Huh? What!?"
"On my way up here, I passed Nevins' body lying dead in the stairwell. Where this piece of garbage shot him!" He walked over and kicked the dead gang leader in the side. "I hate cop killers. I wish I could kill him again and again!" Sarge kicked the punk hard. "At least, now, this punk isn't going to enjoy a lengthy trial and then get off on some technicality after killing one of our own! You're with me on this, right Calbasie?"
Calbasie was thinking as the Sergeant continued to kick the dead punk. Calbasie raised his pistol. "Sarge..." He whispered. "There's someone else in the building!"
"What are you talking about? You yourself said you chased the suspect 10 city blocks before he ran in here. You didn't see anyone else with him did you?"
"No, but I heard the pistol shot that got Nevins and it was only a few seconds later when this punk appeared behind me."
"So, he must have shot Nevins, then ran over and snuck up behind you."
"No, there wasn't enough time. Someone else must be in this building. They must have already been in here before this punk got here. They must have been waiting in here for him. That's why he ran in here. Maybe the second person is the supplier who sold this punk the deadly weed." The Sarge just stared at Calbasie. "You better call your men and tell them to be careful. We're going to have to search this whole building thoroughly to find the second guy, who shot Nevins."
"There ain't no second guy." The Sarge was pointing his pistol at Calbasie.
"Listen, let's not argue about this, Sarge. I just told you this punk did not have near enough time to shoot Nevins in the stairwell and then sneak up behind me." Calbasie realized the Sarge was still pointing his gun at him.
"I sold the grass to him, Stupid!" Sarge announced.
"What? You?!"
"Yeah, I'm his drug connection Calbasie. You know, if you didn't try to play super cop and run into this warehouse, I wouldn't have had to kill your partner and now kill you too." He leveled the pistol at Calbasie's heart. "Why couldn't you just let my men take care of the punk? Who cares if a few more pot heads got sick and some died. It serves them right! Smoking pot is illegal. They aren't suppose to be smoking it anyhow!"
"High school kids have died smoking that tainted weed!"
"Like I said, grass is illegal. They smoke that stuff at their own risk."
"You won't get away with this Sarge."
"I'm going to use the punk's gun to shoot you with. Then, I'll put his gun back into his hand." He chuckled. "I'll tell everyone, the punk shot your partner then shot you and he would have shot me too, if I didn't shoot him first."
"Did you hear all that Detective Nevins?" Calbasie asked looking past the Sarge, down the hall. "Put the gun down Sarge or my partner's going to have to shoot you."
"Oh?....And, how is he going to do that?"
"He's standing right behind you, pointing his gun at you and if you don't drop your weapons now, he's going to have to shoot you."
"That would be some trick."
"If you don't believe me, turn around and look. But, turn very slowly."
"Oh sure, so when I turn to look, you can make a run for it?"
"He's really standing right behind you Sir."
"Nice bluff. But, I left your partner in the stairwell, where I shot him, myself. Of course I was using a throw away gun, which I left in the stairwell with him. As you can see, I'm wearing gloves. So there's no finger prints on that throw away gun. I'll say, the punk must have shot Detective Nevins, then dropped the gun. And now, Calbasie, the punk is going to shoot you with his other gun." The Sarge raised the teen's pistol. BANG! The back of the Sarge's head exploded. His eyes opened wide. Both guns dropped from his hands. He fell to his knees. Slowly, he toppled over, his face smacking the tiled floor, hard. Detective Nevins was standing behind him smiling.
"Nobody shoots me in the back and gets away with it." Nevins tossed the Sergeant's own throw away gun back at him.
"Good thing you took my advise and put on your bullet proof vest, eh Detective."
"Yeah." Nevins motioned to the kid lying on the floor. "How's the punk?"
"Dead."
"Well, at least it's all over. Now we know who's responsible for all those pot smoking deaths."
"Yeah, let's go get a search warrant for the Sarge's apartment. If we're lucky we'll find where he's storing the rest of the tainted Pot!"
"You talk to the judge this time Calbasie. I already interrupted his personal life, after working hours, earlier this
week, remember?"
"All right, but you have to tell the Captain about the Sarge."
"Yeah, that's fair, as long as you tell the gang that the punk's dead and they need to pick a new leader."
"Well okay, but then you have to tell the SWAT Boys outside, that their mission is over, their leader is lying up here dead and they have to pick a new Sarge." They headed down the hall.
"On second thought maybe I'll talk to the judge and you tell..."
"Shut up Nevins."
"Who's going to talk to the press?"
---

Board Walk by Stu Leventhal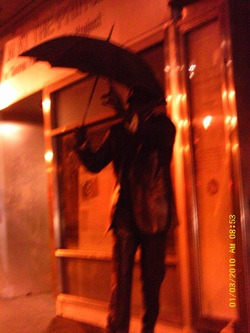 Strolling along the Atlantic City boardwalk in the dead of a chilly winter night, Radcliff Keane took a puff from his hand rolled cigarette. Squinting into the wind, Rad observed that it seemed he was the only one, for blocks, crazy enough to be out on the boardwalk in this weather. The summer shops were boarded up months ago. "I'd pay three times the price for one of Poppy's foot-long, boardwalk, hot dogs right now." He thought as he walked past the pad locked stand. "Or, better yet, a classic greasy slice of Mario's famous, pepperoni pizza. Ummm…"

Radcliff pulled his collar up, pressing it tighter round his neck with his right hand. He held the smoke to his lips with his left, savoring the sweet, smooth, imported, European like tobacco taste of the drag. He blew a stream of smoke out, marveling that there was no bitter after taste and no nagging after burn. "I could get addicted to these." He thought. "Best damn tobacco I ever smoked." He pouted realizing he only had a small bag full left back in the rental car. "Maybe enough to roll three or four stogies." He estimated. The darned thing was, he didn't have any idea what brand the fabulous smoke was. Because, Radcliff had stolen the rental car, four to five hours ago, out of new York City. Searching the glove compartment, he had found the bag of fine smoke.


He'd been playing poker in a backroom of a chinese restaurant in the South Bronx and happily, breaking about even. Betting small and dropping out quick, to preserve his money until it became his turn to deal. He'd already positioned the tiny mirror on his lap, so while his opponents were watching, like hawks, to make sure he always dealt from the top of the deck, Rad was reading the reflection of each card he dealt them, in the tiny mirror on his lap. The time was ripe, to finally clean out this group.


Rad was about to call, then turn his cards over to collect a huge pot. When, one player asked the player next to him "How are your niece's medical treatments coming along?" The conversation quickly had tears welling up in everyone's eyes. Rad folded, throwing his winning cards into the pile of discards on the table to mix with the others before anyone could see his straight flush, queen high. He'd put in hours of hard work to set up this hustle but couldn't take their money after hearing about the blood transfusions and tube feedings the child was being subjected to. Rad glanced at his watch. "Oh look, where does the time go. I'm sorry but I have to drop out. I have an important business meeting in the morning and I need to get my sleep. It's been my pleasure playing with you gentlemen tonight and Mr. Cracken, I do hope your niece gets better." Rad pocketed his mirror as he passed the deck to the man to his left. He stood. "No need getting up Folks. I can show myself out. Good night all."


In the parlor, Radcliff took the opportunity of being by himself, to quickly search each of the players' jackets. He found the rental keys with the license tag still affixed then made an instant decision to steal Mr. Cracken's rental. He couldn't take the man's money that may have been needed for his niece's medical treatments but hell, the rental agency had insurance. What started as a quick joy ride through the seediest areas of the South Bronx to clear Rad's head, turned into a road trip. As Radcliff reflected on his past few months, he realized he was thoroughly bored with his life in New York City.


One highway led to another until Rad found himself on his way to Atlantic City, the town he'd spent his youth summers, growing up in as a child. Approaching the resort town, Radcliff noticed a few more casinos dominated the skyline. They always built the new gambling house a little bigger than the last. Driving down the familiar Atlantic City streets, he realized besides the couple of new casinos, nothing much had really changed. He quickly parked at the first open meter spot he saw, jumped out of the rental then walked towards the boardwalk ramp. He lit one of the hand rolled stogies then took a puff wondering if anyone would think he was smoking pot. Then, it finally dawned on him that he was actually here, back in his beloved Atlantic City. He smiled.


Rad finally felt at peace for the first time in years as he walked over to the railing and stared out at the dark, loud, powerfully crashing waves. He could only see a few yards out. It was pitch dark in the angry sea. "Was it smart to come back here?" He wondered.


Five years ago, Dino Giotto the head of the Giotto family had banned Radcliff from ever playing cards again in this town. Every casino had Rad's photo. No one had ever proven Radcliff had cheated, so he was allowed to keep his winnings of over two million dollars along with a one time warning. "Leave and don't come back!" Radcliff had never liked being told what he could or couldn't do. Hell, there were other games to be played in Atlantic city, besides gambling. And, as far as Dino Giotto and the Giotto family were concerned, well, five years away would have to be enough. Besides Rad had heard the Giottos were under indictment by the feds at present. The local and federal cops as well as the pesky, persistent, AC press would be watching their every move. They couldn't afford to risk going after a local celebrity like Radcliff Keane, Card Sharp at this moment.


Rad stepped away from the rail. He was looking forward to seeing some of his old friends who would undoubtedly want to announce Rad's return in flamboyant party style. Besides, he'd also heard that Big Dino and the Giottos weren't the only muscle in town here anymore. There was a new man staking his claim to the boardwalk paradise, a thorough, thug, who the Giottos were having a hard time keeping under control. If the Giottos were willing to make peace and let by gones be by gones, then Rad would be happy to help them with taming this new wild cat. But, if they were still holding a grudge, well then Rad would be more than happy to throw in with the new young blood everyone called Mickey the Juggler, due to his hobby, juggling, which he's supposed to be quite good at. Maybe together they could take down the Giotto Family a peg or two.


Rad squashed the stub of his cigarette out against the rail then flicked it to the sand. He turned away from the ocean then headed down the boardwalk.

Three days later, fate would introduce Radcliff Keane to Mick, the Juggler even if it was unofficial because Mick was hiding his identity behind a plastic Yogi the Bear costume mask. Radcliff was in the back room of Mimi's Mahjong parlor standing in front of a long banquet type table. On the other side of the table sat four men and two woman each with a backgammon board set up in front of them. A crowd was watching silently, engrossed. Radcliff lifted a white checker up off the board in front of an older Chinese man then moved it forward three spaces then four more spaces. He took three steps to the left, moving in front of a thin, young pale skinned, woman with dyed red hair and heavy dark gothic makeup around her eyes, smiled at her then picked up the little cup and started shaking the dice inside it.


BANG! The door to the game room flew open. Four men wearing costume masks and waving rifles stomped into the room "Everyone down on the floor!" The man wearing a Yogi Bear mask pointed his rifle ordering. "Get Moving, now!"


"No!" A chubby, distinguished, old Chinese man with a pointy white beard, dressed in a three piece, pinstripe, silk suit stepped up onto the stage commanding. "No body moves!"


Yogi Bear stepped closer aiming his rifle at the frail but stubborn old man. "I'm going to kill you first, old fool! If you're not down from there and lying on your belly by the time I count to three!"


"We're in the middle of watching Atlantic City history being made!" The well dressed Chinese man complained. "And, you punks have the audacity to bust in here threatening us with a petty robbery!"


"What are you talking about, Old Goat?" Yogi asked still pointing his rifle and trying hard not to lose his temper. "What kind of history?"


"That man is Atlantic City's own, legendary Radcliff Keane. He's in the process of setting a new world record for winning the most backgammon games played by one player against multiple players at the same time."
Yogi looked at the banquet table. "Six games is the record?"


"He's going for fifteen wins. Nine of his opponents have already lost."


"Let's get out of here!" Yogi ordered his men walking backwards.


"But boss?…"


"The old dude's right." Yogi agreed. "There's something special going on here. We got to respect that!" He shouted. "We're leaving now. But, I'd better not see anyone open this door until this match is over." He looked at Radcliff. "Good luck Mr. Keene." The robbers backed out the door, shutting it behind them. The games continued. It took about another ninety minutes for Rad Keane to beat his remaining six opponents. At the time of this writing this record still stands.

A week later, Radcliff was standing in front of an Amish sidewalk fruit and vegetable stand featuring large, orange pumpkins, yellow and tan gourds and desserts for Halloween time. An Amish man with a jutting chin and a crooked nose, was taking money wages from a long line of people when a police officer stepped up. "What are you's doing?" The large officer asked. "You's do know, gambling out on the sidewalk is illegal in Atlantic City."


"It's for charity Sir." A young Amish boy stepped over to explain. "He's raising money for the church down the block." He pointed to Radcliff Keane. "That man's betting everyone and anyone up to five dollars that he can toss a pumpkin from right hear in front of our stand." He pointed at their large pumpkins lined up for sale. "Completely over top of the roof of that eight story building across the street, landing in their parking lot behind it. Without, the pumpkin hitting nor bouncing off the roof or building at all."


"Oh, well in that case…" The policeman laughed, pulling out his wallet. "Give me five dollars of that action. No one can do that! It's impossible!"


"What's impossible?" A stocky, red haired, freckle, faced well dressed young man stepped up behind the officer asking politely.


"That dude's betting people that he can toss a pumkin, clear over top of that building, into their parking lot behind it."


"Wow, I'd surely like to see him do that!" The freckle faced young man walked towards Radcliff. "I'd like to bet you a thousand dollars Mister."


"There's a five dollar limit Sir." The young Amish kid explained smiling sweetly.


"Why? It's all going to charity if he wins." The young Irish man challenged. "So, the more the merrier right?"


"Give your money to the police officer to hold." Radcliff informed. "And you're on Fellow."
The Irish man pulled out a money clip then counted ten crisp one hundred dollar bills into the officer's hand. "I don't know about this." The officer shook his head. "Five dollar bets is one thing, but a thousand dollar bet?" The cop looked over at Radcliff skeptically. "Do you got the dough to cover this much?"


"Won't need it." Radcliff cracked his knuckles then started doing corny, stretching exercises like toe touches and trunk twists as if he was limbering up.


"Get a load of this goof." The young Irish man whispered to the police officer then smirked adding. "This is going to be the easiest grand I ever made!"


"No more betting!" The police officer ordered despite the crowd's grumbling. "I doubt he can cover the bets he's already taken!" The cop walked over to Radcliff. "Well, let's get this show on the road Fellow! The ball's in your court now or should I say the pumpkin's in your court." He chuckled motioning to the shelf full of large pumpkins. "Pick one."


"Oh didn't anyone mention," Radcliff explained. "I brought my own pumpkin." Quickly Radcliff reached into his pants pocket then lifted out a mini orange pumpkin, slightly bigger than a golf ball. Radcliff held the tiny pumpkin up high for all to see. As mouths fell open and wide open eyes watched, Radcliff wound up then tossed the little pumpkin like a baseball way high up, into the sky, easily clearing the eight-story buildings roof.


"Is that fair?" Someone asked.


"He threw a pumpkin over the roof just like he said he would!" Another answered. Suddenly everyone started laughing.


"He duped us all!" The spectators started clapping


"That was brilliant!" A man walked over to pat Radcliff on his back.


"That was worth five dollars!" Another laughed.


A tall man wearing a cleric collar stepped in front of the Irishman and the police officer. The man of the cloth held his hand out. "I think you're holding something that belongs to my parish." The cop looked at the Irishman then shrugged. "Here Father." The cop sheepishly handed over the stack of money.


"Now we can get that tile work done, our church so desperately needs."


"But.." The red haired, now red faced Irishman stuttered. "But, but, but…"


"Don't fret." Radcliff winked. "It's all for charity." He turned then stated walking across the street.


"Wait a minute you!" The Irishman chased after him. "That makes two times you've stolen money from me!"


Radcliff looked at him confused. "Two times? I don't believe we've ever met before just now."


The Irishman leaned closer to whisper. "We met a few days ago. I was Yogi Bear."


Ha! Ha! Ha! Ha!…Radcliff burst out laughing. "That was you?" The Irishman nodded. "I hope you're not the kind of man who holds a grudge." Radcliff let loose a loud uncontrollable belly laugh. "Ha! Ha! Ha!…"


"What do you say, I buy you a drink." The Irishman offered."I have a business proposition I'd like to run past you."


"I never mix business with pleasure." Radcliff answered. "Why don't you buy me a couple of drinks and we'll talk business another time."


"I like your style Radcliff. But I can see why the Giotto Brothers want to kill you."


"Well Mickey, I heard that the Giotto family isn't so fond of you either."


"Shush!" Mickey jokingly complained. "That's how rumors get started."

---

Guys and Molls by Stuart Leventhal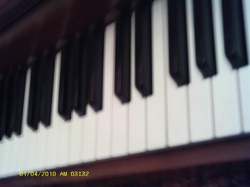 The track lights in the ceiling blinked on full blast, illuminating the ballroom. "That's it for tonight folks." Max, the red headed, red bearded, bartender announced. My fingers kept tapping the keys of the baby grand piano as Leon and Ronnie, the two, burley bouncers, began ushering the last of the die-hard drunks towards the front door.
Old man, Tony Mennon, the butcher and owner of Mennon Meats just down the block, dropped a few bills into my tip mug as he shuffled by. "You were good tonight Kid."
"Thanks Pops."
"See you next week?"
"Every Thursday Daddy-o." I kept pounding the keys as I watched him two stepping towards the door. I played until the last patron was out the door. Most times, I'd keep playing while Gin Gin, the cute waitress and Max cleaned up then we'd all leave together. Tonight, I wanted to get home to my bed. I'd felt like I was coming down with a cold, all night and I just wanted to crawl under the covers then go to sleep. I scooped out my tips, stuffed the wad of singles in my pants pocket then shouted. "Good night everyone!"
"Good night Phil." Answered Max from behind the bar. "See you next Thursday."
"Good night Big Poppa!" Gin Gin pouted. "I hope you feel better soon."
"Thanks, Dear." I headed into the dark, back corridor towards the Boss's back office, where he lets me hang my leather jacket and store my motorcycle helmet during my sets. Squeak…I hear the stockroom door slowly sliding open. I quickly step behind the ice machine then reach down to my ankle holster to pull out my little derringer pistol. The kitchen has been closed for hours and the cooks have all gone home a long time ago. I know nobody is supposed to be in the kitchen stock room. With a headache pounding, and my nose starting to drip, I peer around the corner of the ice machine. I watch the muscular, thirty five year old Bruno step out then look both ways up then down the hall. He reaches back inside the stockroom then pulls Gisselle, the sultry, seventeen year old daughter of our Boss, out into the hallway with him. The brunette with red steaks in her hair, giggles as the thug holding her hand firmly leads her down the hallway towards the front dining area.
I was shocked, surprised, but mostly worried. Bruno was an enforcer who could take care of himself in a fair or unfair fight. But Gisselle was the apple of her Daddy's eye. Even the tough Bruno was treading in fire by messing around with Franco Barresi's daughter. I squatted down to re-holster my tiny derringer to my ankle then stood then headed to the Boss's office. I grabbed my leather jacket and helmet, stepped back into the hall then continued to the backfire exit door. I pushed the door open then stepped into the back alley. I walked over to my Harley Davidson, climbed on, stuck the key in the ignition then kick started the engine.
I drove to the end of the alley, then glanced to the right. It was clear. When I looked left, I saw, a few yards away, in the street, under the red glow, of the blinking, neon sign, Club Illusions, Bruno helping Gisselle climb into a limousine. I watched the brute close the limo door then step back up onto the sidewalk. He pulled a pack of cigarettes out, turned the pack over then began tapping the bottom of the pack as he watched the limousine pull away. Suddenly all the cigarettes fell out, landing on the ground at his feet. I watched, the toughest guy I know, squat down and save two smokes then a gust of wind blew the rest of the sticks off the sidewalk, into the gutter.
I turned left then pulled over to the curb in front of the muscle man. I flipped my eye visor up then ordered. "Climb on the back. We have to talk."
"What's going on Phil?" I ignored him, revved the engine, then slid up on the seat making room. Bruno climbed on the back, then wrapped his right arm halfway around my midsection. I drove straight for a few blocks then turned right at the corner of Green Street. Halfway down the dark, narrow, block I pulled into an abandoned, boarded up, gas stations lot. I kicked the kickstand down then we both climbed off the bike. "Cigarette?" Bruno smiled holding out one of the two sticks he'd picked up off the sidewalk.
"What the hell are you doing with the Boss's daughter?!" I scolded.
"How do you know?"
"Everyone knows!" I lied, but it was for his own good. If they kept carrying on, recklessly like they'd been, everyone would know.
"Oh jeez! I thought we were being discrete."
"You got to dump her!" I warned.
"I can't. I'm in love."
"Old Man Franco's going to kill you!"
"I can't help it buddy. This is the real thing."
"You're thirty nine, she's seventeen!"
"I know it sounds crazy but..."
"You're twenty two years older than her!"
"She loves me too."
"Oh!…I'm not hearing his!"
"We're planning to run away, right after Gisselle graduates from high school, at the end of this month."
"The world's not big enough for you two to hide in. Old Man Franco's got friends everywhere."
"Besides, how are you going to live? Gisselle's never held a job as far as I know. And, you're a bodyguard for a mobster! Once word gets out that Don Franco is looking for you and why, the other families aren't going to want a thing to do with you."
"We'll get jobs. I can do plenty of other things. I'm tired of this life, tired of always having to look over my shoulder. Tired of having to scrutinize everyone who comes into my sight of vision. I want to live a normal life."
"It's way too late for guys like me and you."
"Gisselle wants to get away from her father's world too. She hates the thought of our children growing up around all the violence."
"Children!…You didn't get her…?"
"No. She's not pregnant. But someday we both want to have children."
"I stared at him. "Bruno, you're my best friend and I love you man. But I have to tell you. What you are doing is suicide!"
"Do you think, I should just tell the Old Man?" Bruno looked me in the eye. "I'll ask him for his blessing."
"Huh?"
"Franco's always respected me."
"He respects you as muscle. Hell, everyone respects you as muscle. Franco is not going to knowingly allow his 17 year old daughter to go steady with a thirty nine year old enforcer for the mob." I stared him down.
"You're not taking her to the prom are you?"
"No."
I took a deep breath. "I forbid you from seeing this girl anymore!"
"Phil, you're my best friend but you're not telling me what girls I can or can't see!"
"Well, I'm not going to stand by and watch you kill yourself!"
"Then it's settled. We have to run away. And, you have to help us!"
Over the next few weeks Bruno and I would meet to discuss options. Bruno would come up with an idea. "Alaska! We'll go to Alaska. I could get work as a lumber jack." I would then blow holes in his plan. A few days later Bruno would come up with another plan. "Australia!" just as un-thought out so I would point out the flaws.
"It's not easy to disappear." I explained. "Totally without any trace."
"That's why I'm counting on you, to come up with the plan. I've always been the tough thug. You've always been the smart one."
"I'm working on it."
"Gisselle graduates next Friday. We need to be gone Peter. Gone for good!"
"Are you sure Giselle is really committed to disappearing with you for ever and ever?"
"Gisselle decided, a long time ago, running away and disappearing is the only way she'll be able to escape repeating the life her father and Mother led. She's known for a long time, this is what she wants to do. She's going with or without me, with or without your plan. It will be better for her if she has me along to look out for her."
"We're going to have to fake your deaths. If you just run away, they'll never stop looking for you."
"I like that idea." Bruno suggested. "How about in a fire?"
"Let me figure out how."
"Or better, a car crash?"
"I'll figure out how!"
"Okay, thanks. I knew I could count on you."
I was on stage standing in front of the piano, performing my slow sexy version of Viene Sol Mar, Come to the Sea, on my fifty five year old, twenty four button, Organetto Accordion when they came limping in the front door. Two men drug Mario. Nino was being helped by Luigi. Cecilia our new coat check girl raced to all the windows to drop down the shades and close the curtains. Carlo, our long time host, locked the front door. I kept squeezing the accordion trying to keep my audience's attention. All the time my mind wondering what had happened. To further avert everyone's attention, I leaped off the stage, crushing the accordion, my fingers dancing on the keys. I skipped between the dinner tables towards the other side of the room. I glanced over my shoulder to see the boys hustling to drag their wounded into the back room marked private.
I leaped into the air, squeezing the accordion hard to make the music louder and empathize the final note of the ballad. Landing, I smiled then took a quick bow enjoying the applause. "That's our show for tonight Folks." I informed. "Take your time, finish your drinks and when you're ready to leave, please use the convenient side door." I gestured then bowed again to more applause. "Good night everyone."
I shrugged my shoulder out of the harness then carried the accordion back onto the stage to lay her down besides the baby grand. I jogged down the stage stairs then over to the back, office door, marked private. I tapped the secret code tap. Two short, three long, two short. Gin Gin Sue, an oriental waitress, opened the door cautiously. I squeezed past her. "How bad is it?" I asked everyone.
"We were ambushed!" Nino informed as he wrapped a white, gauze bandage around Big Leon's upper, right arm.
"None of us saw it coming."
"They totally surprised us." Mario agreed lifting a home made ice pack off his forehead to display a swollen lump the size of a golf ball.
"If it wasn't for Bruno." Luigi offered. "Franco would be dead."
I glanced around. "Where is Bruno?" Luigi just shook his head.
"Bruno didn't make it." Carlo informed.
A week later, I was still drowning my feelings, drinking shots straight from an expensive bottle of Bruno's favorite liqueur, Ausano Ramazzotti. The bitter, alcoholic tonic was created by an herbal doctor in Milan combining herbs, spices, gentian root, rhubarb, cinnamon and the peel from Sicilian oranges. Gisselle was still dressing head to toe in all black. She'd placed a few framed photos of Bruno on top of my piano, along with a vase full of the reddest red roses creating a small shrine in honor of her secret lover. Every day after school she would arrive at Club Illusions then immediately kneel in front of my piano and the shrine she'd built to pay homage.
Today, I'd been hitting the tonic especially heavy when Gisselle arrived looking as sassy as any teenage girl, trying to hide her shapely figure, could, dressed in an all black, slightly clinging, peasant dress, hemmed an inch above her knees, with a low cut, squared, neck line and flat sensible sandals. "Hi Phil."
"Hey." I twisted nervously on my swivel barstool.
Gisselle lifted a pack of cigarettes out of her small purse then a pair of rosary beads. She lay her purse down on the bar next to me. "Remember how Bruno loved these cigarettes." Gisselle held up an unopened, black and silver carton of Bruno's favorite imported brand of smokes. I watched her walk over to the baby grand then carefully place the unopened carton into Bruno's shrine next to the vase of roses on top of my piano.
She kneeled, bowed her head, held her rosary beads up in both hands then her lips moved as she whispered silent prayers. When she stood she reached for one of the framed photos picked it up then kissed Bruno's photo.
"She's taking it kind of hard. Don't you think Phil?" I turned to stare at Don Franco the teen's father. He squinted. "Phillip, you knew Bruno probably better than anyone else around here. Do you think it's possible Bruno was doing it with my little Gisselle?"
My right hand released its hold on the neck of the tall, brown bottle of liquor. My arm swung fast. The back of my hand smacked hard against the side of Don Franco Barresi's face. The three men standing in a row beside our Boss silently reached inside their jackets to pull out their pistols. Three weapons pointed at me, waiting for Don Franco to give the command.
"No! No! No!" Don Franco ordered. "Put those away! We're all family here." He rubbed the side of his face. "Phillip's right. I was disrespecting the dead. God bless Bruno's sole. And, I was disrespecting my own daughter." He turned to address me. "Plus, Bruno sacrificed his own life to save me. Thank you Phillip for bringing me back down to earth."
"But Boss, he just…"
"I know. And, it was a brave thing to do." He again looked at me. "That took guts Phil and I respect you for that. But, if you ever lift a hand to me or anyone in my family again, I'll kill you." I just stared back at him unable to breath, yet reply. He reached up then pinched my cheek laughing. Finally he released me. "You're dismissed, Music Man. Me and the boys have some pay back planning to do." I turned then walked as fast as I could to the men's room door. "Be assured," He shouted after me. "That your good friend Bruno will be avenged, tri-fold!"
Later, out in the dinning room, I stopped for a moment by the Baby Grand. I ran my finger over a bullet hole in the piano's side, wondering how her sound was never effected. I headed to the front door. In the lobby I saw Gisselle sitting by the front door, on a large canvas duffel bag, smoking a cigarette. "Going on a trip?"
"College."
"Hey, there's a good idea."
"Bruno would have wanted me to go."
"It was part of our plan, to get me away from this life." She took a puff off her cigarette. "It was obviously too late for Bruno to learn anything else but he didn't want me or our children, if we had any, to grow up around all this violence and crime." She took another puff. "After we ran away, Bruno planned to work while I went to school. Thus if anything ever happened to Bruno, me and our kids would have a chance at a normal life."
"College is a step in the right direction. I wish you all the luck in the world kid."
"Thanks." She stood up, then walked over to extinguish her cigarette in the ashtray by the door. She turned, then ran over to me placing her hands on my shoulders. Staring into my eyes, she stood on her tip toes to kiss me.
"That's for being Bruno's only true friend." She wrapped her arms around my waist and hugged me tight. "That's for being my friend." I watched her walk back to her duffel bag, pick it up, then shove her arm through the shoulder strap. I watched her, bent forward by the heavy piece of luggage, struggle to pull the heavy front door open then force her way through the opening.
"There goes the wisest member of the Barresi family." I thought. Behind me, the door marked private flew open, banging into the wall. I turned around to see Ronnie standing in the doorway pumping a shotgun. He held the weapon in front of his chest then stepped aside. Leon stepped through next waving a pistol in each hand. Little Vince was next, loading a live clip of bullets into his semi automatic long barreled machine gun pistol.
Franco Barresi, our boss, stepped through the office doorway last, to shout. "It's pay back time Boys!" I turned away from them then headed towards the front door. "Boys let's have a toast first." I heard Franco say. "Max, fill the bar with shot glasses of cognac please, enough for everybody." He pounded his fist on the bar. I parted the curtain on the front door's window.
From the doorway, I watched Gisselle sitting on her duffel bag, one leg crossed over top of the other, a stick of lipstick in her right hand, a tiny mirror in her left. I truly hoped this teen angel could get away from this life. Behind me I heard Franco toast. "To the good men we lost in the ambush a few days ago!"
"Salud!"
"To revenge!" Another man toasted.
Screeeeech!!!…A white van raced, bouncing right up onto the sidewalk then skidded to a stop in front of Gisselle and her luggage. The double side doors flew open.
"Help!!…" I shouted, reaching for my pistol but it wasn't there. "They're after Gisselle!" I shouted at the small army at the bar.
"What!" I heard someone from the bar shout back, followed by the sound of a bunch of shoes and boot soles pounding across the hard wood floor towards me. I grabbed the only weapon I could see the six-foot long steel bar that we used to reinforce the locked door at night when we closed up.
I threw the door open. "Hey! Stop!" I shouted racing towards the commotion. Two men, wearing clown masks were wrestling with Gisselle. BANG! Another clown standing by their van's back door opened fire at me. BANG! BANG! I dove to the ground. Bullets chipped up the sidewalk all around me as the clown kept firing. I lifted my head up just enough, to watch Gisselle struggle vainly as they drug her to the van's side doors. The clowns tossed the teen inside like a sack of potatoes then climbed inside. As the kidnappers pulled the doors closed. I stood up then raced towards the van.
Screeeeech!!!…The van's tires spun on the sidewalk. I tossed the six foot steel bar like a javelin. As the van peeled away, the bar thudded into their back door leaving a nice dent then fell harmlessly bouncing in the street. Bang! Boom! Pow! Bang! A barrage of gunfire opened up from behind me as my reinforcements fired at the fleeing van. I quickly jogged back onto the sidewalk, out of the way of the bullets. Bang! Boom! Bang!…
I found myself cursing as I stared at the teenage girl's luggage, on the sidewalk. Her duffel bag and suitcase were there but her small leather makeup case wasn't. I replayed the abduction in my mind. Yes, I saw her clutching that tiny case to her chest as the clowns drug her, by her elbows, to their van. Why wouldn't she drop that case, so she could better fight for her life?
As I stood there, I realized, it was a version of my original plan for their escape, with slight variations to adapt to the circumstances. I couldn't be sure but the clown firing at me did seem to be the same height and stocky shape as Bruno. I smiled then buried my face in the crook of my arm, so no one could see. I peaked my head up over my arm to watch jeeps, cars, vans and pickup trucks roar down the street in the direction the van had gone. In my mind I could see Bruno driving the all white van and Gisselle sitting in the front passenger seat fixing her make up.
"Good luck my friends." I muttered. "Be safe."
---

Electricity By Stu Leventhal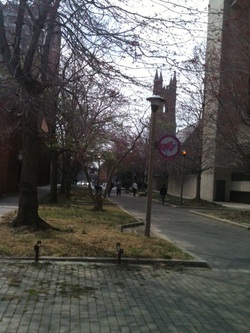 Pop, pop, pop…the small, delicate, foreign, racing tires rolling over the brown, bubbly bricks announced our presence as subtly as a bull entering a china shop. I eased my foot off the gas pedal, turning the wood carved steering wheel left. My ten year old French, white, convertible Peugeot, with its brown leather top snapped on, glided along the narrow, dimly lit, cobble stone street. Pop, pop, pop…the sound reminded me of my home coffee percolator pre-set to heat up on its own every morning at five minutes to 6 am. I could smell the rich coffee blend. My eyes scanned the street and sidewalks of the deserted hours ago, old world, old money block at the edge of Philadelphia's historic, financial district. Everything seemed to be made of enduring, brick and sparkling, white, marble trimmed with polished, copper signage plaques, shiny, brass, door, knockers and knobs.

Pop, pop, pop, pop… Trolling along at no more than six miles per hour, with a misty fog setting in, it was easy to imagine, I was in a horse drawn buggy, back in the 1700's, on my way to a secret meeting, to work on one of the paragraphs of the Declaration of Independence or the Constitution. Or, traveling to some other historic event that had occurred in these same streets. A lot of these buildings and structures hadn't changed much since William Penn's day.

My brain was startled back to reality by the sudden blur of movement in my peripheral vision as something big, shadowy and human dashed out of a dark doorway to my right. I jammed on my brakes then twisted my head to get a better look but my sight was blocked momentarily by a wide, oak, tree trunk of an ancient tree, growing at the edge of the sidewalk. THUMP! The running shadow smashed into the side of my car's front end, passenger side. Two long arms, naked breasts and an upper torso of a shirtless, Caucasian woman flopped across my hood. Her long dagger fingernails clawed at the metal as her naked torso log rolled across my hood. I watched frozen with dismay as the blond female stood upright then pushed herself off my hood, to dash, stumbling across the dark street. She was naked accept for one high heel still strapped to her left ankle.

"No! Stop!" I shouted a warning that went unheeded as I watched in horror as her right knee then her left, hit the two foot, high, side wall of the areas famous, penny pitching, water fountain. Her upper body flipped forward as she tumbled. Splash! She disappeared under the water.

As I pushed my car door open, I naturally gazed suspiciously back at the dark doorway the woman had first run out of. The spot was clouded by shadow still, I could detect no one pursuing her. Turning back to the fountain I realized to my dismay the woman hadn't risen from the shallow depths. Time of the essence and not sure of what I was about to get myself into, I leaped out of my sports car and raced towards the cement, water filled fountain.

Did I forget to mention, I was dressed, from head to toe, in a complete authentic period, costume of the great, late, historic genius, Benjamin Franklin. I'll let you know why in a little bit, just realize, dear reader, the difficulty to dash to the rescue, when you have a big, fluffy, down, pillow stuffed under your shirt and you're wearing those loose, wooden soled, shoes, plus one of your hands has to be used to hold your white wig on your head.

Approaching the fountain, I saw the woman's nude back. She was floating face down. I leaped the side, wall. Splash! I landed mid thigh deep in cold water. Splash…splash, I trudged to the woman's side, reached both arms underneath her then lifted her head and upper body up out of the water. I dragged her to the little island in the middle of the fountain where a Greek cupid statue complete with bow and arrow was spitting a steady stream of water into the pool around it. I lifted the naked woman up onto the island then lay her at cupid's feet. I rolled her onto her back and saw her wide unblinking eyes staring back at me. That's when I noticed the three puncture holes bubbling blood, two from under her chest and one in her belly area. "Mrs!" I slapped her face lightly. She made no response. Her eyes just stared then suddenly both eyes rolled up towards her forehead and I was looking at two all white cue balls. She was gone!

"Oh my!" I stumbled stepping backwards away from the deceased naked body and into the center of the pool. I turned quickly then trudged through the water to the pool's edge. I quickly started to climb the outer wall then stepped out of the water onto the dry sidewalk.

"Hey you!" A flashlight shined into my eyes. "What are you doing in there?" A male's voice asked.

"There's a woman in the pool." I turned to point. "I think she's dead."

"Don't move a muscle." The nervous guard dropped his flashlight as he pulled his pistol from its holster then aimed the gun at me.

"I didn't do anything!" I pleaded dripping. "I was trying to help her!"

"Shu…shu…Sure Buddy." The guard stuttered. "You, you, you can ta, ta…tell that to the p, p, police."

"Okay." I raised my hands high over my head so the nervous guard would see clearly, I wasn't a threat. Dripping water, I prayed the guard wouldn't shoot me by mistake as I watched him still pointing his pistol at me with his shaky, right hand try to use his left to radio in our situation.

Minutes later, we were surrounded by police vehicles. "Tell me again, slowly why were you driving around in this area tonight?" Asked the burly, bald, no neck, square head police officer with his notepad opened. "And what are you supposed to be dressed as?"

"I'm Ben Franklin." I announced, stepping into the light, coming from one of the police vehicles headlights, striking a pose.

"I don't see it." The big cop's smaller partner stepped closer to look me up and down.

"Well, I'm all wet." I explained. "And I lost my pillow stomach and my wig in the pool."

"Where'd you get the shoes? They're kind a cool."

"They came with the rest of the outfit. It's a rental."

"It's kind a late and a dreary night." His bulky partner pointed out. "To be running around here, dressed up like a pilgrim. Don't you think?"

"I'm playing Benjamin Franklin and I was on my way to perform a reenactment of the great man's famous kite flying experiment during which Ben discovers electricity."

"All by yourself?" The smaller detective asked. Glancing up then down the empty sidewalks. "And on such a miserable night?"

"We've been waiting all week for weather like this."

"We?" Again, the smaller detective gazed up then down the empty sidewalks.

"I'll have you know, there's probably at least,50-60 people waiting patiently, in the park, just around the corner from here, wondering where's Ben Franklin?!"

"Well, they're going to have to wait, Ben. Cause, you're not going anywhere." The shorter detective stated. "I'm not near done questioning you yet." He turned to his partner. "Mahoney, send someone over to the park, to check out Ben's story. And, if there are people waiting for him to perform, question them. Maybe one of them saw or heard something." He turned then started jogging towards the ambulance into which the paramedics were loading, the now covered, naked female, victim. "Guys." I heard him shout. "Give me a minute of your time."

I watched them slide the woman's gurney inside their ambulance then shut the back doors. "Could you guys tell if those were bullet holes in her chest and stomach?"

"Stab wounds." The older paramedic answered.

The Detective raised his radio to his lips and ordered. "Mahoney, get me more men out here, fast and with flashlights! We're looking for a bloody knife."

"Hold up!" The police officer shouted. "This is a crime scene no ones allowed in here." I turned towards the commotion. Walking down the block was a small parade of about twenty people dressed in period costumes.

"They're with me officer." A tall man stepped out of the middle of the parade to inform.

"Oh, sorry Detective Anderson." The policeman apologized. "I didn't see you there, Sir."

"Over this way Folks." Anderson ordered. The cops herded the costumed people my way.

"Hey!" Someone shouted, noticing me. "They arrested Ben Franklin!

"Hey Larry!" Herbert Libby dressed as a Colonial Patriot walked over to me. "We were all wondering where you were at." Herbert was our Master of Ceremonies for tonight's reenactment as well as being the President and Founder of our Penns Landing Historian Club. "What happened to your costume?" Herbert's spectacled eyes glossed over me.

"I went swimming and the cops confiscated my stomach pillow and my wig as evidence."

"Are you really under arrest for swimming in the fountain?"

"Nobody's under arrest." Detective Anderson informed. "Now if you could all just move and stand over there by the wall, one of my officers would like to take your names, addresses and phone numbers down."

"Why?"

"What's going on?"

"There's been a terrible crime committed here tonight, less than an hour ago. We want to find out if any of you heard or saw anything."

"What happened?" Someone asked. "What crime?"

"First things first." The tall Detective answered. "Now, let's all line up along the wall over there."

"Are we under arrest?"

"No. We just have to ask you all a few questions. The quicker you cooperate, the quicker you can be on your way."

"Actually." The smaller Detective walked over to interrupt. "That's not true anymore. You're all going downtown for questioning."

"I'm not going anywhere!" An older man dressed as a Puritan stated. "Until someone tells us, what's going on?!"

"A woman was murdered here tonight." The shorter detective informed watching their mouths drop open. "And there's a good possibility she was raped too!" He had everyone's attention now as he held up to read what looked like a driver's license sealed inside a clear plastic baggy. "Do any of you know Mrs. Katelyn DuFray of 132 South Maplewood Drive Bonton, New York?"

"No."

"Never heard of her."

"Nope."

"Well," The Detective continued. "She had one of your flyers, for your Ben Franklin event tonight among her possessions." He held up another baggy showing everyone one of our bright yellow advertisement flyers in it. "We found this, along with her purse, ID and clothing, which was neatly folded, over there in the back of that alley. It appears as if she went back there to change into her costume and was attacked. There's all kinds of evidence back there indicating that's where she was stabbed."

"Oh my!" A bald man dressed as a Quaker stumbled forward.

"Did you know Mrs. DuFray Sir?"

"No. I'm just shocked that something like this could happen at one of our history gatherings."

"Anderson, Mahoney!" The smaller detective ordered angrily. "Load these suspects into vans and transport them over to the station house."

"Suspects." Someone complained. "Why would one of us want to kill this woman, from New York?"

"That's what I want to find out."

"This dreary fog reminds me of a bad, late night Jack the Ripper movie." A man dressed as a Pilgrim remarked as he shook a cigarette out of a pack.

"Yes, it's a very Sherlock Holmesian type of night." A female Shaker stated walking over. "Can I bum a smoke?"

"Sure." The Pilgrim held the pack out so the woman could pull out a cigarette.

"Let me light that." A man dressed as an English Red Coat, walked over flicking a lighter. I stared at the long sword holstered on his hip, wondering if it was real or toy and could it have been used to stab the woman.

"Thanks." The young Shaker woman took a small puff then comfortably settled in standing between the two costumed men enjoying both their attention as we all waited for the police van to pull up.

"Detective, I looked that woman's name up on our list." Herbert Libby stated waltzing over to the Detective. "Katlyn Dufray wasn't registered with us." Herb held his spiral notebook open to the member's page for the Detective to look at.

"And who are you?" The detective asked.

"Herbert's the organizer of this shindig." A blond dressed as a Quaker, who had obviously been drinking, slurred. "He's the Master of Ceremonies tonight." She grasped Herb's elbow flirting. "And, President and Founder of out little history reenactment club."

"Is that so?" The detective eyed them both suspiciously. Then pulled Herbert's, notebook out of his hand then stared over at me. "I thought you said there was 50-60 people coming to watch you perform. "You only have twenty-four, people on your list. And, I count only about twenty of you actually present tonight."

"I guess, I might have embellished a little." I answered sheepishly.

"Well, our victim had a flyer and a costume." The detective glanced at Herbert. "Any idea why she was here, if she wasn't registered?"

"I don't know."

"That's not good enough for me." He handed Herb back his notebook then turned to glance at the van that was pulling up next to the curb. "Mahoney! Load all these people up. I'll meet you all at the station." He waltzed off slowly disappearing into the thickening fog.

I was the last of us to climb into the van, so I had to squeeze my large derriere next to a petite, brunette woman dressed as a Mennonite, to claim the very end of the long bench that ran lengthwise along the driver's side. I smiled a bit uncomfortably as I settled in, to watch Herbert across from me, in the middle of the bench, sandwiched between two sexy Puritan costumed woman in their thirties both openly vying to court our clubs quirky founder. "There he goes again." I marveled to myself. Herb always seemed to attract the most beautiful History groupies.

Herb's brain was a sponge. He read every obscure historic document he could find in libraries, private collections and archives buried in dust, lost for decades in someone's dark dingy basement. Amazingly he remembered all of it. I always had to watch myself with adlibbing during my performances when the Encyclopedia, as we started sarcastically calling Herb, was around. Herb would catch me deviating from some obscure little known fact, he'd found scribbled in some fading old ledger then complain to my bosses at the Historic Actor's Guild that I wasn't being authentic, staying true to facts, or in character, as he liked to put it. Women were drawn to his nerdy, thick rimmed glasses, history professor act like moths to a flame.

But, tonight I was Ben Franklin, the star of the show. So, I was not surprised when the van began to move that the petite Mennonite woman next to me grasped my upper arm, under the guise of needing support. I turned to look at the damsel who immediately fluttered her long eyelashes at me, smiled then asked innocently. "So, what would the real Benjamin Franklin do in a situation like ours?" Everyone looked at me.

"Why, Ben would undoubtedly take over the investigation immediately, vowing to announce who the murderer was before this van arrives at the police station."

"Really," She looked up at me with her big round hazel eyes. Do you know who the killer is?"

"I know the killer is in this van." For a second, I had them all.

"It's hot in this van." Herbert complained.

"Well, since our kite flying reenactment obviously isn't going to happen tonight sweetie." The woman to Herb's left stated. "There's no need for us to stay all bundled up in these stuffy costumes." She reached for Herb's stiff white collar with both hands. I watched her long, ruby red, manicured fingernails, dig in struggling to unbutton Herbert, the Encyclopedia's high collar.

After a long unsuccessful attempt to pop open the collar's buttons. The girl to Herbs right said. "Let me try."

"I'll get it myself!" Herbert announced uncharacteristically pushing, both beauties talons away from his neck. I watched Herb, who usually couldn't be more content to just lie back and fawn, enjoying the ladies pampering, reach his right hand up then quickly pop the collars four tiny buttons open. He un-wrapped the starch, collar from around his neck then yanked it off.

"Well I…" The woman on his left declared in a huff as she sat up straight in her seat then uncrossed her legs only to re-cross them pointing her long legs away from our Master of ceremonies. The woman on Herb's right readjusted in her seat too then crossed her legs pointing hers away from Herb but in the other direction.

"You killed her!" I shouted jumping up to bang my head on the van's ceiling.

"What?" Herbert, glanced around at the faces staring back at him then denied. "That's absurd!"

The two women, on each side of him, slid as far away from Herbert as they could.

"No!" I started to think out loud. "You're always bragging about your photographic memory and showing off! How you can quote word for word the Declaration of independence and stuff."

"So what?"

"You never carried around a list of our members before."

"So?"

"So, memorizing our list of twenty five or so club members would be child's play for a genius like yourself. But, you made a point out of opening up your note book to show that list to the detective, to point out the victim's name wasn't on our list."

"That's your evidence? That I have a list?"

"A…a…a.."

"Tell him Ben!" The cute Mennonite woman looked up at me with those big hazel eyes.

"And the collar! This lovely lady on your left had trouble unbuttoning it because it's a female's collar. It buttons the opposite way. You knew it buttoned the other way so you unbuttoned it quickly and easily. Why are you wearing a woman's collar?"

"A…a…" Herbert, the encyclopedia, stuttered this time. "Is it perhaps because you got blood all over your own collar when you were stabbing Mrs. Katlyn Dufray. So, you switched collars with her, disposing of your own bloody collar somewhere in the fog. Confess now you swine!" I pointed my accusing finger at him. "Come morning the police will have found that collar covered with your sweat and Katlyn Dufray's blood. DNA analysis will prove you to be her murderer! All that's left you scoundrel is why?"

"I'm sorry!" Herbert Libby, Master of Ceremonies dropped his head into his palms to weep as the van came to a stop in front of the police station. "We were having an affair." He sobbed. "She was going to tell my wife."

"You have a wife!" The woman, dressed as a puritan, to Herbert's left slapped him across the face.

The officer's opened the back doors of the van. "What's wrong with him?" One officer pointed to Herbert.

"Arrest that man officers!" I ordered as they aided me in climbing out of their van. "He just confessed to the murder of Mrs. Katlyn DuFray!"

"Good job Ben Franklin." Someone patted me on the back. "The real Ben Franklin would be proud of you."

"Bravo!" Another clapped.

"What's going on here?" The smaller head Detective walked over.

"Ben Franklin just solved the murder!"

"Is that so?" He eyed me up and down skeptically.


---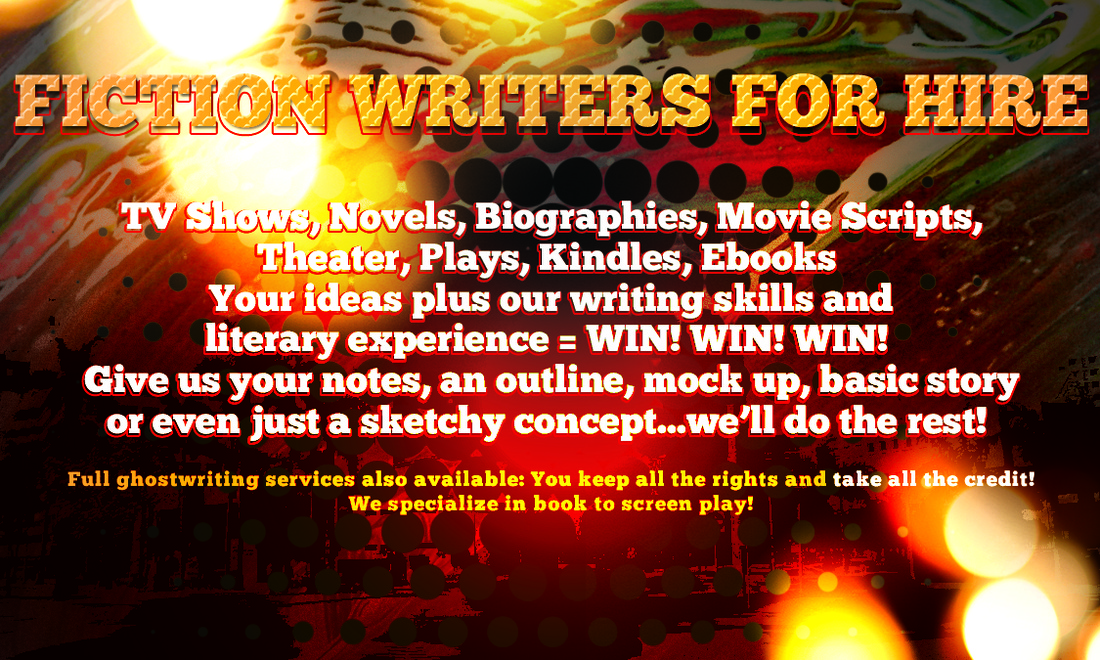 Girlfriends by Stuart Leventhal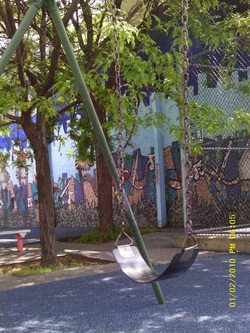 Jill sat on the swing kicking her legs out every time her friend Sue Ellen pushed her. "WEEE!" She shouted . "HIGHER! HIGHER!" Each time Sue Ellen would push her, she'd fly higher. "WEEE!!"
Okay it's my turn now." Sue Ellen moved aside so the swing could slow down. "You push me."
Jill jumped off the swing landing in the sand on her knees. "OUCH!" She stood then brushed the sand off as Sue Ellen mounted the swing.
"PUSH!" Sue Ellen shouted.
"So, Sue Ellen..." Jill pushed, sending her friend, swinging into the air. "I heard your Mom really likes that new boyfriend of hers." Push.
"Alfred? Where'd you hear that?"
"You know my Mom's the Gossip of Bay Meadows. She knows everything about everyone." Push. "Do you like this Alfred guy?"
"Yeah. He's neat, really different from the usual men Ma brings home." Push.
"Like him better than Doug the Doctor?"
"Yuk! He's old enough to be my grandfather."
"But he's rich." Push.
"Yeah. That's the thing with Alfred. He's kind of a drifter."
"And I heard he's younger than your Ma too?" The two girls giggled. "And good looking?" Push.
"Ohh...so that's what all the neighborhood moms are really talking about, isn't it. Ha, ha ha. Well why shouldn't my Ma have someone who's handsome. They're all just Jealous." Push. Sue Ellen swung her legs out. "WEEE!.."
"Is Alfred really from England?"
"Yeah. Talks with a British accent and all. Says things like: Ta, ta love, and tally-ho. Sounds like the butler Higgins from that TV show, Magnum P.I. or Remington Steel. You just have to meet him Jill."
"I can't wait!" Push. "Ha, ha, ha."
"Are they getting serious? Do you think like, they might get married?"
"I hope so. He's really neat." She jumped off the swing landing on her hands and knees in the sand.
"Are you okay?"
"Yeah." Sue Ellen stood then brushed the sand off her skirt and stockings. "Come on..." She grabbed Jill's hand then started running pulling her along.
"Where are we going?"
"You have to meet Ralph now!"
"What at this time of day? Isn't he at work?"
"He works at home Silly. He's an artist. Sculpts all kinds of neat things out of clay, paints pictures of water falls and mountains and oh, he's working on a huge metal welded thing that you just have to see to believe."
"What kind of welded thing?"
"Oh, it's made out of all kinds of metal junk he's found at the beach and in the junk yard, and it's all welded together. And It's gigantic." She raised her outstretched arms towards the sky to demonstrate the size. "Just wait till ya see it." They skipped down the sidewalk. "Let's play follow the leader." Sue Ellen hopped on one foot then Jill hopped on one foot. BEEP!!! SCREECH!!! Looking down the road the girls saw a station wagon swerve and just miss hitting a big black dog.
"Hey! There's Mr. Nagasettie's dog Skippy? He's not allowed out of the yard running loose like that. Come on. Help me catch him."
"Skippy! Here Boy!...Skip! Come here!"
"Here doggie! Here Skippy!" The big dog ran over to the girls. Jill grabbed his collar. Sue Ellen kneeled down then petted the big furry animal's head. The dog licked Sue Ellen's face. "Bad doggie. Mr. Nagasettie will be very mad at you for getting out of the yard like that. You could have got ran over by that station wagon." He licked Sue Ellen's face. She giggled.
"Come on let's take him back to his yard, before he gets into any more trouble." Jill tugged him along by the collar. "You're a bad doggie."
"Look Jill. It's not Skippy's fault someone left the gate wide open. They brought the dog into the front yard then shut the gate behind them. Jill let go of the dog's collar. The dog ran around the side of the house. "Look they left the front door wide open too?"
"That's not right, not on this cold of a day? All the heat's getting out."
"And we all know how cheap Mr. Nagasettie is."
"Mr. Nagasettie! Where are you?" They walked up onto the porch.
"We brought your dog Skippy home!" Sue Ellen pressed the buzzer. BUZZ! BUZZZZ! "Mr. Nagasettie?! Are ya here?!" BUZZZ! BUZZ!
"What was that noise?" The girls looked at each other. "Did you here it?"
"I think I heard something."
"Is anybody home!" The girls held each other's hands, creeping in the front door. "Hello!...Mr. Nagasettie?!" They saw furniture over turned and a lamp knocked over on its side. A bookcase was tipped over, leaning against the back of a couch, and books lay sprawled all over the floor and couch.
"Oh my!" Sue Ellen pointed across the living room at two chubby old man's hairy legs sticking out from behind the love seat wearing brown, Chinese, leather, thong slippers.
"Mr. Nagasettie!" The girls ran leaping over the toppled furniture to get to him. "AAAHHHH!!!" Jill screamed. The chubby old man lay face down. A puddle of blood spread out on the hard wood floor around his head.
"We got to go get help!" The girls turned then ran back towards the front door.
Jill
reached the doorway first yelling. "Help! Help! Somebody! Anybody! Call the police!"
She ran down the steps as Skippy squeezed past her. The big dog almost knocked Sue
Ellen over as he entered the house.
"No! Skipper! You can't go in there." She turned then chased after the mutt following his trail of muddy paw prints back to Mr. Nagasettie. Sadly Sue Ellen watched the big dog sniff his owner's motionless body. "Come on Boy." The young girl reached for the dog's collar. The dog pulled free of her grasp then trotted down a hall to sit before a closed door. The girl followed to find the dog scratching his paws digging at the bottom of the closed door as if he wanted to get inside. Sue Ellen thought she heard noise coming from inside the room. "Who's in there?! Whoever you are, the police are on the way!"
"Growl!" The dog dug at the door. Sue Ellen grabbed a long necked flower vase, dumped the plastic flowers out on to the floor then approached the door. She grasped the doorknob then pulled the door open. "Sick em! Skippy!" She shouted as the dog lunged inside the room. "Ruff, ruff!"
The bedroom was in total disarray. Someone had ransacked everything, dumping out draws, removing pictures from the walls, even the mattress was sliced open, the stuffing strewn around the room as if someone had been searching for some hiding place. The dog trotted in a circle sniffing the ground then sat in front of a square thing a little bigger than a television set, sitting on top of a pole like stand, covered by a blanket from which a rattling noise was coming. The dog growled. "What's the matter boy?" She reached cautiously for the corner of the blanket. She pulled the blanket off to reveal a very big upset bird flying around inside its large cage. The bird flew banging into one wall. "ACH! YACK!" Then it flew banging into another wall. "YACK! YACK! YACK!" It continued to scream.
"RUFF! RUFF!" The dog barked up at the bird. Skippy stood on his hind paws to bark. "RUFF!"
"Hello! Anybody here?!" A man's voice shouted from the front of the house.
"Sue Ellen where are ya?!" Jill shouted.
"We're back here." The dog ran out of the bedroom, towards the voices. Sue Ellen turned then jogged after the big dog.
"EEEAAK!" The bird squawked. "Bloody Hell! Take that old chap! Bloody Hell! EEEEK!" Sue Ellen stopped cold in the doorway then looked back over her shoulder at the bird.
"What did you say?" She stepped back inside then shut the door behind her.
"YACK!..Take that old chap! Take that ya bloke!" The bird flew from side to side in his cage. "Ta! Ta!...Bloody hell!" It banged against the cage door. "Bloody hell!..." Sue Ellen's mind flashed to a few months earlier when her Mom's new boy friend, Alfred was hanging one of his paintings in their foyer. Alfred hit his thumb while hammering in the nail. "Bloody hell!" He shouted.
"Take that old chap!" The bird kept repeating. "Bloody Hell!
"Sue Ellen where are ya?" Jill yelled as she ran towards the voices coming from the back of the house.
"Somebody else is back there with her! I can hear them!" Shouted Jill to the policeman.
"Stay back!" The cop pulled his pistol, He led the way down the hallway, Jill and the dog stayed close behind.
BANG! The cop kicked the bedroom door. It flew open smashing against the wall. Sue Ellen sat staring out the open window. "Oh, you're okay. Jill rejoiced running over to hug her best friend.
"Bye-bye stool pigeon." Sue Ellen mumbled, watching the big colorful parrot fly
away.
"What did you say?" The cop stared at her.
"Oh nothing, just that I'm fine."
"We thought we heard someone else's voice coming from in here?" He ran to the window, stuck his head out then looked around.
"No just me." She stared at the empty birdcage. "I guess you heard me crying." She rubbed her eyes with both hands.
"Well, we're all upset girls."
"I would have sworn I heard a man's voice?" Jill stated. Sue Ellen just shrugged.
Back in the living room Officer Routan asked. "You girls have any ideas as to who might do this to nice Mr. Nagasettie?"
"Nah." Sue Ellen shook her head.
"No." Jill agreed. "But there was rumors that Mr. Nargasettie had a lot of money hidden some where in this old house. Everyone knew he didn't trust banks. I guess someone decided to rob him."
"They sure made a mess in here." The officer commented. "I wonder if they found it."
"Found what?"
"His money what else." Jill frowned. "You sure you're okay Sue Ellen?"
"Did you tell Officer Routan about the old green station wagon that we saw peeling away from the scene of the crime."
"No, I clear forgot. It was in an awful hurry Officer." Jill added. "It almost ran over Skippy!"
"You don't say. Well that certainly is a good clue."
"Do you think the people in the station wagon might have had something to do with this crime?"
"They sure might. Excuse me girls. I better go call the description of that station wagon in to my dispatcher. Maybe we'll get lucky and someone will spot the fleeing vehicle."
The two girls stared at each other. The big dog sat in front of Jill as she stroked and petted the side of his neck. "Oh, if animals could only talk."
"Why'd ya say that?" Sue Ellen looked at her friend strangely
"Oh...just that I bet Skippy knows who killed his owner. I'm sure he saw the whole thing. If animals could only talk to us, it would make officer Routan's job a lot easier."
"Yeah." Sue Ellen moved over to the window to stare out at a colorful bird sitting on a tree branch.
---
LOYALTY by Stu Leventhal
The Police cruiser pulled up outside the English Tudor home. BEEP! BEEP! Two cops climbed out then stood by the car waiting. A petite woman jogged out the front door carrying a small carry-all slung over her
shoulder. The young officer took her bag. The older officer opened the car's back door. "Get in Mamm, hurry. We got orders to get you out of here quickly and safely." He glanced around nervously.

Traveling down highway 56, the woman was checking her makeup in her purse
mirror. "So where are you taking me?"

"Some place safe."

"And, where would that be?" She patted her cheeks with a cotton puff full of powder
rouge.

"We don't know that Mamm. We're only your escorts as far as the state line then we turn you over to Federal
Agents."

"Oh." She twisted the bottom of her lipstick to extend the tip. She swiped the lip stick across her upper lip
then held the mirror up to see how it looked. SCRREEEECHH!! In her little makeup mirror, she saw a pick up truck speed out, swerving onto the highway behind the police car. "Oh my! They got guns!"

"Guess
we got company Ralph." The husky, younger police officer in the front passenger
seat pulled his pistol then turned around leaning on the back of the front seat.
"Lie down on the floor Miss." He pushed her down. BOOOMM! The back window
exploded, raining glass all over her back. The older policeman jerked the
steering wheel making the cruiser swerve to the right then left while the
younger officer tried to aim. BANG! BANG! BANG! BANG! BANG! He fired his pistol
through the back window.

The driver slammed
on the brakes. SCCREEECH!! The police car skidded to a halt. The momentum threw
the young officer back banging his head against the front windshield. He dropped
his pistol. The pickup truck sped past them. "Uhgg!" The young guy rubbed his
head.

The driver pulled out his own pistol.
"Don't move Larry."

"Huh? What's this?" He
stared over at the driver. "You're with them
Ralph?"

"Six hundred thousand dollars, even
split three ways, goes a long way Pal."


"But what about me? We've been partners for almost eight years and you're gonna
just sell me out!?"

"No Larry. They just
want the girl. I won't let them do anything to
you."

"Don't be stupid Ralph. I'm a
witness. They're not going to just let me walk!" He glanced at the pickup truck
which had stopped about twenty five yards ahead. The two men had climbed out of
the truck carrying rifles. They walked slowly towards the police
car.

"Drop the gun!" Shouted the woman. She
had pulled her own pistol out of somewhere and was now pointing it at the back
of the older cops head. They both stared at the little silver derringer. It was
the type which held only two bullets. "Don't look so surprised. I've been a
mobster's girl friend for over ten years. I know how to use this thing. So, lay
the gun down! And get out of the car!"

The
older driver lay his gun on the dash then opened the door. The two assassins
stopped walking then pointed their rifles at the police car. "You!" She ordered
the young cop. "Slide over behind the wheel and back this car up and get us out
of here fast!"

The older officer stepped
away from the car holding his hands in the air. "Look guys, I'm un-armed!" He
shouted to the riflemen. "Guess they got the drop on me. I'm sorry." BOOOM!
BOOOM! Larry saw his partner's body jerk like a string puppet's as the bullets
slammed into him. BOOOM! BOOOM!

Larry slid
across the seat. He grabbed the steering wheel with his left hand and the gear
shift with his right. He shifted into drive then slammed his foot down on the
gas pedal. SCREEECHH!!! The tires spun. "Duck down!" Larry ordered, scrunching
down behind the steering wheel. He aimed the speeding police car at the two
riflemen. BOOOM!! The front windshield exploded. Larry opened his eyes in time
to see the riflemen dive to get out of the way of the police
car.

He jammed on the brakes. The car
skidded coming to a halt beside the pick up truck. "What are you stopping for?"
The woman glanced back over her shoulder through the back window. She saw the
gun men scrambling to their feet. One of them was reloading his rifle. Larry
grabbed his partner's gun from the dash. The woman pushed her pistol into the
back of Larry's head. "Drive us out of here!" She hissed. Larry stuck his
partner's pistol out through the shattered front windshield and aimed down at
the truck's front tire. BANG! BANG! He drove the car ahead to the back tire.
BANG! BANG! The truck started to sink as the tires deflated. Larry stepped on
the gas pedal. SCREECH!! He looked in the rearview mirror and watched the two
riflemen shaking their rifles in the air and cursing as they ran to their
truck.

"You got to learn to trust somebody
Lady." He tossed his pistol onto the seat next to
him.

"Sorry." She slowly dropped her gun
hand, so the pistol wasn't pointing at his head. "But trust is what got me into
this mess. Besides, didn't we both trust your partner? Look where that's gotten
us."

"It's a long lonely life, if you try
to go through it without trusting anybody."


"I'd rather be lonely and alive, than trusting and six feet under thank
you."

"Well, you can trust me.
Okay?"

"How reassuring." He reached for the
radio's microphone. "What are you doing?" She pointed the gun at
him.

"I'm calling the station to tell them
what just happened to us."

"No you're not!"
She raised the gun to the back of his head. "Hang that up now!
Stupid."

"Okay, okay." He dropped the
microphone. "What's the matter with you?"


"Nick Scaressie's got eyes and ears all over your police department. As soon as
he hears that those two morons back there failed, he'll send more after
us."

"Now that's being a little paranoid
don't you think?"

"No! Now turn off at the
next exit."


"Why?"

"Because I'm not staying on the same
road we were just ambushed on."

"Do you
even know where this road goes? Cause if we get lost..." He steered the car onto
the off ramp. "I don't believe we have a map in the
car."

"I want to get lost. Don't you get
it. There's people trying to kill me."


"Listen Lady. My orders are to drive you to the state line and turn you over to
the federal agents. And that's what I intend to
do."

"I'm not meeting any federal agents
now. Not after what just happened. How would I know they weren't working for
Scaressie too?"

"You have no choice but to
meet the federal agents. They'll put you in the Witness Protection Program.
Otherwise you'll be running and hiding for the rest of your
life."

"Just keep driving while I try to
think."

They drove in silence for about an
hour down a one lane winding country road. The sun began to set. "You married?"
She asked him.


"No."

"Ever picture yourself like me on the
run from the mob and the law?"


"No."

"Pull in that parking lot." She
pointed to a small dark country house Inn with a small neon Vacancy sign lit up
in a window. "Park around the back. So somebody driving past won't spot our
car."

She laid her sweater over her arm
concealing the pistol. "We're going to go rent us a room. I want you to register
us as Mr. and Mrs. Smith."

"Smith, how
original."

"We're newly weds if anyone
asks." He laughed. She continued. "We need a room with a phone. You're going to
make a phone call to Nick Scaressie. You're going to tell him that you have me
and you want to make a deal with him. Only the price has gone up. Instead of six
hundred thousand dollars, it's now nine hundred thousand bucks in small
bills."

"Do you really think you can pull a
scheme like that off?"

"I got to. It's
gonna cost a lot of money to run away and start a whole new life
somewhere."

He turned around in his seat to
face her. "But do you really think you can pull this scheme
off?"

"Not alone I can't." She gulped. "But
I could with a partner." She handed him the pistol. "You said I had to start
trusting somebody. Life's lonely and all
that..."

He reached over the back of the
seat then pulled her to him. Their mouths mashed in a long passionate
kiss.