by Stu Leventhal

One of the most popular and common ways for a creative writer to earn income is by becoming a freelancer. Literally thousands of people every day choose to become their own boss by working as a freelancer. Creative writing as a profession is the perfect type of service to offer as a freelancer. Especially, now that the internet is growing so steadily!

Every type of writing skill or talent is highly needed in the internet industry. Good quality writing is in high demand for virtually every genre of writing. It is absolutely possible for a creative writer to make excellent money by doing what you know and love writing engaging copy. Many website owners choose to use a freelancer for a variety of reasons; some don't have enough time to do the work themselves or they are too busy with other projects, others simply do not have the knowledge to perform the task. Many website owners are more involved with the business aspects of their website and really aren't that good at writing or don't enjoy writing.

Freelance writers are often cheaper than hiring a full or part time company employee, Because of less overhead. Freelance writers are often used when the writing project is short term and it makes little sense to take all the time and expense to interview, choose then hire an employee for just a few months. Freelancers are often preferred because one can hire a writer who specializes in the exact type of writing you need for each project and thus get better writing over all. Also, freelance writers generally work faster because it is in their best interest to get the writing done quickly so they can make more money.

Typically freelancers, especially a freelance writer is cheaper than hiring a large copy writing company or marketing firm for a variety of reasons. One of the biggest reasons is that a freelance writer has no overhead costs. Generally creative writers and authors work out of their own home and do not have any employees they have to pay. Additionally, by working out of their own home they do not have the type of running expenses that a larger business will have, this means that creative writing freelancers can offer their clients a more competitive and cheaper price for their writing services.

Creative writing freelancers also have the ability to offer high quality and personalized service to their clients. This alone can be more appealing to a client than the prices you charge. Many large businesses have so many things going on at once, that they cannot always give the personal attention that a client often wants. Additionally, they do not generally work as fast as the client would like them to. A freelance writer typically only works one or two project at a time allowing them to give their projects a lot of detailed attention and still finish their projects promptly while delivering a higher quality product.

There are writing freelancers who specialize in all sorts of arenas. If you possess specific writing qualities, talent and or experience in a certain writing form, style or niche you can charge more for your work. Once you start delivering fine writing and getting your name as author out on the web, the clients will have no trouble in finding you. There are many websites available all over the internet that are dedicated to helping freelance writers of all kinds find work. Just Google search, 'freelance writing jobs' or 'creative writing gigs'.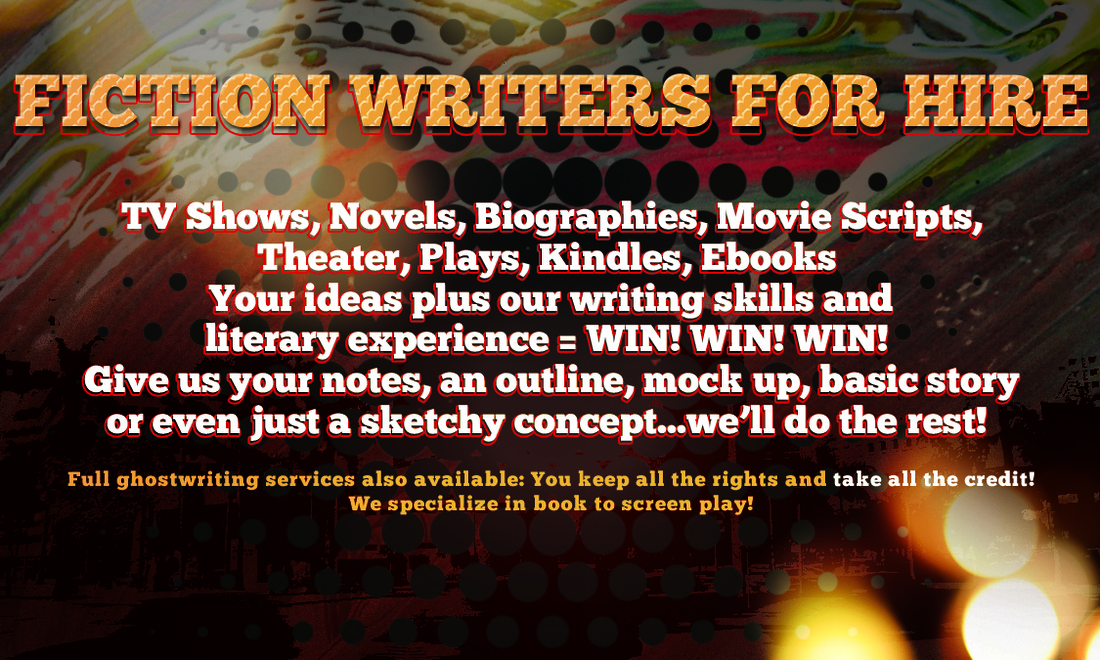 The World of Freelance Writing

A good writer has the creative ability to draw word pictures in a reader's mind. They have the skill to communicate smoothly and effectively through the written word. This service is in high demand from businesses who ply their trade both online and off. A writer's work can be to write articles of fiction woven by a vivid imagination or to write articles covering nonfiction like educational resources, news, product reviews, technical documents, or text concerning science, environment or health issues. Every industry employs writers in some capacity.

Written Work could also entail creating ad copy and marketing text both huge industries that employ large numbers of writers. Writing for the web may include, researching on specific topics, or reporting on meetings and conferences or managing social media posts and website content. All these writing services need not be done on the businesses grounds or even in the vicinity of the business that needs the writing since text is very easily sent via internet communications. This positions good writers with the ideal opportunity to offer their skills and services as freelancers!

Freelance writing as a career choice is preferred by many who desire the freedoms that come with being one's own boss like; working the hours you choose to work, not having to answer to anyone except your clients and being able to pick the types of jobs you take on, as well as being able to refuse clients you don't want to work with. It is also nice to be able to keep 100% of the profits from your labors.

If you decide on freelance writing as a career, the first thing you need to do is create a resume that highlights your talents and a portfolio for showing off samples of your work. The second most important aspect is to create a list of clients and potential clients. Networking, communicating well and building a good relationship with clients is essential to freelance writing. Today the World Wide Web has opened up many opportunities for freelance writers. There are writer job sites as well as writing sites where one can register and bid for projects.

If you choose to work full time you have a great many options. You could be a journalist, web content writer, or resume writer. These are just a few examples of many choices a freelance writer has. To be successful you should target a specific topic or industry. Research and understand what your chosen niche industry's writing needs are and sharpen your skills accordingly. Study the different writing styles as well as what constitutes good writing for your chosen arena.

To get writing jobs start by creating a prize winning resume with a few samples or links leading to your writing samples, next send out your resume and samples with a brief but succinct cover letter to potential employers explaining you are a freelance writer and what your writing specialty is. Scan the classified ads as well as online job sites for writing job posts that suit your writing profile. Consider registering with one of the job placement agencies or online tech freelancer sites that specialize in finding jobs for writers and technology freelancers. Job Temp agencies are always looking for experienced writers for short term projects.

When you go for an interview with a potential client be sure to take along with you writing samples, your resume, and any publications in which your work has been featured. Do your homework well and find out about the potential employer and the kind of writing they need. You must be able to convince the company why you are a good candidate for becoming their freelancer.

As a freelance writer you must constantly update your skills to suit developments in the writing industry you wish to specialize in. Read writing tips given by experts, consider taking a writing course to hone and expand your abilities. Attend writing workshops and seminars. Become a member of professional writer's guilds. You will also need to train yourself in the use of personal computers and desktop or electronic publishing systems. Learn how to research competently using the World Wide Web. A working knowledge of graphic design, page layout and multimedia software will also be a plus.

Statistics gathered by the US government indicate that over 420,000 jobs were generally held by writers and editors last year of which more than 1/3 were self-employed. On an average, a full time writer could earn a salary of US $46,350 annually. And, if creativity flows from within you and your write a prize winning piece or a best seller then you will soon be on your way to fame and fortune.

Finding Freelance Writing Projects and New Clients

By Stuart Leventhal
Being a freelance writer takes hard work. Researching and completing the writing assignments in a timely fashion is a tough enough job for anyone. Now add the fact that you have to do your own promotion to get the jobs and customers. Freelancers also have no backup or helpers. You are a one man or one woman show. So, every business related chore is your sole responsibility; keeping the books, paying the bills, accounting, customer service as well as sales and marketing. Whether you are an online writer or offline writer you know that the competition is fierce and you must always be on the lookout for more jobs when working on one. This is part of the course for all kinds of freelancers, not just creative writers.
There is never guaranteed employment for a freelancer. Your job stability relies on your own marketing and negotiating skills as much as if not more than, your skills as a creative writer. When freelancing, you are hired on a single project basis and will be kicked to the curb once the project is complete unless you do such an impressive job that your client gives you another project right away, which is rare to say the least.
To help freelance of all kinds connect with those needing their skilled labor there are several freelancer directory web sites that have sprung up. These freelancer websites allow employers to post projects of a wide variety and then the freelancers can bid on those projects. This has become an effective tool in maintaining a steady flow of work for the writing freelancer, but there are several downfalls to some of these sites.
For one thing, there is normally a fee that is charged for using the service. How much and how often varies by site. Normally you will pay a monthly membership fee as a freelance writer wanting to bid on writing projects. This fee can be as high as ninety dollars on some sites, but the average is about twenty five with some below. One should be careful when working with a site like this as it will be much harder to turn a profit when you consider the amount of money you have spent on their monthly fees. But, when you are just starting out this may be a way to gain access to some quick work. You can find these sites easily by doing a Google search. It is advised to do some investigating to find out what other freelancers are saying about these directories before you pick the ones to sign up with.
There are also sites that work on a commission basis. This works by paying a percentage of the money that you earn from a writing project to the site whenever you successfully win a bid then complete the project. The commission charged is different with every site but averages around 10%. This system of payment is a lot more popular than the monthly fee sites as the freelancer can simply add the commission amount to their bid to ensure they are getting the amount they need to complete the project thus there is no real out of pocket pre-pay money needed. There are added features and services offered by these freelancer membership websites which can be wonderful aids for managing your freelance business. Most come with a project manager tool which is a great help with tracking one's projects that you have bid on and those that you have won. This ensures that nothing gets swept under the rug and forgotten about thus tarnishing your reputation. You can usually post a nicely worded profile about yourself and the services you offer. Using proper key words in your profile will help customers looking to hire find you easily when they run searches.
Other sites offer safe payment resources. These payment options are basically escrow accounts where the money is held until the project is completed and approved by the buyer. This works to provide security for both parties. The employer does not release the money until the project has been completed to the buyer's satisfaction and he approves it. The freelancer is guaranteed to get paid for all their hard work.
There are even some sites that offer all of these services and remain free for the freelance worker and the employer. They maintain their site and profit through advertising and do not charge a commission or a monthly fee. These free sites have become very popular as freelancers can earn more money without having to spend so much in the process. Many middle men post here who represent themselves as a freelancer but are actually contract the work out after they acquire a project. For this reason most of these service sites have been criticized for the poor quality of their freelance finished projects the unreliability when it comes to meeting deadlines as well as supplying consistency. There is a high competition on these sites which also drives the prices one can expect to receive for their writing down below the normal average.
Leveraging Social Media to Gain Freelance Writing Clients
Obviously utilizing all the traditional means of internet promotion such as blogging and setting up a great website that shows off your work samples and has testimonials from satisfied customers will always help for marketing your freelance writing service. Learning the ropes for sending plenty of targeted traffic to your web real estate can be found on our sister website for free. http://www.gurumarketingtips.com.
Creating a profile on Facebook should be designed to attract clients so don't forget to do your keyword research so Facebook browsers can find you. Maintaining a personal freelance keyword optimized profile on Google Plus will bring you interested clients also. But there is one web place that out trumps them all when freelancer promotion is concerned. LinkedIn!
Freelancers and LinkedIn
LinkedIn works like Facebook for freelancers promoting their creative writing services. Only, LinkedIn is better because the whole web site and LinkedIn platform is designed specifically for business people. That's right, social marketing without putting up with all that kids' stuff! LinkedIn is a serious business platform all about connecting business persons, from all walks and station who have the same professional interests, desires and goals. That means you don't have to beat around the bush when it comes to money making talk like you do on the other social networks, who like to pretend they are anti-commercial enterprise and spam police all the while cashing checks written by big business and corporations right and left, just as fast as they can...
On LinkedIn, everyone is there to promote their businesses, careers, search for jobs, find and hire the perfect employees or to ask business related question from colleagues in their field. There is a lot of straight business talk and contributors don't mince words. This is where likeminded professionals talk shop with their contemporaries. LinkedIn is about business professionals connecting with business professionals, period so it is the perfect platform for marketing a freelance writing service.
You don't have to be a freelancer or self-employed to reap the benefits of connecting with some of Linked in's massive membership. But, if you are inclined to work from home selling your writing skills, posting a well written profile on LinkedIn can help you find corporate content writing jobs and connect with employers who are looking to hire and work with freelance writers. Writing jobs are constantly being posted by big and small company marketing departments, advertising agencies, independent copywriting firms and promotion and marketing industry magnates.
Recruiters from all major companies and recruiting firms are constantly browsing profiles for competent job candidates for writing, editing, advertising and marketing copy and virtually every type of writing position. You can also build quite a business offering to write stuff that LinkedIn members need to set themselves up better with their LinkedIn presence like writing personal and business profiles or starting and managing engaging group conversations. Everyone on LinkedIn could benefit by hiring a quality freelance writer, all you have to do is make yourself accessible and convince them you are the right writer for their needs.
*As we've talked about previously on this website, If you know SEO you can write on just about any company's web site, blog, online newsletters and internal company correspondence as well as write SEO optimized web articles, add copy and other necessary content for web designers and marketing services. Your same great writing skills become more sought after and you can charge more for writing the same amount of words. You can learn all you need to know about SEO, SEM and writing keyword research rich web content by clicking here, it is free!
http://www.gurumarketingtips.com/seo-marketing.html
LinkedIn offers a host of varying membership plans. I suggest everyone start with their basic free membership as there is a lot of features for you to learn how to utilize and maximize before you should be considering a paid membership. Once you are familiar with how the site works and master some of the easier techniques of socializing and networking then you can always upgrade to one of LinkedIn's more appropriate premium memberships and start becoming an expert networker. But truly you can get a lot of networking done and build a nice freelance business using only the free basic LinkedIn membership.
Here are some other good sources for gathering clients and acquiring freelance writing assignments.
The Problogger Job Board – Potential clients post writing jobs they need a freelance writer for and you simply browse then apply for the writing jobs you wish to try to win. You also are allowed to pitch your services for clients to browse. Again the key is using the correct keywords. Remember the key words people search for here are more specialized then the keywords that are searched for on a public search engine like Google, yahoo or Bing so look at a bunch of your competitor's posts to figure out the best keyword terminology to use.
Email website developers and SEO services directly. They both need to write lots of quality content for their customers and they usually can't keep up with all the writing by themselves. Don't forget to pay some extra attention to building clients who are located in your own neighborhood and within a quick commute from your home address.
As a freelance writer you certainly don't have to limit yourself to working locally because you can communicate remotely and send your finished products as well as receive payments digitally. But, remember every other freelance writer can do the same so you are competing with a large pool of freelance writers the world over. A local freelance creative writer can cut down on their competition and outflank their competitors by offering custom and more personal services that compliment your writing gigs; personal hand delivery of the finish project, in person consultation, twenty four seven on call access, to name just a few that global writing services can't even pretend to be able to compete with! Plus, many business decision makers want to put a face and get a feel for the actual person they are hiring, putting their trust in and relying on to represent their company brand with their writing projects.
Throughout our website there are many free tutorials and instructions on how to enhance the skills you need to perform the many different types of freelance writing gigs you can specialize in and thus offer as a creative writing freelancer. Browse our website and discover the steps to writing better:
Resources:
http://www.gurumarketingtips.com/social-media.html
http://anewtale.com/copywriting.html
http://anewtale.com/article-writing.html
http://anewtale.com/news-releases.html
http://anewtale.com/humor.html
http://anewtale.com/poetry-tips.html
http://anewtale.com/writing-song-lyrics.html
*If you need to hire a reliable affordable writing service click on the image below for a free price quote. We have a wide range of writers in our cache and will set it up so that the writer who is best qualified for your particular writing project works with you even if that means utilizing multiple writing experts to get your job done correctly:
http://www.anewtale.com/services

Becoming a Freelance Writer allows a creative writer to gain valuable experience writing on many different projects that will require varying writing techniques and the further development of many writing styles and skills. You will also be able to build your author's resume and portfolio quick as a freelance writer because you will be writing for multiple firms and in many different sectors.

There are millions of web sites that need content, magazines that need articles, newspapers that want insightful news articles, fictional short stories can be sold to both online and print magazines. The key to success is to target a specific area and become an "expert" on writing about that certain subject then…Write! Write! Write!

Market your creative writing services to businesses that are very busy. Why? Because they're the ones with successful businesses, so they have enough money to pay you without haggling over price. They're also the ones who are busy enough that they really need you. And they're the ones who are likely to have ongoing work for you. It's simple – just make their life easier and save them as much time as possible and they'll come back.

"The Best Freelancer" –Emma an Editor explains "The difference between the freelance writer I never call again and the freelancer I call on month after month has nothing to do with writing skill. The difference is that the great freelancer gets done exactly what I need done without any hassle. If I can give her the job, forget about it, and know it'll get done right, I will always go to her first."