| | |
| --- | --- |
| | JOIN FREE TODAY! GET ONE LOG/IN! LOCK IN YOUR MEMBERSHIP TO ALL OUR FINE WEBSITES! LOTS OF EXTRA BONUSES! FREE TUTORIALS! PRODUCT DISCOUNTS AND MUCH, MUCH MORE!.. |
BUSINESS WRITING ADVICE RSS FEED


BUSINESS WRITING by Stu Leventhal
Help Wanted - Someone creative to write advertisements...
WRITING COMMERCIALS YUK!

Business Consultant Stu Leventhal has done it again! In Guru marketing Tips; The Online Offline Web Champion author, business mentor, coach... Stu Leventhal explains the frustrating parts of managing and marketing in today's fast paced modern business sector! A must read for all owners, managers and wanna be managers! Get

your copy

of GURU MARKETING TIPS NOW!
Starving artist? Don't live the cliché! All creative writers dream of selling that first novel. The best seller, that promises to bring fame, fortune and change our lives forever. Unfortunately, while we are waiting for our big day in the sun, there are still bills to pay and little mouths to feed (our own). The days of the renegade artists refusing to commercialize their art work, in the name of true art and social and cultural reform are long gone. As late as the 1960's, there were still some Rock and Roll performers who steadfastly stuck to their guns, refusing to allow their songs to be played as background music for commercials on Television.

Today, writers, artists, photographers, painters; are no longer considered sellouts by their fans or peers for signing contracts with big businesses. Talented artists, just like talented athletes are expected to choose the almighty buck. Creative writers, like dancers and actors, need a way to support themselves while waiting for their big break. Editors can take forever to approve a writing project and even after a contract is signed; it can still be a couple of years before an author sees his first royalty check.

Entering the field of business writing offers the creative writer many opportunities and a means of earning a living while practicing and still being able to hone the craft he loves. The field of business writing allows the creative writer to show-off his creativity and word crafting skills, while opening doors to publicity and the marketing of one's name. Business writing can certainly give the creative writer extra exposure helping to build one's career and reputation fast. But, writing for business takes discipline, structure and frequently one has to be willing to compromise his/her values somewhat.

When someone is paying an artist, writer or performer; as a contractor, or even as an employee, they are entitled to set the parameters for your work. Most artists and creative writers are not the exception, terribly resent being told what or how to create their art. We writers, in particular, hate to be edited and despise censorship. Unfortunately, most of us were not born with a huge trust fund invested in our name. The starving artist persona may be romanticized in Hollywood films and plays performed Off-Broadway in cramped basement theaters but the harsh realities of sleeping in an alley, in a cardboard box and relying on donations earned by reciting your prolific prose and poetry to people gathered around you in a city park, isn't as glamorous as it so often is portrayed.

Everyone is entitled to make a living and to enjoy life. The lucky ones get to work in a trade they love. Advertising, Copy Writer, Proof Reader, Marketing Editor, Ghost Writer, News Reporter or Columnist, Freelance Writing Consultant, Speech Writer, Research Writer, Website Content Consultant, Professional Blogger; the choices abound for creative writers to make money in the many fields and categories of business. One can still work at night and on the weekends crafting your breakthrough novel or screen play. Never give up the dream! But, while you're doing everything you can to be discovered, use the articles in this section. They are designed to help you make some money, applying the writing craft you love to the lucrative world of business.


Business Writing for the Internet
by Stuart Leventhal

From the perspective of a business owner, webmaster or
marketing manager
, the changes, exhibited by the internet are profoundly exciting, yet also profoundly disturbing. On the one hand, the constant march of progress promises to bring new benefits and open doors leading to new opportunities. On the other hand, the rules and trends of the internet are governed by change at such a rate that it is almost impossible to keep up. The information, misinformation and disinformation abounds.
Throughout the many fast changes and ever developing, coming and going, trends, one aspect of the internet and effecting both big and small businesses has remained constant. There is still a distinct and well noted growing appreciation for the value of quality business writing copy for use on the web. The rapid change spurs the need for more and more good writers. Of course, this in turn spawns an influx of opportunistic, self-proclaimed, Web Copy Writing Experts also promoting themselves as SEO copy writers or
Search Engine Optimization Specialists
. Don't get me wrong, having a good knowledge, understanding or background of SEO is definitely an advantage for any writer, wishing to capture his/her share, of the internet market pie. But, being great at SEO and being great at copy writing don't necessarily go hand in hand. It is also considerably easier, for a good writer to develop and learn SEO than it is for an SEO 'so called expert' to develop great writing skills. With minimal tutelage and a few tips to point one in the right direction, any decent creative writer can learn how to adapt his/her writing style so it meets the needs of the internet.
To write for the web, one must first understand the basics of SEO, search engine optimization. The main difference between any article, and an article written for the web is keyword selection and keyword saturation. For example, let's take an offline article called 'How to develop the perfect golf swing.' And let's look at what must be done to it to prepare it to be published on the internet. We'll assume the article is already written well, its grammar and spelling is correct and it is an enjoyable and informative piece about perfecting one's golf swing. For articles on the web to be found by interested readers, they have to be categorized and indexed. People using the web look for articles on a particular subject by logging on to a search engine (Google, Yahoo, Bing…) They enter a keyword or key search phrase to inform the search engine what subject they are looking for. In this case, 'golf swing tips' would be an appropriate keyword phrases to search for or perhaps 'golf swing advice'. The search engine looks through its data base and gathers all the articles that have the words 'golf swing tips' appearing somewhere in the text of the article. The search engine then presents the list to the searcher.
This may sound simple so far but consider that the search engine will probably find thousands of articles with the words 'golf swing tips' in-bedded in their text. Also, you should realize that if your article 'How to develop the perfect golf swing', doesn't include the exact words 'golf swing tips' in that exact order at least once then your article won't make the list for that keyword phrase. 'Help for your golf swing' doesn't count for a search done on 'golf swing tips'. Your article may be the best golf swing advice article out there, it may be loaded with great, informative golf swing tips and golf advice but the person who is searching for keywords 'golf swing tips' will never be told your article exists unless the precise words 'golf swing tips' exist in your text.
Search engines are not human. They can't read all the articles in their data bases and then determine which ones are the best. Search engines can scan all the articles and count how many times keywords appear in all the articles then compile a list of articles, assuming, whatever article repeats the same keyword or keyword phrase the most, must be the best article on that keyword. Now, we, as humans, know that if we rely on that recipe for finding the best articles on a subject then we are sunk. It would be way too easy for article publishers of sub-par quality articles to just add keywords repeatedly through their poorly written articles in order to insure their articles always ranked number one. So, search engines to be effective indexers of articles needed to add a few more qualifiers to their formula of how and who to rank first on a given subject.
The next big assumption search engines make when categorizing and ranking web articles is that the article with the most relevant other websites linking to it must be the best article. Why else would everyone bother to link to it if it wasn't great? once again, it was still too easy to cheat or manipulate the ranking system, so your poorer articles will show up ranking higher than the good quality articles. So, search engines started to rank the links to an article weighing the links relevance to the articles keywords.
Search engines now use complicated, secret, unpublished formulas for determining the indexing and ranking of articles, websites and blogs. The search engines change their ranking formulas periodically to deter cheating. Creative writers and writers of all kinds, don't necessarily have to learn everything there is to know about SEO to write for the web. There are many
SEO specialists
who can be hired to optimize your finished writing, adding keywords and keywords phrases to your copy. At least a basic understanding of the idea of SEO outlined above is recommended for any web writer because it will help you design your writing pieces with keyword optimization in mind so if any SEO work needs to be done later, the insertion of keywords into your text won't affect the flow or message of your piece too negatively. Obviously the more SEO a creative writer knows the more marketable his/her writing services become regarding the web. And, as you become better and better at SEO you can ask a lot more for your writing services.
For those ambitious creative writers who wish to try adding (SEO) to their repertoire, there are a few important things to keep in mind. Don't try to fill very article up with every keyword and keyword phrase. As a rule you should optimize each writing project for two or three, choice keywords. Trying to saturate your piece with too many keywords will undoubtedly, compromise the quality of the reading. Usually, the customer tells the writer the keywords or keyword phrases he wants you to incorporate into his article. If the customer wants to leave it up to you to pick the relevant keywords then you may wish to raise the price. Someone needs to perform a keyword analysis in order to decide what words are best to try to rank for. The analysis, if contracted out, will cost you money and if you do it yourself, it will cost you time, which is also money. Don't be shy when it comes to billing accordingly.
When crafting an online article, the writer should keep in mind that the amount of times a primary keyword phrase needs to appear, in the text, to be most effectively referenced by the search engines is 5% of the article's total words. Thus for every 200 words of article, the keyword phrase should be stated ten separate times. Repeating a keyword a lot more than 5% can cause the search engines to view you as spamming and they will penalize you by ranking you lower or not at all. You should also be aware that keywords are more effective when placed in titles, headings, links, bold text as well as when they are placed near the beginning of the article.
When performing SEO the writer needs to be sure the keyword phrases added, do not get in the way of the quality of the writing, impeding the flow of the piece. The key is in one's ability to make the unnatural repetition of the keywords seem as natural and unoffensive as possible.
CLICK ON THE PHOTO BELOW TO LEARN MORE ABOUT SEO AND SEM AT OUR SISTER WEBSITE GURU MARKETING TIPS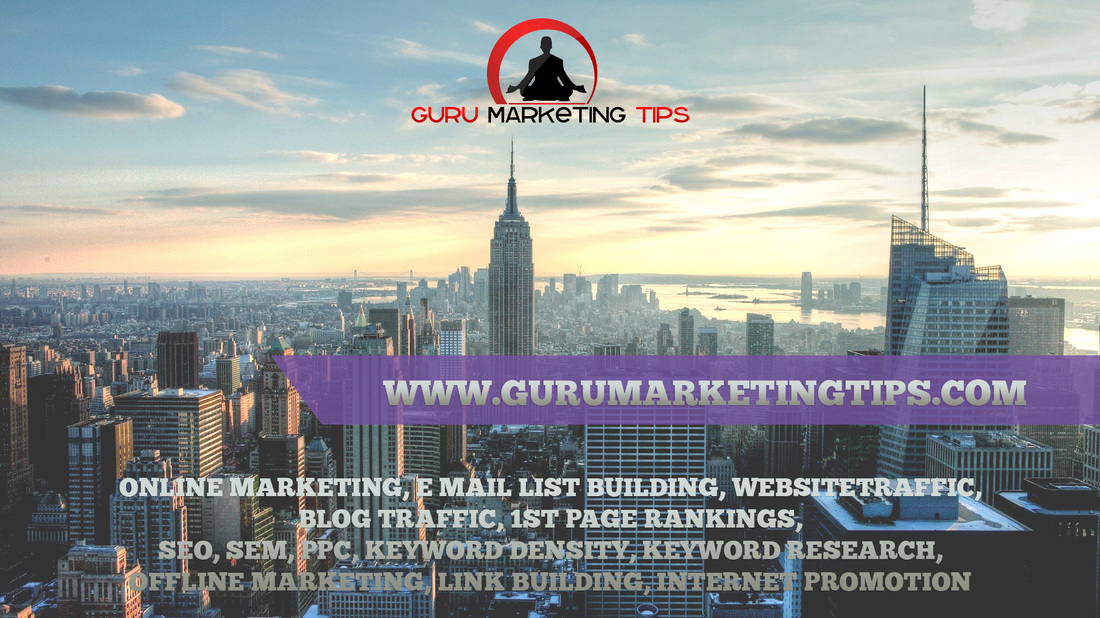 When writing business copy for use on the web the biggest challenge is to keep your reader's interest, get your intended message across and don't turn into a commercial. There is a lot of debate as to what business writing techniques work best. But there are also some true and tried, tricks of the trade that almost everyone agrees on. Below find a few of the basics of business writing that can be applied when writing both online and offline business copy.

It is well known that pages and pages of text appear intimidating. When writing business, marketing or advertising copy, you may have a lot of information you feel is important to convey to your prospects but you must always keep in mind, seeing too many big paragraphs in a row, will send your readers running for the hills. Break up the large paragraphs. Two to four sentences, at a pop, is recommended as a rule, although, of course there will be times when you will have to run larger paragraphs to make your point. Use several bold text subheadings to highlight important aspects you don't want your prospect to miss, since most readers start out skimming ads until they see something that catches their attention, warranting a closer look. Asterisks, dashes and ellipses(…) are good eye catchers. Bullets are good visual aids for combating the serious look, business copy take on when there's a lot of reading to be done. By all means, break large amounts of text up, giving your reader a breather here and there, by adding photos, graphs, videos, sketches and drawings.

Don't forget to ask for the sale! The biggest mistake made in the field of business writing, is not asking for the order. It happens all the time. Someone makes a fantastic sales presentation and then doesn't close the deal, only because he/she didn't clearly ask for the order or made the ordering process too confusing.

Research statistics show, that you need to ask for the order at least three times to close substantial sales. Some studies put the number higher at 6 to 7. That means you can't wait for the last line of your copy writing to ask for the sale. By the time your sales pitch is over, you must have given your reader at least three clear opportunities to make the move from interested reader to customer. Making sure the ordering process is easily assessable as well as being quick and easy to complete is very important too. Better still, is if you can offer several different, convenient options for your prospect to place their orders. Consumers love choices. It tells them, you as writer, as well as the company you are representing, are thinking of them and trying to anticipate, plus meet their unique needs. If you only offer one way to order, give crystal clear instructions. Also, state how easy and quick it is to order using bullets if possible, briefly describe the process, then ask for the order! Then ask again…and ask again!
Copy Writing Tips, Secrets and Advice

by Stu Leventhal
Copywriters often disagree on whether a short sales piece is best or a long and detailed advertisement is the way to go. The long and short of the debate comes down to what type of buyer are you targeting with your writing. Readers/customers can be broken down into two basic types. There is the impulsive reader/customer with, places to go and people to see, and not a whole lot of time to do it in. Typically, Mr. In-a- rush, will skim the headlines, read a few words in a line or two, out of each subtopic, glance at the photos and captions then make a snap decision. On the converse, you also have the analytical reader/customer who believes that proof is in the details. They'll read everything, including the fine print before they act. It stands to reason that for your marketing copy to be successful, you will need to address both kinds of readers/buyers, regardless of the desired length of the marketing piece. But how can a writer tailor his/her creative writing to reach two such opposite kinds of readers?

Writing with short, bold, attention getting headlines and flashy sub headings, including some photos with big captions and visual graphics that enhance your message, will help capture the impulsive buyers' short attention spans. Varying fonts and font sizes, enlarging keywords and making certain descriptions stand apart from the main text, will help guide your more impatient, spur of the moment, browser, to your important selling points. Bold headlines, highlighted and shaded areas, plus bullets will assure the speed reader and quick page turner doesn't miss out or skim something you particularly want him/her to read.

To appeal to the analytical reader/buyer, underneath all the bold headlines, flashy sub headlines, photos and graphics you highlighted to help guide the impatient, impulsive reader/buyer; now add all the facts, figures and detailed information that your analytical reader wants and needs to see before he/she makes any buying decisions. Make sure the fine details and supporting data are all under the proper, corresponding headings and you've got a winning marketing piece that is appealing to both types of readers/shoppers and thus much more likely to be successful.

Having inside knowledge of how your readers/potential buyers react is the key to getting their attentions with your writing and earning extra income for both you and your client. The end needs for both the impulsive browser and the analytical reader/buyer are the same. The copy writer's job is to take each person, who has very different personalities and lead them, by the hand, to the same conclusion; usually purchasing a product or service. No matter the length or style of the promotional sales pitch you choose to use, remember to design your piece to be appealing to both types of customers; the browser who will respond to hype and flash and the analytical purchaser who wants real facts and data.

People include all kinds of sales pitches in their sales writing but not every technique achieves the best results. No matter how good you feel your copywriting is or even how much your employer likes your sales, writing copy, the real proof comes after it is published. If your writing brings sales and creates new customers, you will get plenty of re-orders for more work. If your copy fails, no one will re-order from you. Frequently, sales writing defies logic. Not always does the best sounding writing perform the best as far as increasing sales are concerned. Over many years of trial and error, some tried and true methods and techniques have been developed for advertising types of writing that brings results (sales!) If you want to write ad copy like a pro, you'll definitely need to know what the Pro Sales Writers are doing. Below, you can find some important sales writing secrets as well as some basic, sales writing tips of the sales copywriting industry.

The importance of sales writing, is to leave a good overall impression of the company behind the products or services. Your writing, first off represents the brand or company you are writing for. Readers must trust you and your writing as the voice of authority in your field before they'll even listen to your sales pitches on individual products and services. Your sales writing should first have answers to your readers' most basic questions on a product. Next you strive to instill an interest in your readers, towards your particular brand of the product by answering what is in it for them. What do they get out of choosing to buy from you? People buy for only one reason; to get results from a product. Your job and the purpose of your writing is to highlight all the benefits from a product, your reader will receive by becoming your clients customer. Knowing precisely who you are addressing, with your writing, will guide you in designing your sales piece.

Before you sit down to write your sales piece, you've got to determine exactly who your audience is. Knowing who will be reading your words is the number one key to getting results from your sales writing. You need to know; what age group you are targeting? What demographics your readers come from? What social class? All will be helpful before you begin to write your sales copy. Does the product or service you are promoting pertain more to males or to females? Are you targeting, the college educated or non-college educated? Are religious people most likely to respond to this type of product? Are children the end user? Should you slant your piece and adjust your writing to appeal to parents or single adult? Quite simply, the more you know about your targeted customer the easier it will be for you to design your copywriting and to tailor your writing to appeal to the target. This will undoubtedly result in more effective copy, generating more sales for your customer.

Once you have determined who you are writing to impress, you next need to ask yourself, what do these type of prospective customers really want to get out of purchasing the product or service you are writing about? What frustrates your prospects most about other similar products on the market? You should find out everything you can about everyone else who is selling something similar to you. Why should your prospects believe you over your competitors? Next think about what type of things in general appeal to your particular target customer. What will spark this particular reader's emotions to get their motor revved up? Armed with the answers to these questions, you are ready to start writing your emotionally charged sales piece.


With sales writing, frequently it is more important how you say things than what's being said. Try not to list features of a product or service. You will get much better results stating the same information but instead wording the features to sound like they are benefits for your customer. Paint a picture with your words that touches your prospect's emotions. Let your writing tell your readers how much better life will be for them after they buy your product. Describe how much better they will feel. Tell them how their peers will respect them more. Push their emotional hot buttons! This is where having knowledge of your target reader, aides you in write engaging, relevant prose. When promoting anything to anyone the number one thing to remember is that buying decisions are based on emotion first then later backed up by logic.
"Advertising is the art of convincing people to spend money they don't have for something they don't need." - Will Rogers


*GET A FREE QUOTE ON ALL OF YOUR WRITING NEEDS TODAY*

More Internet Writing Tips (Keywords!)
by Stu Leventhal

When writing text for the internet, the most important aspect to keep in mind is keywords and keyword phrases. You have to add keywords and keyword phrases repeatedly throughout the whole piece in order to attract and hopefully catch potential customers. The internet search engines use keywords and keyword phrases to categorize websites, webpages, blogs and websites. If you don't add keywords and keyword phrases, the search engines won't know where best to place your writing and thus, no one will know how or be able to, find your written work.

Ideally, you and your client should brainstorm together (face to face) if possible, about the keywords and keyword phrases he wants you to use for the copy you are writing for him. It is important that you run any novel ideas for keywords or keyword phrases past your client and get them approved before you put them into your writing piece. If our client decides to leave the keywords and phrases up to you, it would be wise to make use of the many different keyword tools found on the web; Keyword Discovery, Good Keywords, Word Tracker, Overture, etc. These tools can be downloaded or used directly over the internet should you choose to utilize them.

When choosing keywords and keyword phrases, remember to start with and use popular but 'not so competitive' terms. One word keywords are not advisable, because one word usually has too general a scope. It's better to choose a keyword phrase, adding additional words to help narrow down your audience so the search engines send you people who are more specifically interested in your topic. You are posting your writing on a global medium, one word, for example, 'photographer', won't be enough to let your prospective reader know what you are writing about; 'Under Water Deep Sea photographer in Hawaii,' is much more informative. Now, people looking for portrait photographers in Utah or wedding photographers in Minneapolis, won't bother clicking the link to your piece. Pain medicine, for example, is too general. You need to narrow it down to arthritic 24 hour cream medicine or all natural herb headache pain medicine.

One thing to be aware of, when optimizing your writing for keywords is the variations of terminologies throughout the world. If your client is marketing to the whole world and you are writing a piece that addresses people globally, you will want to consider creating separate articles using the different popular terms for different locals. For example: an elevator, in the USA is referred to as a lift in London; a truck is called a lorry…If you intend to sell products to a huge demographic, you have to keyword optimize accordingly or only one local will find your writing piece. Different keywords may have to be used to cater to both markets thus it may be wise to suggest you work up a few variations, of your article, one targeting each local.

Generally, the main idea of writing content for use on the internet is to be able to provide useful information for visitors to a website. You are primarily writing for the readers, the human visitors of your customer's site, informing them about the products and services that your client has to offer. The tricky part is, you also have to provide the search engines, information so they can properly and accurately index your writing, according to its proper category so people looking for your topic will eventually find you. Your content must be both customer oriented and search engine friendly to be successful. The two don't always go together easily. Too many, keywords, will sound awkward and forced to the human reader but not enough keywords and your work won't rank high. The copywriter must find a happy medium.

One important thing to remember is to write content that is unique. Copying content is plagiarism. Major search engines are now penalizing sites which illegally acquire content from other sources. Sites have been blacklisted, un-indexed and yanked out of the directories. When you choose to use parts of other's content, make sure that you quote and name your sources. While we are on the subject of ethics, be sure to give out all the details about what you and your client are offering so your readers know everything they need to know to make an informed decision. Handle delicate subjects delicately but don't neglect to mention something that will come back to haunt you and your client later.

One of the most important things to remember, when writing content for the web is to use plain, simple and natural language so the flow of the words is un-straining. Stay far away from highly technical words and industry terms when trying to appeal to the mass general public. You are going to have to pull out all your creative writing techniques to be able to rise to the top and make a name for yourself in writing business copy. But persistency and consistent quality, will eventually establish you as an authority on writing in your chosen niche market.

Remember your lessons of creative writing, which are posted all over Anewtale.com. Don't be shy about taking some chances. Drop a poem into the mix when appropriate. Add some humor related to your topic. Your creative writing skills give you a huge advantage and will help you stand out from the crowd. Appeal to your reader's emotions. Try to write with a more personal style. Use articles like "you", "we", and "us" often. Keep your readers/potential customers, engaged with your prose. Make them think and interact by asking questions, giving trivia and joking when appropriate. Create an air of friendliness. Once you've made them comfortable reading, they are more likely to respond positively to your inevitable sales pitch. Establishing a relationship with your readers, will help you transform your readers into customers and set the groundwork for turning them into loyal buyers for your client.


More Professional Business Writing Tips

by Stu Leventhal
80% of business writing has to do with advertising,
promotions and marketing
. To convince people to buy your products or services, you must first make your reader believe that your offer is credible and that you or your product will deliver as promised. Your first and foremost goal as; writer, copywriter, business writer is to gain your reader's trust. How do you go about gaining your reader's confidence in you, your products and your services without coming off sounding like you are just tooting your own horn? Here are three proven ways you can build credibility into your business writing without coming out sounding cheesy.
Provide testimonials. People love to hear what others have to say about your product. We value an unbiased opinion over the company's owner's word every time. A famous person' s, 'kiss of approval' can be very good for business but don't discount the power of the average Joe's thumbs up or thumbs down rating.
Add case studies. Case studies are quite simple to write and relatively short, 400-800 words in length, tops. Their formats are standardized making them relatively easy and quick to pen. A case study is just a fancy name for a success story, the tale of a happy customer and his or her experience using a product or service. Case studies are structured simple, as if you were writing a newsletter article. The beauty in writing case studies is, you don't have to stress to come up with a dazzling new concept or killer promotional headline. All that's required, is for you to gather the facts and write a good tell all piece.
Build your piece around an endorsement letter. Endorsement letters are generally from well-known authority figures in your industry. Endorsement letters can be very persuasive towards converting your readers into customers for your client. A letter of endorsement from a prominent figure, who's reputation is already widely known and trusted, is like a stamp of approval giving your product or service instant credibility. People have been trusting, the authority figure's opinion for years but they are just hearing about your new service or product, today as they read. By highlighting a good endorsement in your marketing piece, your product or service can gain the trust and respect it took years for the authority figure to build up with the public and his/her fan base. "If so and so, says it's good then it's good enough for me."
Most importantly, make your offers and promises sound sincere and believable. The internet, for instance, is fastly filling up with scams and people have become very weary of doing business online. When writing for the web, especially, you have to balance your piece very carefully. Beware of writing copy that makes your offers sound too good to be true.
The deal maker that dispels all further objections to a reader purchasing, is a good guarantee. If the product or service you are writing about offers a strong guarantee, (most products offer something) make sure you highlight it and shout out the strongest points. A strong guarantee takes all the worry out of purchasing. The guarantee puts your future customers at ease by telling them you stand behind your offer. Now, there is, no longer, any reason for them not to buy. If the company, you are writing copy for doesn't offer a formal guarantee, consider suggesting that you help them write one.
This is where you can start to distinguish yourself as a business writer, by adding some savvy business consulting advice to your meetings and consultations with your clients. Explain the power of a good guarantee and showoff your business knowledge by throwing out a few facts and figures to back up your suggestion, like, "Statistics show that over 80% of all guarantees are never redeemed by customers who are legitimately entitled to collect on them. If you have any thoughts, ideas or concerns about your client's business copy-writing program, by all means don't stay quiet. Most of the time, your client will welcome your suggestions. After all you have a lot more experience at writing effective copy than your client. They have industry experience. Working closely together will ultimately result in the
best marketing
materials and promotional text being written.