CREATIVE WRITING ADVICE FROM A SEASONED PRO-AUTHOR, POET, LYRICIST, REPORTER...
Creative Writing Mentor Stu Leventhal will INSPIRE YOUR INNER MUSE!

| | |
| --- | --- |
| | There's nothing more worthwhile in today's modern society than learning to write better, clearer and imaginative! You can't put a price on Quality Creative Writing Skill! |

$11.97 The only Creative Writing Advice Book you will every Need! Author Stu Leventhal DRIVES YOUR IMAGINATION!

#creativewriting #authortips #anewtale

Welcome to, The Creative Writing Place

@

A NEW TALE DOT COM
Where veteran, seasoned, professional creative writers, song writers, poets and established lyricists share their insight, insider information, creative writing tips and creative writing advice with new struggling authors... LET'S WRITE BETTER!

Lyricist, writers, poets, you've come to the write place to hone your craft. We've got creative story writing tips, advice on writing a story, creative writing examples, help for writing fiction, writing a book, how to write
short stories
, how to write a
poem
and music lyric advice and song writing tips.
Poets
you'll learn how to write poems for kids,
poems
about life, short poems, rhyming poems and more. Our veteran story writers and poets have creative writing tips that will help new creative writers as well as the accomplished fiction story writer. This is the place to learn about
writing mysteries
, inspiring tales,
sci-fi
, romances, horror,
funny
and creative word craft!
You'll find instruction for querying editors and how to submit short stories. There's
kindle
writing tips! Browse the articles and feel free to add your comments to our blog page. If there are creative writing topics you don't see that you'd like our authors to address, feel free to send us an email: editor@anewtale.com. Our authors take delight in helping new struggling artists in any way we can.
__________________________________________________________________________________________________________________________
WRITERS BLOCK!

by Stu Leventhal
Every creative writer of
fiction
or
nonfiction
; poet,
lyricist
,
news reporter
, story writer,
mystery
novelist…has a time when they flounder. We jump to using tired clichés when we're stuck or worse we resort to reading our favorite icons of
literature
; Tolstoy, Dante, Chaucer or reach for the classic novels by; Shelley or Dickens, hoping to get ideas to re-spark our inspiration. "How would Hemmingway write himself out of this spot?" We ponder. "What would the Master, Shakespeare do?" Sometimes we need to take a break and distance ourselves for a few days, from a project. Remember, don't throw anything out. Today's junky writing may become tomorrow's creative writing treasure. Yes, it's okay to suck but my advice is never rush to judgment when it comes to judging your own prose. You are too close, too involved. You need to take a step back.
We all tend to be extremely harsh critics of ourselves. Yet, time is of the essence. We're all starving artists after all. Who can afford to start over from scratch every time we get frustrated because it seems we've written ourselves into a corner? Take a break! Work on a different project for a few days. If you are
writing an essay
and find yourself stuck then switch to writing a
song lyric
! If you feel you must keep working on your essay assignment then go get a quick cup of tea or take a walk to clear your head but come back later!
Consider it a challenge to redeem this piece of work, for this is the real place where great literature is developed. There's nothing more satisfying for a reader than to feel like the author has just taken him or her to a place that no one else would have the guts to go. Now, tell me, how are you going to create that kind of an experience for your readership if you don't write yourself into a corner every now and then? The genius comes once you miraculously figure out how to write yourself back out of that impossible spot.
Throwing away a couple days-worth of your hard thought out creative work is so final. Once the garbage truck pulls away there's no getting those pages back! Every artist gets frustrated; mystery writers,
horror
authors,
romance
writers,
business writers
,
children's authors
. We all have self-doubts. Have faith in yourself that at some point you knew where you were going with this piece. Remember, Re-writing is the key to great writing. Every great writer agrees. But how are you going to re-write, revise, review if you throw everything out that's not perfect? So, save your junky work! Throw it in a box, not the garbage can. Plenty of times, I've beat a case of writer's block by picking up a cluster of scribbling that had been previously dismissed as Drivel. Occasionally, I read through my discarded piles for ideas, wondering what I was thinking when I saved most of the stuff then I stumble upon that diamond in the ruff. A hand full of words that immediately evoke emotion, previously overlooked but I know instantly this phrase, sentence, paragraph, has potential. Thus, a new creative writing project is born. A new tale has begun.
You can beat writers block with writing prompts and by listening to veteran authors' creative writing tips!
So if you think you've been stricken by that all too scary writer's affliction, which has been plaguing the artist community since the first cave drawings for thousands of years. Welcome, true artist, for you have finally arrived. This is the place you've been searching for and trying to get to from that very first time you heard the Beatles sing, "I want to be a paper back writer. Congratulations! You've taken a risk. You stepped courageously out of your comfort zone. You relaxed, let your guard down, opened your mind and just typed on and on, free form style until you suddenly awoke from euphoria, coming to your senses to find yourself stuck at a seemingly impassable roadblock. Writers Block, no matter how short or long lived, is the challenge that forces us to take our craft to the next level. As with any of life's new hurtles, it's scary to run into, scarier still to confront. And yes, ultimately you will have to face it down alone. for, this is the place where great writers dwell and fantastic creative writing gets first breath. Beware, for the high creative writers get from being in the state of Writer's Block has been known to become addictive….This is what Great writers are talking about when the interviewer asks them. "So, why do you write?" And they reply off the cuff. "Because I have to."
*Writer's Block was first described in 1947 by
Psychoanalyst Edmond Bergler.
Creative WritingTopics(101)
How to write a play


by Stuart Leventhal

Now if you're thinking, here's one creative writing article I can skip, think again. Don't turn that page! But, I don't want to write plays. I don't even really enjoy going to the theater much. Plus, I can count with the fingers of my left hand, the actual plays I've been to see that I've really enjoyed. There's plenty of advice in this coming lesson that can be applied to any form of creative writing. Even if you don't want to be a playwright, you will benefit from the discussions, techniques and disciplines you can learn by studying and mastering the techniques used in theater writing. Once you get started, you may even find that theater writing has grown on you and you've developed a new found fondness for this fascinating, always evolving, creative writing niche.

The Theater is very diverse. It's been used to showcase all the genres of fiction and nonfiction. Writing fiction for the theater is similar to writing fiction for other creative writing arenas with the added difficulty of having your creative ideas and creative topics presented on stage in front of a live audience. Live performance is often the catalyst and vital ingredient that's responsible for creating some of the world's greatest artworks. The urgency of having to think quick then respond instantly, often brings out true art and spontaneous genius of otherwise average artists and performers.

There's no time to re-write a character's lines and there's not going to be a take two, three, four or take number nine if someone screws up. Most of the time, when something unexpected happens, you're not even given a chance to think. The artists must adlib. The show must go on, is the theater's mantra. Great performances and moments are born out of the tension and excitement, when all the stakes are on the table. Only a live performance brings this level of energy and urgency to the creation of art.

When writing for the stage, the creative writer must overcome many unique obstacles. First, there's a timeframe for performances that must be adhered to. Next to consider is there's obviously a definite limit to the amount of characters one can use in the telling of the story. And, there's a physical limit to the realism the stage props, dress costumes and makeup can bring to the piece. The theatrical writing must be strong enough to make up for all these limitation. The story writer must deliver, in a maximum two hour window, the same intensity if not more intensity, evoking more emotion than a reader could have while reading a good book, story or watching TV at home.

The word drama is often brought up during discussions of the theater. And, definitely, for many fans and minions of the stage, the words drama and theater are synonymous. Some authorities actually take it further, proclaiming a stage production can't be taken seriously as theater work unless some form of drama is involved. The word drama to me means a sense of urgency and emotional excitement has developed. Certainly showcasing human drama is a big part of what theater writing and stage performances are all about. But, there is much more to the art of theater production than just reflecting some highly charged conflict or reporting on a petty aspect of the human condition that is designed to get under the audience's skin and evoke the predictable response of outrage.

As a means to an end, drama is a useful device that can be quite entertaining, engaging and memorable for the audience. But to attain true theatrical art, the creative writer must be working towards expressing an even deeper meaning than the initial outrage; a meaning that is bigger than and transcends the setting and even plot of the production. Something must change. If you start your play in the midst of a catastrophe or turmoil, some character must rise to meet the challenge, growing from the experience or cave completely or very close to completely due to the stress and unbearable reality of approaching and impending doom.

Moral conflict is always a good theme for any play. The main character is thrust into a caustic situation and has a choice to make, usually between making the right just decision or choosing the popular decision. This structure works for all genres, settings and time periods.

When working on characterization and dialog for a stage production, the author must take care to avoid one pitfall. Stay away from tired clichés which have been overplayed; The sleazy Defense Lawyer for example who says. "You have no business talking to my client without me being present." Or "My client has no comment." (We've all seen that scene a million times.) Equally redundant is the story about the experienced older cop, who's longtime partner has been killed and now he's burdened with breaking in his new, green, rookie partner. (This has been done almost as much as the good cop bad cop routine.) The angry ex-wife who is looking for her alimony check echoes the threat. "If I don't get my money by Friday, You can forget about ever seeing your kids again." Racial, gender and age clichés must obviously be avoided. Any fully developed character won't fit into the preconceived notions of what we'd expect them to be, say or do. A cliché character that your audience has seen 100 times before is boring.

No matter how good the actor is a cliché performance will never be strong enough to hold your audience's attention and thus, will detract from whatever you as a creative writer are trying to accomplish. If the characters always do what we expect them to do, there is no reason to watch the play. After all, a play's purpose is to open our eyes to something we don't know. Clichés of symbolism are just as bad as character clichés. Be creative and enlighten us! Take care not to over use any single literary technique. Scenes and acts must flow naturally from one to another. It's a delicate balance. But when handled properly, can result in standing ovations.

Themes should be subtle. A theme can be totally apparent to the audience but a character should never actually state the actual theme using dialog, whether addressing another character, talking to the audience, during a reflective moment when he is thinking out loud or even when speaking to the almighty.

The theater is an arena where the creative writer can definitely show off his/her skills and make a name for one-self. Audiences are used to overzealous speeches and poetic revelations that would never cut mustard on television or during a film. Just remember, your main character and your audience are on a journey together. By the final act they need to have travelled somewhere. If your protagonist is a bully in act one, he must either redeem himself by the end of the play or sink totally into the depths of incurable evil. If your main character is an intellectual, he must reveal another side of himself perhaps an emotional side.

New theatrical writers must be wary of falling into the trap of trying to stick to true and trusted techniques of theater that everyone knows have been successful in the past. Don't try to emulate the great Broadway productions. Without the luxury of their money to employ a seasoned director, Broadway caliber actors, the industry's leading designers and choreographers, keeping up will be hard. It's much easier to succeed by being inventive and providing the audience something fresh and vivacious that they've never seen before thus they have nothing to compare it to. The best advice for novice theater writers is don't try to douse us with the classic theatrical techniques that we study in literature class. And don't rack your brain trying to come up with genius, stuff that is totally unique. Simply bring your own personality to your stage work and use common sense. It will get easier with the more plays you create.

Another caution for new playwrights is a warning not to worry about the myth, that every play must have some underlying, misty, Fruedian theme running through it. When it comes to the stage, personality always out ranks technique. Welcome story writer to the dynamic world of theater. For to date, there is no more challenging nor emotionally rewarding an arena in which the creative writer can ply his/her craft.


Writing a story, writing a book, writing fiction...

Getting published! by Stu Leventhal

In these tough economic times, how can a new author, story writer, poets or lyricist get noticed?

You don't want your writing to end up in some editor's slush pile but hey, you aren't a house hold name for writing fiction, short stories, poetry and music lyrics yet. You've sent out tons of queries asking for permission to submit your rhyming poems, song lyrics and literary short stories but you never hear back. Most editors don't even bother to reply with a rejection letter. You spent every waking hour of the past two years writing a book but now that it's done nobody wants to even read it.

As a struggling new writer, writing fiction in this economy, you need all the help you can get to ensure that your poems, song lyrics and short stories get noticed. Being a great writer is no longer enough, you have to become a great marketer too. Sending out your just finished poetry and short stories to every magazine, e-zine, periodical and publisher you can get contact info for is certainly one way of going about it. Volume counts and if you submit enough and the work is good, surely, eventually someone will bite. But will the offer be any good? And more importantly than how much money or royalties they're offering is whether the sale will contribute to future sales. Is the exposure from the sale going to affect your future career in a positive way?

Developing a specific strategy for getting published and for building your reputation as an author or e-author writing fiction or poetry will keep you focused and on track. You'll be able to gage your progress and document your climb to success. Pick a niche and concentrate on mastering a single market of creative writing first. It will be easier to become an expert in one small, specialized field such as rhyming poems, short horror stories,

poems

about life or literary short stories before you take on the whole literary world.

Now that you have a niche in mind, begin to network inside that creative writing niche. Make some contacts, start to build your fiction writing reputation in your new specific arena. Study the market. With the knowledge you gain, pick out a few meaningful targets to go after. Studying these potential buyers of fiction before you even start to write a word is best. Find out who pays what. Read what they're purchasing recently. Do they welcome new writers? Do your homework. Writing with a specific target already in mind, gives you the advantage of being able to tailor your creative writing works to conform to their standards as well as making sure your short stories, poems and song lyrics stand out from the pack. You have all their past issues at your fingertips. You know what they've been publishing, the length, the styles, their target audience. Now, write them something that fits in with their identity but is also fresh and something they've never seen before. Remember, most established authors writing fiction already have their creative writing works sold before they even start writing the first sentence. They have transcended beyond the whole annoying query, submittal then wait process. Ultimately that is your goal too. But, before you become famous enough to have editors, agents and publishers courting you and your creative writing, it's still wise to start emulating the way the successful operate.

You may not already have contracts for your next three novels like Steven King but you too can begin marketing your creative writing work before it's finished. Jot down a few paragraphs about your work in progress or creative writing ideas and e-mail it out to the publishing community as if it's finished and you're trying to sell it. See if you get any hits, comments, feedback, likes, dislikes, you may even get some leads back as to other publishers looking for the kind of creative writing you are offering. Remember the rule is, only query about submitting one story at a time per letter or e-mail. Never say, I have five short stories or three e books I'm trying to get published, in the same query. Some publishers are open to being queried about multiple creative writing projects at the same time but unless they actually say that in their submission guide lines then again, the unwritten rule is submit one book, e book or short story to a publisher at a time. Wait until they reply, (reject or accept) before you query them about another story, book or poem.

Sometimes an editor will reject you but state something like, we're only looking for female adventure, short short stories right now. That's your foot in the door. Get to work, create a female hero and write them a short short story. When your creative writing query gets rejected, don't give up on it or on the target you queried. I recommend re-querying about submitting any poems, short stories, lyrics or e books you feel confident are good enough, at least four to five times to any editor or publisher before you move on. Of course you'll have to send four to five different marketing letters written in distinctly different styles each time you re-query about the same work. You can re-query the same short story to the same target over and over using a different query letter each time, simply change the title of the short story, poem, song lyric or e book each time you ask for permission to submit. Your target hasn't read your actual creative writing piece yet so he'll think you're querying about a different, but similar story or poem. When a magazine editor keeps seeing your name asking to submit western short story after western short story, he may decide to eventually give you a chance, never the wiser that you have been querying about the same short story all along. Hey, you wrote it, you believe the short story is good enough, now go out and sell the short story! Never allow anyone, especially a pompous editor to judge your creative writing based solely on a query letter, without even reading a single word!

Equally important to having a well thought out marketing plan for your great short stories, poetry and music lyrics, before you even start a creative writing project, is to begin to develop a support team. Writing fiction, poetry and song lyrics for profit are some of the most difficult arenas to break into. Easily as tough as conquering show business, modeling or the music industry. Having a creative writing mentor would be ideal but at the minimum you need to consider joining a few of those nerdy local creative writing groups. Being around other poets and story writers who have the same dreams as you do and who are going through the same struggles writing

fiction

and poems and experiencing the same self-doubts and setbacks can be very therapeutically valuable. All writers need encouragement and constructive criticism that can't mean the same thing coming from a relative or close friend who may or may not want to hurt your feelings. Also remember, nerds at writing groups and geeky, literature professor like mentors may have connections. I hate marketing too but until you're making enough money to hire someone to do it for you, like the rest of us, you'll have to mutter through.

Always write with a mind towards bulking up your creative writing resume. If your niche is short story mysteries, Google mystery blogs then post a few comments about writing mysteries on a couple of blogs. Now add a sentence to your resume stating you are a contributor to those blogs. If you send a letter to the editor of a newspaper or magazine and they print it then add that periodical to your writing resume. You've been published there. You don't have to advertise the fact that it was in the letter to the editor section, let them assume it was an article or short story. Of course, the most important form of advertising a writer has is word of mouth. So, don't neglect the quality of your work. Your readers telling other readers how awesome you write is your best marketing.

CREATE WRITE PUBLISH AND SELL!


YOUR 1ST EBOOK (In 7 Days!)




Learn Formatting! Graphics! Covers!


All The Secrets Of Kindle Marketing


E-BOOK PUBLISHING COURSE!




The Roots of
Good...


Creative Writing


by Stu Leventhal

Linguistics is the study of human language. First, there were grunts, squeals, moans then screams accompanied by finger pointing and hands waving frantically in the air. Language is what sets man apart from the other creatures that inhabit our globe. Language assures man the dominate position at the top of the food chain. There are many animals and arguably, organisms who are stronger than man when it comes to many aspects; physical strength, endurance, pain threshold, ability to adapt to environmental changes. But, man's amazingly developed skills of communication, allows men to work with one another, ultimately, propelling the human race to assume the role of master, over all other known species. When attempting to learn a craft, especially a craft as diverse as creative writing it is wise to go all the way back and start your studying from the very beginning.


Now-a-days Creative Writers and Authors need great grammar and perfect English Composition Skills!

Communication is the key to mans' success. But, there are plenty of other species who communicate to one another; ants, bees, dolphins, monkeys. Man has developed his language far more and much more diverse than any other creature. Due to the complexities and multiple unique characteristics of the so many differing native languages of man, it is virtually impossible to assign a number to how many different human languages exist. At present the scientific assumption (taking in to account geographical dialects) is between 6000 to 7000 languages.

Rhetoric, gobbly gook, jargon,

poetry

, slangs; human language comes in many flavors. It's broken into nationalities; French, Chinese, Spanish, Arabic. But, then it is broken down even further by local dialects and territorial accents. There's even sign language for the hearing impaired. There's computer enhanced communication systems for the medically challenged. All of these developments move man's communication skills to an even higher and higher level as far as the rest of the world's creatures are concerned. And the unique ability to write, places the human languages and man's communication skills on an even much higher plateau.

The ability to record communication by writing syllables down opens all kinds of doors to advancements. With the skills of writing, man can not only preserve his communications to be displayed for generations to come but writing, equally importantly, allows man to revise a communication at a later time, making it possible to constantly improve his communications and thus improve himself. Writing also allows man the means to teach his offspring while constantly upgrading the learning process and improving the teaching material and advancing the teaching process.

One's native language is something most of us simply take for granted;

blogging

,

tweeting

, emailing...

We learn to speak as babies picking up the language spoken by the people who surround us. Babies learn quickly and naturally in a matter of months small children pick up on many words and begin stringing a multitude of phrases together. In fact children, only a few years of age, seem to learn to speak their native tongue much more easily than full grown adults can learn to speak a second or third language. Is this because human babies are born with some kind of instinctive ability to learn language? This question is only one of the many phenomenal, strange variables which make the study of language not only very interesting but confusing and bewildering at times.

Studying linguistics as a science can be fascinating, challenging and very rewarding. Chimpanzees are being taught sign language. Dolphins are being communicated with beeps and sonars. As top dog, man has a responsibility to the other creatures under our domain to try to understand each of them and the roles they play in the world we all share. Studying how other creatures communicate with one another and attempting to communicate with them, allows us a better understanding of nature, ourselves and the roles we all play to coexist.

Writers naturally are very astute and curious studiers of language. Understanding and mastering the human languages and the so many ways in which man communicates is the essence of creative writing. Words being the bricks writers build their art with and punctuation being a writer's mortar and paint. For studying language and communication can be equated to studying the human race in the broadest sense.

So, where does one start when trying to understand the many dynamics of human languages? You can get better at communication by practicing and by doing

writing exercises

!

Understanding language, like understanding anything else starts with the basics and at the beginning. For one must first understand the shear basics before expecting oneself to master it's highest more developed forms; story-telling, poetry, song writing, great engaging prose, jokes and pop culture linguistic developments like slangs or more recently rap.

As we enter the age of cyber Space and electronic communication man is starting not just a whole new chapter of the book of communication and language but a whole new book. Many feel we are also witnessing the beginning of a whole new book of man's existence as well. The continual development of man's ability to communicate and the expansion of man's language skills truly are a wonder of the natural world. Creative writers are the pioneers blazing the new frontiers. How far the magical skills of man's; reading, writing and communication will take the human race we can only fathom. Someday we will perhaps develop the ability of telepathy and mind reading. Maybe, we'll even be able to converse with our long deceased ancestors. Only time will tell.
Creative Writing Basics


by Stu Leventhal




Whether a creative writer works on writing a two page child's fairy tale, a three stanza poem or is attempting to scribe an epic to rival the great Leo Tolstoy's 1456 page 'War and Peace', when the final draft is finished, the author may sigh with relief and smile awkwardly but he inevitably always feels like there is still some tiny thing he'd like to add or adjust ever so slightly. This quest for the perfect words, the perfect tale, the perfect song, the perfect joke…Is what propels us to pick up the pen again and again, no matter how much praise we've received from fans and peers over our last work.

This feeling, deep in our hearts, that there is still more to say is universal among writers. As long as 'War and Peace' is, (at present, thought to be the seventh longest novel ever written) Tolstoy rewrote many parts of his master piece, numerous times over, before settling. The first draft was finished in 1863 and was published in parts in 1865 under the name '1805'. Tolstoy, dissatisfied, published parts of the manuscript using a different ending, still going by the same title '1805'. Tolstoy decided to start re-penning the whole works in 1867. Rewriting heavily, Tolstoy published a new version he called 'Voyna I mir' which has an entirely different ending from his famous 'War and Peace' version released next in1869.

Perhaps the reason for writers and artists of all walks, being so self-critical, lays deep in man's psychological makeup and is as Freudian as our innate quest to discover and understand the meaning of life and what role we play.


"You can't think yourself out of writing block. You have to write yourself out of thinking block." - John Rogers

"There's no such thing as writer's block. That was invented by people in California who couldn't write." - Terry Pratchett

Writers WORLDWIDE!
Learn how To Market...


If you are a freelance writer GURU MARKETING TIPS by Stu Leventhal will mentor you to be a mentor! If you just want to sell more books, you will learn marketing that blows your mind! If you want to start a business or own a business or mange a business, GURU MARKETING TIPS is the only Business Guide you will ever need!

Or perhaps, we are simply feeling frustrated and unsatisfied with our best attempts, as we strive to be as God like as we can. Or maybe it's because good, quality, real themes themselves appear to be such simple concepts, only at closer scrutiny, turnout to be truly complex, ever evolving and as large as life itself. Library shelves and book store shelves are filled with books about love, death, equality, friendship, good verse evil…The gist of most of these subjects can and have been summed up fairly successfully using a few words or just a couple of sentences. Still even with all the volumes of literature that already exists for each, almost all of us would agree, we seem to be only scrapping the tip of the ice burg.

The best writer, even after a thousand pages, will still feel like he is just getting to the point, for, as soon as he closes a door, a window cracks open. Whether you are writing two paragraphs, one page or a thousand pages, your job is never to thoroughly exhaust every debatable, aspect of your chosen theme. Great writing exposes that there may be more to what first meets one's eye. That hidden, underneath the water, lays the bulk of a fierce and powerful ice burg. If you've made us aware that there is more to be explored, then you've been successful.

Becoming a creative writer requires two things, an imagination is key and the desire and willingness to spend the time to learn and develop basic skills of grammar. The best creative writers are good communicators and masters of their use of their particular languages. That is why great creative writing can be and is frequently translated from one language to another without losing any of its zing or losing its message. Opening one's readers' minds up, is what good creative writing achieves. This is the reason readers are willing to stick with you and suffer through 1000 pages. It's also why readers wait with baited breath for their favorite author's next flash fiction story, poetry collection, comic book issue or their favorite music band's next album.

While shock writing is good for hype and publicity building as well as attention grabbers. Writing shock, will eventually get you type casted! Never write, with the sole intention to simply shock your reader. Besides, there are lots of other things you can do to get read. So, don't sell yourself short and get creative!

Use the Web and all the new high tech resources at hand to try to rise above the fray. Create and have fun. Increase your awareness of the writing scene and the creative revolution that's going on. Experiment, you'd be surprised at the risks other authors are taking. Spruce up your works, reward your regular readers. Stale, cliché prose doesn't attract new readers and crass language and shocking subject matter will only take you so far. Fresh, frequently updated, vibrant and active content, related to your preferred niche is like gold. Current creativity and quality counts more than quantity.

Re-write frequently. Look for ways your piece can be improved. Does your plot move slowly, because it's poorly organized? Is it difficult to follow? Fix bottlenecks that impede the flow. Make sure all action links and leads up to supporting your message. Test styles. Get active!

Check out your contemporaries thoroughly. But read the top writers of other niches that you are not familiar with too. Many can lead you to places you thought you'd never see.

View writing more professionally and think of yourself as a pro. Establish a niche for yourself. The smaller the niche the better. Then, go about becoming the noted expert on your niche. Don't be afraid to use signature lines in your narrative. Don't waste time fixing what isn't broke. And, always strive to be positive.

Update daily! Nothing reads "I don't care" like old swag. Change what's not working. Be clear and concise. Always put a more human face on your characters. Nobody's one dimensional, all bad or always good.

No matter how crafty and imaginative you are with plots, descriptions and dialect, nothing turns off an editor more than spelling mistakes and sloppy grammar. Good grammar is imperative. If grammar is not your forte, ask someone to look your finished product over before you submit. You may even have to pay someone to correct your work for you but it will be worth it.

Never surrender. Getting new creative techniques and coming up with innovative story lines is an ongoing and sometimes uphill battle, one you can't ever stop fighting. Pick a new idea every week or two and implement it.

And finally, make writer friends so you can brainstorm for ideas and help each other through tough times. Don't forget to submit your finished work everywhere! Never except rejection. Keep submitting!


CREATIVE WRITING, SHORT STORIES, FICTION & THE FUTURE

by

Stuart Leventhal


Creative writing, after you boil it down, is about finding new ways of communication. Some messages are just plain hard to convey. Just ask any boss and employee, player and couch or husband and wife about their relationships together. At some point in one's career or personal life, everyone has been involved in a situation where they just don't understand where the person talking to them is coming from. The creative writer's job is to come up with innovative, stimulating modes of communicating messages clearly.

Social media also known as social networking is the most modern form of communication to date. The closest thing to mass universal communication the world has ever seen. And, one step closer to fulfilling the ultimate communication evolution. Social media online is trampling the standard, offline print and broadcast media moguls, who have been the uncontested leaders of the advertisement and marketing industries for decades. The brand new media has easily acquired the next level due to its entertaining popularity. People embrace Social Media because they feel empowered by it. Never before has the individual been able to possess the means to produce and reproduce knowledge and information and send it, at will, with little or no supervision and virtually zero censorship.

Social networking gets its power largely by exploiting current trends in technology. The media finds its home online. Social media thrives by the hype generated around being part of the cutting edge. Its popularity is built around the rush, which comes with being first. People love to be first. Social media has been known to become addictive. The medium has become so successful that many individuals spend a generous part of every day, utilizing their computers and mobile devices to surf the net trying to stay current in all its diverse venues. The exchange of knowledge and info is now being made much simpler than ever before due to the enormous amount of assistance and tools available on the World Wide Web of which the social media enthusiasts can access cheaply, most of the time free and at will. Spell check, grammar software, thesaurus and dictionary access at a click are just some of the advantages helping the new creative authors of Social networking produced large quantities of good content fast that is both natural and reader-friendly. Their content is more than equal in entertainment quality compared with past in print and broadcast medias, which have always been hindered by government and industry enforced standards and regulations, to which Social Media enthusiasts don't have to pay any attention to.

Due to the speed in which Social media is always evolving, creative writing becomes a vital aspect. This new type of media needs contents which are creative enough to seize the interest of audiences fast, using any means possible. This is a unique type of writing requiring special skill, talent and experience to be able to stand out within this lucrative arena. Many of the first people to enter the field successfully, dedicated many years of service, training, learning and polishing their creative writing abilities employed by the film and TV industry. Recently, Colleges around the globe have begun setting up programs to coach people interested in learning this new type of creative writing.

Creative writing, although obviously a part of every genre, differs from the usual forms of writing. Creative authors must develop the ability to write in various manners to suit the requirements of teams of distinct audiences as well as building their ability to adapt to mitigating circumstances. Even in non-fiction creative writing, the writing is geared towards putting more drama and spice in, using any particular style and method to satisfy the discriminating preferences of the fans.

Recently, Creative writing, both fictional and non-fictional has become probably the most exciting kind of writing requested by writing contents. Due to social networking and all the other advances in technology as well as many recent advances in all of the Arts themselves, the public has developed a short attention span because of the elevated ease of access to more and more entertaining and informative content than anyone could possible experience all of. With the audience having multiple choices, it becomes very important to trap their attention in the quickest and simplest way.

So, how does one learn to write creatively?

You've got a story to inform. You've imagined it enough. The tale is connected to your feelings of the heart. You say it is quite simple to visualize. But, how do I write it down so others can experience it at the same level and in the same way that I do?

At first, one's new thought comes in the form of sheer image. The moment we sit down to attempt to convert the ever clear film running inside our head into letters, words then sentences we begin having a panic attack. It's no easy task to sit and pen ones mental images into written text. It's not because your vocabulary doesn't contain sufficient words or due to poor grammar.

The process to writing or producing imaginative works, often, starts with first consciously putting aside the known, usual concepts of conventional writing. To create artistically, one needs to envision an array of imagery then pull together a group of coveted words that will attract the senses. We all have things floating around on the fringes of our subconscious that we'd love to share with others but we don't know how.

Deciding on the easiest method to use to tell the specific type of tale involved is a good first step.

Next, pick the genre you'd like to use to tell your tale. What voice will you use? Will the story be told in the first person; As in an, I did this, I did that type of story? Or, will you tell the story from a third person's point of view; He did, she did style. Now envision your audience, the people to whom you wish to tell your tale to. Are your readers going to be primarily teenagers or adults, mostly female or male? Pinning down as many of these variables, of storytelling structure as you can, before you even start to tackle the problem of transposing to text the fast running film that is playing inside your head, will make it easier to concentrate on verbalizing your visions.

Creativeness itself knows no bounds or predefined concepts. It is rather a momentous flow. A creative author could easily get jammed up in the beginning, middle or end before the tale is finished. It's no wonder so many writers talk about having writers block. Then how can and do, some authors frequently conjure up new ideas and imaginative, innovative mechanisms and writing techniques to utilize consistently, day after day, keeping the prose flowing, year after year? By relaxing and using one's intelligence a writer will eventually be able to escape being in any tight spot. Stop fretting at finding the perfect words and don't be afraid to create words if you need to. The English Dictionary gets bigger every year. Someone's creating all those new words, you might as well get into the act too. Mental anchors stifle your ability to turn your minds imagery into words and paragraphs. For the creative writing process one needs to think artistically but write smartly. You must learn to organize and plan your imagination process to conform to your writing process, which means keeping your head clear of distractions when you're writing. Thinking is free form but writing is not. Free form thinking changes very fast but the writing process operates much slower and is more deliberate.

All people have something to talk about, something to inform, an occurrence to discuss, perhaps simply a joke or anecdote they'd like to pass on to others. If this involves verbal uttering, most of us are eager to embrace the opportunity. However the gears stop if we need to take our imaginations to the written or typed page. All of a sudden our mind goes blank and we stare at the page or computer screen dumbfounded to find we are unable to engage our creative writing process at our whimsy.

When you are writing out your own deep thoughts, you'll need to slow the thinking down. Slowing your thinking process allows you to form strategies to capture thoughts as well as giving you time to contemplate on how best to transfer the thoughts into text that is going to be understandable to others.

If you are able to think you can write. Better yet, if you are able to talk then viewing writing as simply a means of recording your spoken words may help an author ease the tension and unlock the flow of his or her creative writing process.

Thinking, is definitely an ongoing process, 24/7, for people. We usually think using words and sentences, even when we think silently in our heads to ourselves. Writing or typing those thoughts down should be easy. Now, when we are thinking with mental imagery it may be a little harder but all one has to do is describe what they see in their mind. Some authors find talking it through, out loud helps. They jot down quick notes or better yet, talk into a recording device then transcribe their recorded thoughts into printed words, later when they can take their time.

The creative writing process comes from intuition, ideas, planned and unplanned moments of inspiration, combined with learned and spontaneous artistic ability and disciplines. This involves writing ideas both artistically as well as clearly and understandably. Today, undoubtedly is the best time in history for a creative writer to be able to ply his or her craft. The tolerance and acceptance level for new ideas is at its highest ever. The internet at the moment being spearheaded by social media has almost eliminated all restrictions, unteathering the creative writer to run as wild as his or her genius, imagination will take them.

The future indeed, looks quite bright for Creative writers of all types. With the rise in desire for those who can perform quality, creative writing, comes new opportunity. Today's, technology allows many creative authors the luxury of working from home, developing content that they publish online, making creative writing a most desirable career. But, when working at home unsupervised by a boss, one must take extra care to manage his/her time sensibly to succeed. Good luck to all of you, new and seasoned creative writers. I look forward, with baited breath to read your, soon to be forthcoming, ground breaking poetry, prose and everything in between.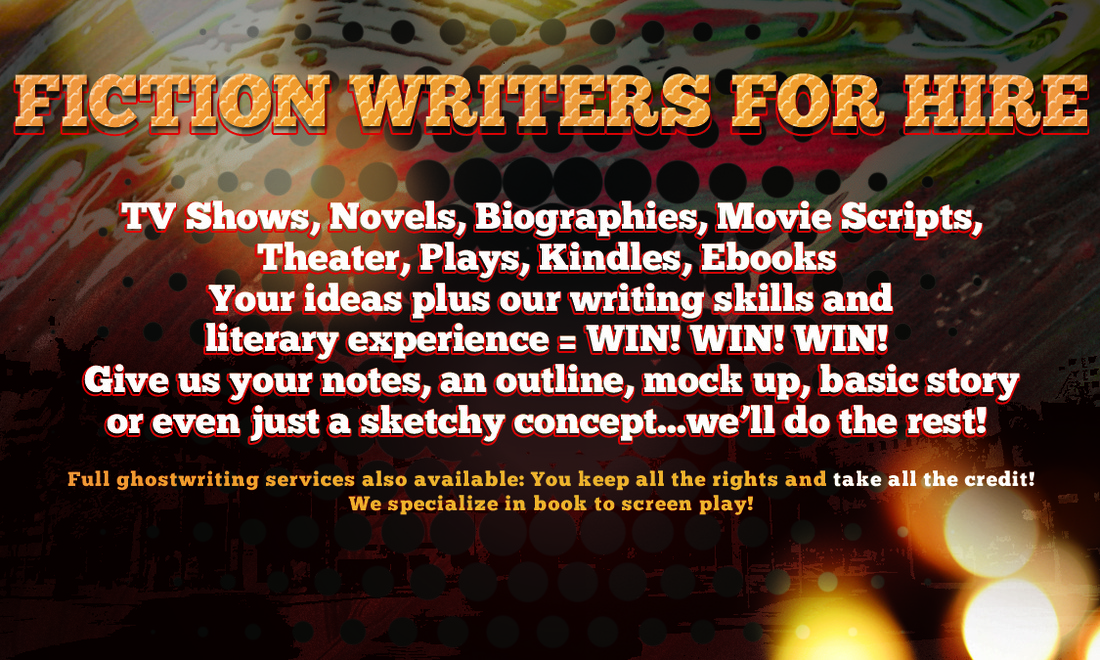 Creative Writing - If it ain't broke, don't fix it!

by Stuart Leventhal
I couldn't help notice lately, that almost all new writers these days, seem to be obsessed with taking literature somewhere new with every piece they produce. As if, total uniqueness is an assumed prerequisite for anything being published today. Now, I'm all for creativity. Some may even say I'm one of creativity's loudest cheer leaders. I adore innovation! Who doesn't? Really! But, if it ain't broke…

Literature has been entertaining people for a long, long time. Some genres have taken hundreds of years to evolve into the formats we now enjoy and even crave. To be deemed the new creative laureate, one need not reinvent the wheel. And, you don't have to save the world with every stanza.

Putting a new face or a different twist on a formal style, while keeping or using the original style's foundation can be very, very cool. Combining styles that aren't used to sharing the same limelight; sci-fi/gothic, mystery/romance, sci-fi western, contemporary/fantasy/historic…can turn out very entertaining. But, once in a while, It's nice to see a young, up and coming author be brave enough to take on tradition and just write another true historic romance simply for historic romance sake. No tricks, no gimmics, just sheer tradition that has proven time and time again to be endearing and always relevant.

I personally love it when a new author pays homage to one of the greats. Imitation being the best form of flattery Equally charming is when a writer finds a way to bring a classic to a new level. Taking an old favorite, with an embracing plot and deep themes and making it current is a skill in itself, a writer can be proud of. A lot of the old stand byes are far from exhausted and many moons and variations away from reaching their peak.

Sometimes trying too hard to always bring something new to the table, is very transparent to your audience. Readers want to be surprised but surprise must come about naturally and smoothly. Personally, as I become more and more experienced with writing. I become less and less worried about trying to sound unique. With confidence, one eventually realizes that all people are inherently different. We all just inject a piece of our own individualism into our work unconsciously. When a teacher assigns a writing assignment, no two pieces turned in by students will ever be the same. Thirty student, all give the exact same instructions to write about the exact same subject will find 30 completely, different ways of completing the writing assignment.

So, new writers, relax. Don't try so hard to be different. We're all different enough. Let your natural style, from deep within, flow to the end of your pen. Release yourself from all that judgmental, paranoia and trust in yourself to know what to say, how to say it and when. Lighten up. Recall why you always wanted to be a writer and why no other profession will ever do. Now, pick up your pen and start writing! Write!...Write!...Write!... And, don't stop for hell or high water!

Writing for writing's sake, is writing simply to entertain. You have to be brave and a little cocky to write for writing's sake. But, there's nothing frivolous about good clean entertainment. It takes skill, dedication, determination and ingenuity to entertain consistently and successfully. Many scholars agree, being an entertainer is one of the most difficult jobs in the world. Your skill is not being wasted and there's nothing to be ashamed of. A writer should never set out to woo the critics. Write to entertain the people.

If you still insist on preaching to the masses, it's all in the timing. Heck we all know what the message is going to be; don't pollute, be kind to your neighbor. Picking when and how to insert your profound message, without boring us to tears, is where the genius comes in. There's a time and a place for lectures on; freedom of speech, equality, civil rights, the ecology, political reform…But these times and places are rare.

Didn't someone, prolific, say? "Good writing will someday save mankind." Good writing is always, first and foremost, good entertainment. And good entertainment is the salvation of our souls.


Your idea plus our creative writing experience = WIN! WIN!

Kindle Books, E-books, instructional manuals; Just tell us what you'd like to be the author of and we'll write it for you.

YES, you get to take full credit! Bragging rights included!

We'll never impose on your ideas or hamper your creativity.

But, we'll be there for you every step of the way, helping you achieve your vision!

QUOTES

ARE COMPLIMENTARY!
Great Creative Writing

by Stu Leventhal
We all can only hope that artists of all kinds keep on tackling serious subjects, by all means, until the world is perfect. Geniuses and scholars can take note of injustice. They can figure out a way to attempt to correct the gross wrong. But, it takes the artist, poet, writer, actor to spread the word enough to rile up the people to act. Artists, with creative writers leading the way, reach into peoples' hearts, stirring our emotions. Scholars, as well as the rest of us, try to sway people with logic. The true artist doesn't necessarily try to sway anyone. The true artist tries to spark emotion, the stronger the emotional reaction the better. What the fans or non-fans do with their emotion after it's stirred up is entirely up to them.

True art is universal. It transcends centuries and ignores cultural boundaries. Which is why, there are so many museums. Great art can still evoke emotions, hundreds of years later, from people, so removed from the life style that was being lived at the time the art was created that the natives would have thought of us, a kin to the way we think of aliens.

Obviously, some artwork is more successful than other artwork. Instead of trying to figure out how we can paint the next Mona Lisa, with our words, it may be easier for the creative writer to first explore why some great art, paintings, music as well as writing, fails.

Critiques frequently declare that an artist/creative writer, tried to take on too big of a subject matter. I've usually found that upon closer inspection, even an amateur could point out a slew of other more pertinent reasons why the movie, play, book or concert fell short of cutting the mustard. Art fails to work, as we say, due to how the artist handles the subject matter, not because any subject matter is too big! I've seen a single photo take on a subject as big as poverty and handle it better than 450 page novels written on the same subject. From a writer's perspective, I've read flash fiction pieces under 500 words that have taken on vast subjects; greed, power, love…and handled them like a champion prize fighter compared to some epic novels or 3 hour Hollywood blockbusters could.

There is no sure fire recipe for successful writing or guaranteed methods for any type of art. Sometimes the minutest thing being added or taken away, can determine a literary device being condemned as a trick or hailed as prolific. Analyzing a successful piece, pulling it apart in all directions then studying each part with a magnifying glass logically should yield a fool proof schematic but art doesn't work that way. Emulating the great creative writers of old can get you started but, will only take the modern scribe so far.

To declare, true art cannot be taught, would be like contradicting art and humanity themselves. For art has been called a reflection of humanity by many more worldly and accomplished individuals than myself. Art certainly can be taught, studied and dissected. And, if art can be taught, studied and dissected then great art surely can be taught, studied and dissected, too.

So what is the secret to creating truly great art? Great artists don't all look alike, think alike, or act alike. One, at this time, could preach that to be successful at anything takes dedication, determination, plenty of practice, trial and error, persistence and perhaps a little bit of luck. Although, we've all heard the saying, you make your own luck. Confirming that there was a secret to creating great art would be irresponsible. There is no secret but there is determining factors of greatness that qualify art as being great. Hopefully, by identifying some universally agreed upon, qualities of greatness, this will help new and established creative writers, striving to elevate their game, get a glimpse of the all elusive target towards which they are trying to aim.

All artwork, in any form; a dance, a song, a poem, a photograph, is first and foremost, a medium for expression. Therefore, how well, successfully and concisely, a creative writing piece reflects its author's intended message should be one of the means for measuring its greatness. However, more often than not, the observer of any piece of artwork, especially creative writing, doesn't know what the artist really set out to accomplish when he/she first sat down to press ink to paper. Also often enough, the creative writer's finished project is far from what he envisioned it to be at the beginning when he started. So, shall we then morph this qualifying condition for gaging greatness into, any art piece that meaningfully expresses itself can be considered good and is in the running for greatness?

All creative art has a goal of doing more than imitating reality. There is plenty of heavy drama in real life, simply to expose some harsh drama to the light of day is not enough. Creative art uses reality to keep itself grounded but the artist makes choices to leave things out or to exaggerate some stuff to convey a point. How well the finished piece makes a specific point is one determining factor to how great it is. Therefore one aspect of determining the greatness of a creative writing piece would be whether the author succeeded with delivering his message loud and clear to whomever reads it or if the author's message comes across as vague and unclear.

Besides being successful at communicating a sharp and precise message or idea, any artwork to be considered great, must also entertain. The more it entertains the better. Any piece of artwork, especially literary and especially creative writing; poetry, song lyrics, short stories that are appalling, drab or boring can't be expected to convey a message very well since most readers are going to quit reading before they can find out what the message is.

On that same vein, the feelings with which the reader is left with after reading a creative writing piece is a fair means of gageing how great the writing is. Great works can impress a feeling, such as, of happiness that lingers long after the reader reads the last page then closes the book. Great books can make one, who has read them, smile years later when someone just mentions the title of the book. A smell lingering in a hallway can bring to mind a scene from a great story. An overheard accent can remind one of a character in a well written story.

Another quality of great creative writing is judging the authors choice of medium to use in conveying his message. Could the same message have been communicated better in the form of a short story instead of as a longer sonnet? Different forms of creative writing have different greatness qualifiers that pertain just to their genre or style and due to space would be impossible to list and discuss in an article. Of course there will always be those who believe they are doing art as a whole, justice by being die hard protectors of the credo; Art is in the eye of the beholder. Being a stickler, for the belief that all art can't and shouldn't be judged ever, seems silly to me but many believe. Because, art means so many different things to different people and because everyone's tastes differ, doesn't mean that certain artworks, creative literature included, can't be elevated to the level of being put on a pedestal and deemed great. Sure, there is a Zen like mystic quality to a lot of artwork. But that does not mean poor quality of workmanship can't be called junk, simply because the argument can always be made; well that's just your opinion. Everything has its standards and when creative writing far exceeds the standards, it, like anything else that exceeds standards, earns the right to be called great!