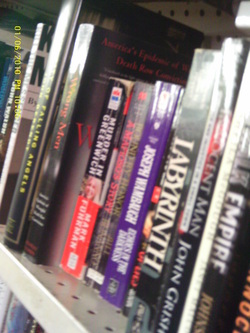 by STU LEVENTHAL

Stories are about people. People are unpredictable. That's what makes us want to read on! We want to find out what our favorite characters are going to do next. The back story is everything that happened to a character in his or her whole life before the actual story the author is writing about even starts. Great back stories are what make great characters. While reading a story the reader may only be afforded glimpses into a character's past everything a character has experienced so far in his life, will undoubtedly factor into how he or she acts in the present and into the future. Just like the message of the popular saying, "Burn me once, shame on you. Burn me twice, shame on me!" Characters in a story, just like real life people, react to the circumstances happening around them based on what they have learned while living so far and all that they have encountered up to this point.

Many writers make the mistake of only thinking of their characters in terms of the present. But every character is a product of their past. Their past is truly what defines them. How much of that past the author wishes to expose to his readers depends on what he or she is trying to accomplish. Engaging stories depict a character or characters' metamorphoses. When the author first introduces us to his characters we comprise a specific impression of each individual. Are they pore, rich, spoiled, clean cut, arrogant etc. Is loyalty important to them? Are they outgoing or shy and reserved? Certainly things will eventually be revealed about a character that they seemingly cannot change or don't have any control over like a hot and quick temper or a nervous tick, a fear of enclosed spaces or perhaps a sincere love and respect for animals and nature. While these traits stay constant throughout the whole story other traits should be ever evolving.

We are all learning all the time and so should one's fictional characters. We mature as time passes and so our fictional characters must mature as the story continues. Remember, man is a social animal so characters should naturally seek counsel, comfort, companionship and love with one another. Not every action needs or has to have a motive behind it. Humans inherently have natural urges that all characters should possess to some degree; the need to love and the desire to be loved, the embedded need for shelter, food and stability, an instinct to fight for survival. One of our strongest drives is our desire to belong and be accepted by a group. We naturally thrive to succeed in whatever problems we face.

Characterization cannot be talked about without including in the conversation the other literary elements. Theme, setting, point of view, plot and characterization all work together to form a complete story but they each influence the development of each other also. Therefore, becoming an expert at characterization will involve becoming a master at the other story elements as well, which means figuring out how each of the other elements influence how your characters will act. For example, let's take setting. The setting of a story is generally, vaguely defined as the time and place during which the story is taking place. Even though, as great creative writers, we know that setting is so much more than just that brief definition; we can still see how even just the time and place we pick to set our story will enormously influence the characters we create for our story.

Not only do People dress, act, talk and carry themselves differently in different locations of our planet but they have different ideas, ideologies, beliefs, customs, motivations and dreams. This has to influence characterization. Add to that all the different life styles people led during different time periods of history. The culture present at a certain time and place in history will certainly help define a story's heroes, villains and supporting characters too. Whatever is going on at a certain place at a certain time may cause characters to have to mature early, or force them to withdraw from society and the other characters. This is easily illustrated if there is a war going on or if the story is set, for instance, during the Great Depression or in the future after the apocalypse. But, simple, small, rural town story settings will effect, limit and expand the avenues an author can travel with characterization just as much as a dramatic setting such as a southern plantation during slavery times.

We must remember that people of all eras living in all places, lived or are living lives that are just as complex, diverse and entertaining to tell as the people who lived during the more well-known times, during well documented historically significant periods. And authors must also take note there are plenty of other noteworthy places just as interesting to write about besides New York City, Paris, Moscow, or a Caribbean island which usually results in cliché characters.

So, what makes a well-rounded characterization? Think biography. A good biography, for example, about a famous person, is never written from only one view point. Readers would never deem the text of any value especially if the only source was the famous person, himself or herself, writing their own memoirs as they near the twilight of their days. The biographer has to blend the subject's memories and point of views with information gathered from some of his close friends, family members, colleagues and acquaintances. There's additional research to be done, like visiting the places where the person lived, if still possible, otherwise looking up info on those places in history books and reading local newspapers accounts from areas where the subject lived or visited. The author must authenticate the facts and stories by speaking to people who for instance graduated in the same high school class if possible. Neighbors, co-workers and business partners may have a different perspective.

The biographer takes everyone's point of view and all the information he gathered from various sources then blends it all together to tell the best version of the truth possible about who his subject was and is. You, even as a fiction writer, must also gather all the info about your characters from equally as many angles and places, even if your sources are all imagined. Then the creative author decides what versions to reveal to the readers, how much to reveal, when to reveal the insight that will be most effective and using what literary methods to reveal it all so the reader will stay tuned. People are never one dimensional so creative writers let's start crafting more complicated characters and let's try to use imaginative and unique ways in which we reveal our characters' hidden traits!